#46 Haruko Momoi LIVE in Moscow
I have written about various aspects of the 2011 J FEST - which drew some 13,000 Russian fans of Japanese pop culture - in a number of previous articles. It is an event loved by the fans, the officials, and all the people involved in its production.
One of the moving episodes of the third annual J FEST, held last year, was the live performance by Haruko Momoi.
I had actually witnessed Momoi's global popularity for myself on a
previous visit to Mexico
, but what I saw at her concert at J FEST was a completely different experience all together.
"When I found out that I would be performing in Moscow I was naturally a bit apprehensive at first. I didn't even know of any other performers who had even been to Moscow before. So I had no idea what I was in store for. Before going, all I knew of Russia was Tetris, Cheburashka and Matryoshka dolls.

As I'm interviewing Haruko Momoi in Akihabara, I recalled my own experiences in Russia two years prior. I remembered the close of the very first J FEST, feeling moved almost to tears, and I also remembered the fact that until that day I too had no idea that people in Russia were so fond of Japan.

"I couldn't believe just how passionate the people in Moscow were about Japan. Like the quality of the lolita fashion over there - it's incredible."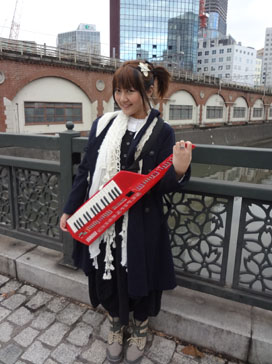 On top of Mansei bridge. Haruko Momoi likes to visit Akihabara when she needs inspiration for her songs.
Lolita fashion lovers, cosplayers, anime fans, idol fans - their interests may differ slightly but all those who turned up for J FEST all share a deep respect and adoration of the creator of all the things that these Russian people love: Japan. To them, J FEST is a special place.
Momoi's live performance followed the talk I gave at J FEST and for once I got to join the crowd an enjoy the show as one of the audience.
Unlike her performance in Mexico, in Moscow the majority of the 700+ audience didn't know who Momoi was.
That became irrelevant, though, because Momoi quite clearly won the crowd over after just one song.
Slowly, more and more audience members took to their feet to cheer her on.
Kira, who works at a maid cafe in Moscow (and who I've written about in a
previous article: see #42
), was quite a vision, letting loose at the very front of the crowd in her maid outfit.
By the end of the show everyone was on their feet, cheering and waving their cell phones around just like glow sticks.
Haruko Momoi LIVE at Moscow's J FEST. An audience of 700+ immersed in the world of Momoi.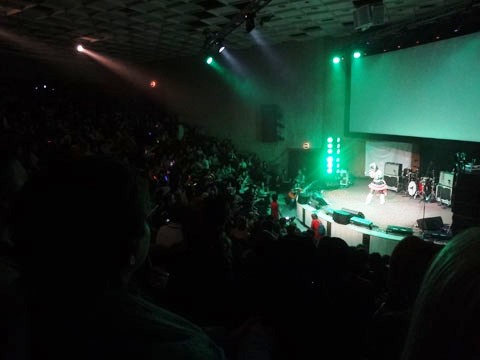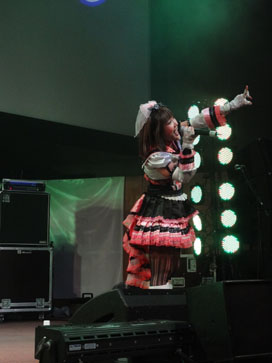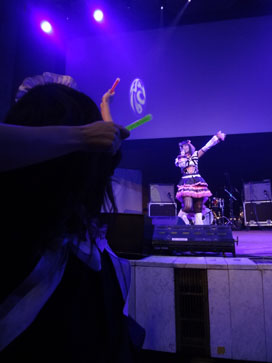 "I wondered how it would all go, but at the end everyone rose to their feet. It's a really great memory."

To Haruko Momoi, to all the people in the audience, to myself also, it was such a precious moment that I'm sure we'll all never forget.

"I've always wanted to put on a performance that people will look back on. I think I achieved that in Moscow. Music transcends linguistic and cultural barriers. Being able to feel that sense of unity certainly makes makes all the difference."

After returning to Japan I received a very animated email from a friend in Russia, telling me just how much the crowd enjoyed Momoi's performance.

I'm confident that the memories and experiences that we all shared at J FEST on that day will lead to something greater still.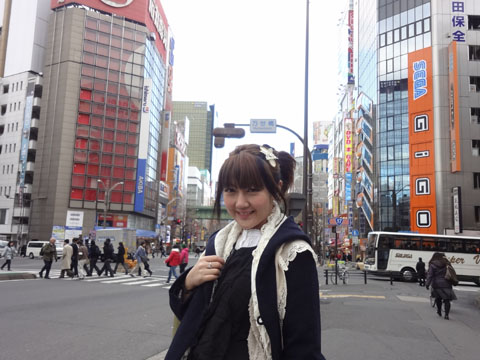 Home is where the heart is - and for Haruko Momoi it's in Akihabara.
Out Every Wednesday!
Next time: Interview with ex-Morning Musume member, Ai Takahashi, on her first stage performance at the Imperial Garden Theater.

Columnist: Sakurai Takamasa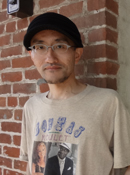 Contents Media Producer, author, journalist, managing director of Contents Street Inc. Chief Editor of iPhone magazine "Tokyo Kawaii Magazine" (ASCII Media Works), World Cosplay Summit Executive Advisor, Chief Researcher at Kodansha/Kodansha BC China Management Laboratory.
Cultural diplomat producing events in over 100 cities in 23 countries (as of July 1st, 2012). Books include "Galapagos-ka no susume" (Kodansha), "'Suteru' de shigoto wa umakuiku" (Diamond-sha), "Nihon wa anime de saiko suru
" (ASCII Shinsho), "Sekai no kawaii kakumei " (PHP Shinsho), and "Anime bunka gaiko " (Chikuma Shinsho). Writes regular columns in the weekly magazine "ASCII" and Yomiuri Shimbun.

●twitter http://twitter.com/sakuraitakamasa/

PRESENTS
All the info. on asianbeat's present campaign!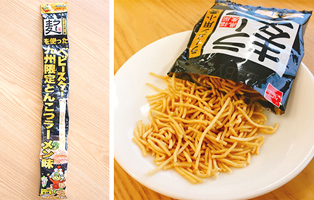 * Win a packet of "Ramugi Baby-Star (Kyushu limited edition tonkotsu ramen flavor)"!
[Details] Click
HERE
!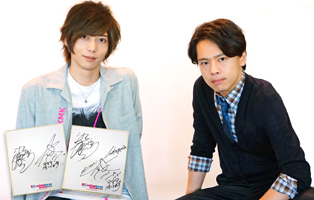 *Win a card signed by Akinori Nakagawa & Toshiyuki Someya!
[Details] Click
HERE
!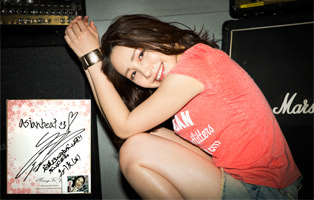 * Win a card and a cheki (photo) autographed by You Kikkawa!
[Details] Click
HERE
!