#49 Sayumi Michishige & Cinnamoroll #2 - Creating a Character from Scratch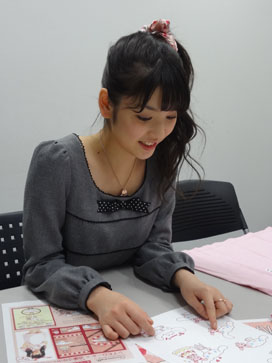 Sayumi Michishige telling me about her experience working with Cinnamoroll.
"I'm a huge Cinnamoroll fan!"

These were the few words from Sayumi Michishige following a live performance that gave rise to the collaboration project between herself and the popular character series, Cinnamoroll.

"I was just so excited at the beginning, but once we got to the stage when we began scheduling meetings I started to get a little nervous. We began the project from nothing so I was anxious just how it would turn out. But Miyuki put out a lot of ideas and we were able to get the ball rolling without any great difficulty from there."

Sanrio designer and Cinnamoroll creator, Miyuki Okumura, fell victim to Sayumi's charms ever since seeing her at one of Morning Musume live performances.
Even when speaking with Miyuki, Sayumi's name comes up in conversation quite regularly. It's just like she's another one of her Sanrio characters.

"When you set out to create a character you always start from scratch. This was the first time Cinnamoroll has collaborated with a performer though. First, I asked Sayumi a bunch of questions like what her favorite type of cake was, etc. Then I found out about "Sayusa," a character that Sayumi actually draws herself."

"Sayusa" is a character that Sayumi began drawing when she first debuted as a performer.

"We then thought up a story setting for Sayusa in the world of Cinnamoroll. It's a complete fantasy world, of course (lol), but I thought we would make Sayusa a bit mischievous – not your regular goody-two-shoes – and then it sort of came about that Sayusa would always be trying to eat Cinnamon's tail" Says Miyuki.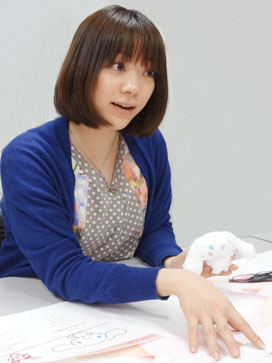 Cinnamoroll creator, Miyuki Okumura.
In actual fact, the day of this interview was also the same day that Sayumi got to see the finished product.

"Wow, kawaii!! I'm so happy!" exclaimed Sayumi, her eyes sparkling.
"It's like Sayusa and Cinnamon are actually together in the same place now." I lost count the number of times the word "kawaii" came up on that day.

"I'm not that good at drawing, and when I was little the only things I could draw were rabbits and elephants. When I debuted as a performer I thought it was a little too plain to just write stuff in letters (Japanese characters), so I decided to draw my rabbit as well. That rabbit of course was Sayusa, and I've been drawing her for about 10 years now. The most important aspect of the character is balance. If you alter the balance the shape of the face changes completely."
It's that preciseness with Sayusa that Miyuki says is so important, that led her to see Sayumi's potential to be a character in her own right.

"Sayumi tries hard, she makes people feel good, she's cute – she has all the elements to be a mascot character herself."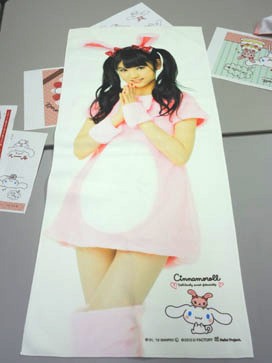 There are various other goods in production.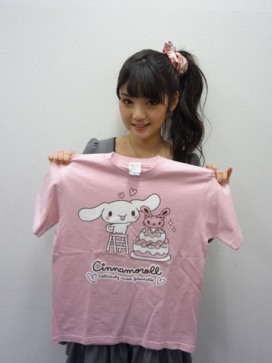 "Sayusa" and Cinnamoroll t-shirt.
There are many people from countries all over the world that read this article and I just hope that this joint venture between Cinnamoroll and Sayumi Michishige's "Sayusa" too reaches as many people out there as possible.

"I had no idea at first, but once we did a few performances in America and France I was really moved to learn that we have far more overseas fans than we could have imagined. I wondered just where they found out about us. The most surprising thing of all though was at our concert in Paris when an audience member sang Happy Birthday to me."

I too was an audience member at that particular performance, and it was a spectacle that I will never forget.
If I hadn't been at that concert in Paris I probably would never have gotten to know Morning Musume, or meet Sayumi Michishige, and I probably wouldn't be pondering the international potential of Japan's idols as I am now either.
I also gave a talk at the event, all the while the Morning Musume members were having an autograph signing session to the side. It's just something you wouldn't see at an event in Japan, and yet, these types of things are going on all the time at Japanese pop culture events overseas. Surely I can't be the only one who thinks that the two people who happened to meet at that event and go on to create something together to bring a bit more joy into the world is anything but remarkable.

This project between Sayumi Michishige and Cinnamoroll is brimming with hope.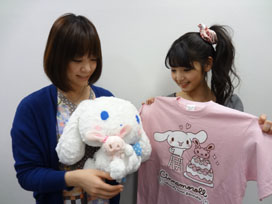 "Okurmura-san, you actually look a little bit like Cinnamon, don't you. For some reason I just expected there to be a bigger gap between designer and character, like maybe you'd be a man or something (lol)"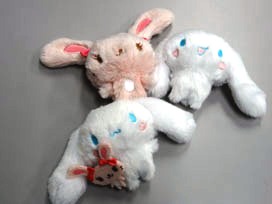 A few of the items you can expect to see from the Sayusa/Cinnamoroll range.
Out Every Wednesday!
Next time: Putting on a fashion show with the beauties of northern China
Columnist: Sakurai Takamasa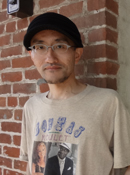 Contents Media Producer, author, journalist, managing director of Contents Street Inc. Chief Editor of iPhone magazine "Tokyo Kawaii Magazine" (ASCII Media Works), World Cosplay Summit Executive Advisor, Chief Researcher at Kodansha/Kodansha BC China Management Laboratory.
Cultural diplomat producing events in over 100 cities in 23 countries (as of July 1st, 2012). Books include "Galapagos-ka no susume" (Kodansha), "'Suteru' de shigoto wa umakuiku" (Diamond-sha), "Nihon wa anime de saiko suru
" (ASCII Shinsho), "Sekai no kawaii kakumei " (PHP Shinsho), and "Anime bunka gaiko " (Chikuma Shinsho). Writes regular columns in the weekly magazine "ASCII" and Yomiuri Shimbun.

●twitter http://twitter.com/sakuraitakamasa/

PRESENTS
All the info. on asianbeat's present campaign!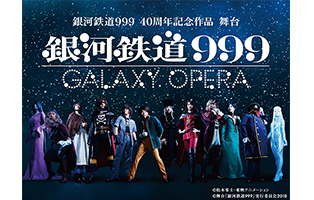 * Win 2 pairs of tickets to the play "Ginga Tetsudo 999" -GALAXY OPERA- Kitakyushu Performance!
[Details] Click
HERE
!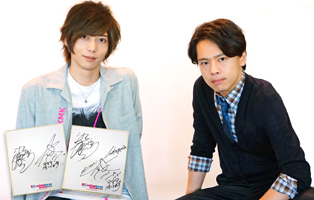 *Win a card signed by Akinori Nakagawa & Toshiyuki Someya!
[Details] Click
HERE
!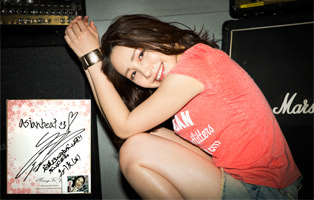 * Win a card and a cheki (photo) autographed by You Kikkawa!
[Details] Click
HERE
!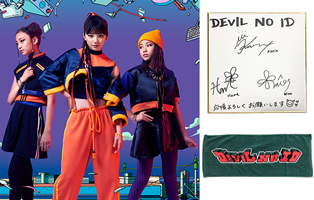 * Win a card or a towel autographed by DEVIL NO ID
[Details] Click
HERE
!