#55 Even the youth in Jordan have a thing for Japanese anime and idols 
At the end of February 2012, I traveled to Amman, the capital of Jordan. This was the 22nd country I've visited in my cross-cultural diplomacy line of work and also the first talk I've given in the Middle East since my trip to Saudi Arabia in March 2008.
I was the keynote speaker for the "Dialogue on the future of Japan and the Islamic World" – the theme for this international symposium jointly run by the Ministry of Foreign Affairs and the Sasakawa Peace Foundation.
It's so humbling to receive invitations like this as I only began advocating anime based cultural diplomacy in 2008. Young people are the future and Japanese anime has a big impact on the lives of young people all over the world. But the truth is, the awareness of the source of the culture these young people are supporting when they consume products like anime, etc., isn't anywhere near as strong as their awareness of say, Korea and their consumption of Korean cultural products. It's this gap that's responsible for Japanese companies losing out to Korean companies in cities all over the world. Here's an example for you. The title of the calendar produced by the Korean government for 2012 and distributed to countries all over the world was "K-POP." The sub-title was "K-POP AND TRADTIONAL MUSICAL INSTRUMENTS."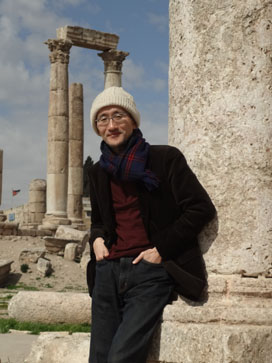 You could actually choose each month whether you wanted the photo on the calendar to be of a K-POP group like Super Junior or KARA, or of a traditional Korean musical instrument. There's really so much to be learned from South Korea and their self-promotion strategies.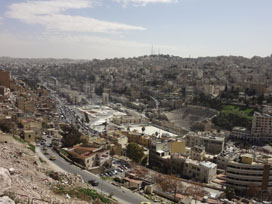 Jordan' capital, Amman, is home to many relics and ancient ruins.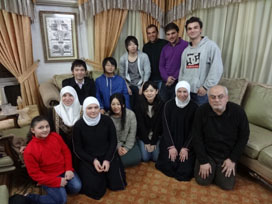 We also visited an Ammanian home. They held a party for us.
Getting back on topic. Also attending the symposium on the future of youth in Japan and the Islamic world were five university students from Japan, as well as members from the Japan International Cooperation Agency.
The Japanese university students got to meet with students studying Japanese in Jordan University and see inside the home of a Jordanian family.
The person responsible for organizing and coordinating the cross-cultural activities for this trip was Emi Kato of the Sasakawa Peace Foundation. Ms Kato also participated in my talk at Ar Riyad when she worked at the Japanese consulate in Saudi Arabia, and I feel she's a very like-minded friend when it comes to cultural diplomacy activities in the Middle East. She went on exchange to the University of Jordan and studied the Arabic language. It's because I have someone like Emi Kato on my side that things go as well as they do over there.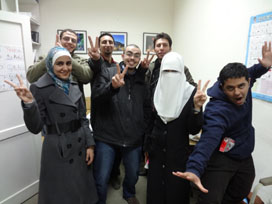 With the students studying Japanese under the guidance of a Japanese teacher.
Traditional dishes and sweets brought from home.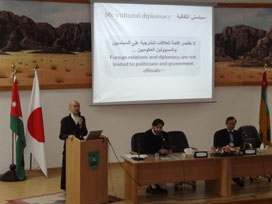 "Dialogue on the Future of Japan and the Islamic World."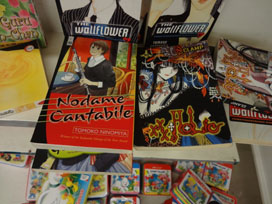 Japanese manga (English import version) sold at a supermarket in Amman.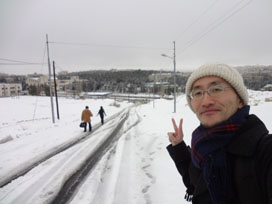 At the end of the first day of the symposium Amman suddenly received its first heavy snowfall in four years.
Getting hooked on Japanese dramas, talking with friends about Morning Musume or their favorite Johnnys, hanging out for the latest editions of manga like "Naruto," "One Piece," "Bleach," or "Gintama"; in some regards, the students in Jordan probably know more about certain aspects of Japanese pop culture than students in Japan do. It's that kind of simple interaction and communication that's so important for people throughout the world to be able to understand each other, and its modern day social tools like twitter and facebook that makes such communication possible.
Connections and networks – you really get a sense of the importance of these things when you speak with people who've experienced different countries and cultures.

Every day I receive messages on my twitter and facebook account from people overseas. I don't want their love for Japan to go unnoticed. The people who support me and give me the courage to continue my international activities promoting Japanese culture are all the young people I've met along the way in my travels overseas after all.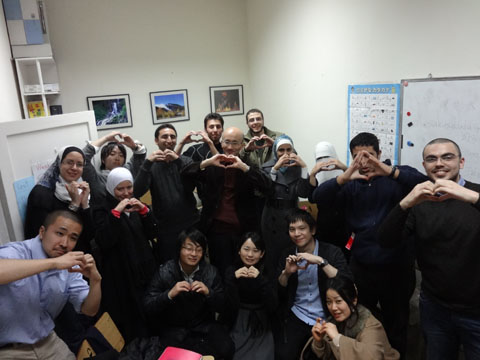 Out Every Wednesday!
Next time: The Japanese pop culture fans I met in Doha, Qatar!
Columnist: Sakurai Takamasa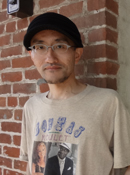 Contents Media Producer, author, journalist, managing director of Contents Street Inc. Chief Editor of iPhone magazine "Tokyo Kawaii Magazine" (ASCII Media Works), World Cosplay Summit Executive Advisor, Chief Researcher at Kodansha/Kodansha BC China Management Laboratory.
Cultural diplomat producing events in over 100 cities in 23 countries (as of July 1st, 2012). Books include "Galapagos-ka no susume" (Kodansha), "'Suteru' de shigoto wa umakuiku" (Diamond-sha), "Nihon wa anime de saiko suru
" (ASCII Shinsho), "Sekai no kawaii kakumei " (PHP Shinsho), and "Anime bunka gaiko " (Chikuma Shinsho). Writes regular columns in the weekly magazine "ASCII" and Yomiuri Shimbun.

●twitter http://twitter.com/sakuraitakamasa/

PRESENTS
All the info. on asianbeat's present campaign!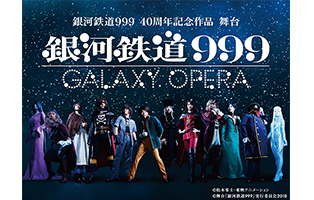 * Win 2 pairs of tickets to the play "Ginga Tetsudo 999" -GALAXY OPERA- Kitakyushu Performance!
[Details] Click
HERE
!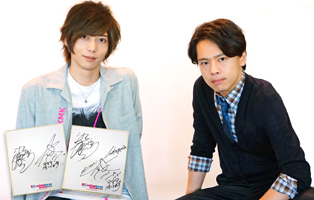 *Win a card signed by Akinori Nakagawa & Toshiyuki Someya!
[Details] Click
HERE
!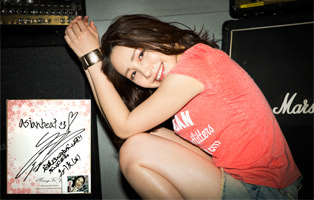 * Win a card and a cheki (photo) autographed by You Kikkawa!
[Details] Click
HERE
!