#56 "Everything began with 'Nausicaä of the Valley of the Wind.'" Speaking with Japan fans in Qatar!
In March 2012, following my trip to Jordan in February, I paid a visit to another Middle Eastern country, this time to Qatar.
I'm always reminded whenever I visit the Middle East, just how little I know about the countries over there. What are the people like, and what kind of lifestyles do they have? Sure I only get to see a tiny fraction of these places whenever I visit, but just by going there I'm reminded how important it is to actually go to a country yourself and experience a place you only knew existed because you found it on a map.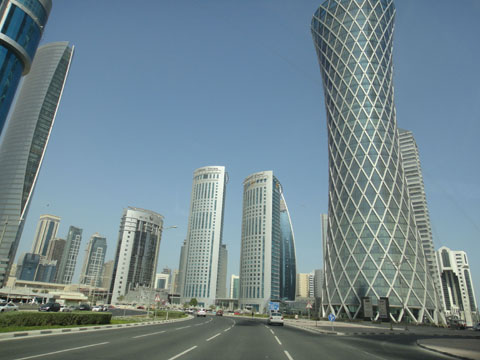 Doha is well known for its spectacular, modern buildings.
When I tell Japanese friends that I'm going to Doha, the first thing they call to mind is "the Doha tragedy." On the 28th of October, 1993, Japan played Iraq in the qualifying round for the 1994 FIFA World Cup at Al-Ahly Stadium, Doha. Japan needed the win to qualify but Iraq scored a goal in stoppage time, ending the game with a tie and forcing both teams out of World Cup contention.
To tell you the truth, I didn't really know much at all about Qatar other than it being a Middle Eastern country that regularly held international soccer matches and was abundant in fuel resources.
Qatar is part of the Arabian Peninsula, located on the south coast of the Persian Gulf. The land area spans 11,000㎡ which is roughly 3% of Japan's total land mass – about the size of Akita prefecture – and a population of a mere 1,700,000. However, the territory is a wealth of natural gas and based on their abundance of resources their GNP per capita is the best in the world (2010 – Japan is ranked 24th).
In a word, they're a very rich country.
.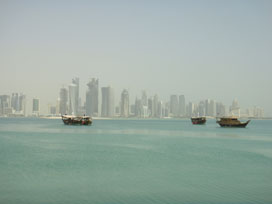 Across the emerald green gulf tower the skyscrapers of Doha.
It was here in Doha that I gave a lecture to some fifty Qatari students studying Japanese language. The lecture was held in the reception room of the Japanese Embassy. There, Mr. Kenjiro Monji is the ambassador to Qatar (and former Ambassador to Iraq) and also the former head of the Public Diplomacy Department for the Ministry of Foreign Affairs. While Mr. Monji worked in that post he implemented the "Kawaii ambassador" project and employed the services of three charismatic Japanese models, including Misako Aoki, to help spread lolita fashion and Japanese culture around the world. I myself traveled the globe alongside these kawaii ambassadors and the sights I witnessed of people in countries all over the world going crazy for these girls is something I wish all of Japan could have seen.
.
.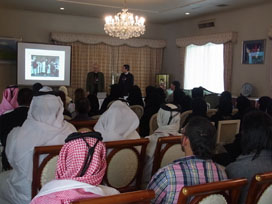 My lecture. I presented a collection of photos of cosplayers and Harajuku fashion lovers.
I conducted my lecture this time together with Mr. Monji. He's probably heard more of my talks, both in and out of Japan, than any other, and even though it had been a while since we last met we just seemed to naturally take it in turns to speak during the lecture without going through a practice run beforehand or anything. We interacted with the audience throughout the talk and it all progressed rather smoothly.
I asked the audience, "Does anyone here have a favorite Japanese idol group?" and the girl to first raise her hand replied, "I love Berryz Kobo and Miyabi Natsuyaki."
She even knew about the live performance she and Buono! gave in Paris which I wrote about in a previous article. (Mr. Monji is a Berryz Kobo fan too by the way.)
It's a strange way to put it, but even their knowledge of Japanese anime was as expected – it exceeded expectations.
Before visiting Doha I had been to 93 cities in 22 different countries, but if I hadn't been to so many places and spoken to so many young people all over the world, and if I hadn't taken part in that first talk in Saudi Arabia which became the reason for taking on this anime diplomacy role, than I may just have been gob smacked when I heard just how much these young Qataris knew about anime.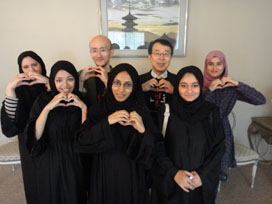 Everybody heart pose. Representing Japan are Ambassador Monji and myself.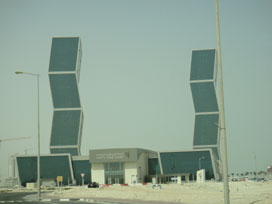 Doha is full of uniquely designed buildings.
After the lecture, the girl who previously said she was a fan of Miyabi Natsuyaki came up and spoke to me.
She said rather excitedly, "I'm going to make a facebook community called "Kawaii Qatar"!"
That's one response we got from an audience member after speaking about the concept of kawaii and just how far it's spread throughout the world.
Another young man revealed this to us:
"For me, everything began with "Nausicaä of the Valley of the Wind." I became interested in Japan after seeing that film."
The other day I interviewed a producer whose job is promoting Japan to the world, and this is what he had to say.
"Japan is a country that doesn't speak ill of people who love Japan."
I feel the same way.
I want as many people to develop an interest in Japan as possible. In that sense, perhaps my journey has only just begun. And to make friends – that's what everyone wants.
Out Every Wednesday!
Next time: 22,000 Fans in Frenzy! Report on the Anime Boston convention!
Columnist: Sakurai Takamasa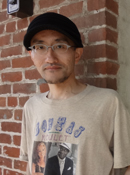 Contents Media Producer, author, journalist, managing director of Contents Street Inc. Chief Editor of iPhone magazine "Tokyo Kawaii Magazine" (ASCII Media Works), World Cosplay Summit Executive Advisor, Chief Researcher at Kodansha/Kodansha BC China Management Laboratory.
Cultural diplomat producing events in over 100 cities in 23 countries (as of July 1st, 2012). Books include "Galapagos-ka no susume" (Kodansha), "'Suteru' de shigoto wa umakuiku" (Diamond-sha), "Nihon wa anime de saiko suru
" (ASCII Shinsho), "Sekai no kawaii kakumei " (PHP Shinsho), and "Anime bunka gaiko " (Chikuma Shinsho). Writes regular columns in the weekly magazine "ASCII" and Yomiuri Shimbun.

●twitter http://twitter.com/sakuraitakamasa/

PRESENTS
All the info. on asianbeat's present campaign!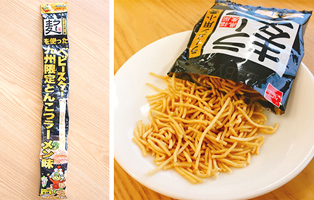 * Win a packet of "Ramugi Baby-Star (Kyushu limited edition tonkotsu ramen flavor)"!
[Details] Click
HERE
!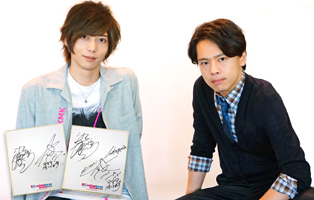 *Win a card signed by Akinori Nakagawa & Toshiyuki Someya!
[Details] Click
HERE
!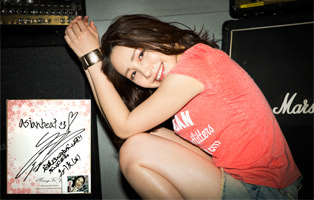 * Win a card and a cheki (photo) autographed by You Kikkawa!
[Details] Click
HERE
!