#6 Fans Scream for An Cafe. Building Bridges at South America's Biggest Otaku Event, "Anime Friends"(1/3)

Once my guest spot at South America's largest otaku event, "Anime Friends," was confirmed, I posted the announcement that I would be going to Brazil on Twitter and straight away received a lot of replies from my followers in Brazil.
"So, Sakurai-san, you'll be coming to Brazil with An Cafe too then!"
That's basically how things worked out.
I sent an email to drummer, Teruki: "You're going to Brazil?"
And so I found out at the same time as Antic Cafe (An Cafe) that we would both be attending Anime Friends (held over two consecutive weekends).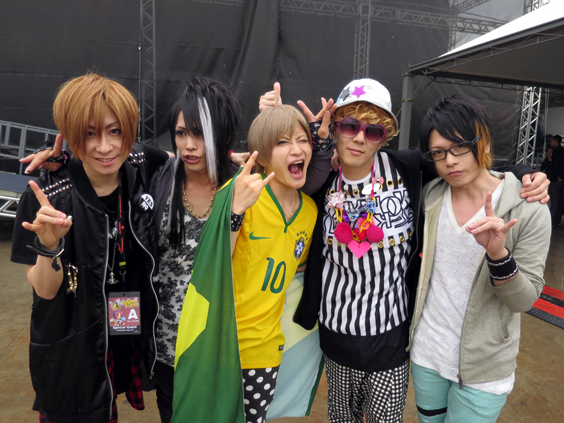 ▲Antic Cafe (From Left: Teruki, Kanon, Miku, Yu-ki and Takuya)
Before I became friends with An Cafe the people of Brazil were already well aware of their existence.
When the Ministry of Foreign Affairs of Japan (MOFA) appointed me as producer of the Kawaii Ambassador project and I visited Brazil with Misako Aoki, one of the Kawaii Ambassadors, in 2009, a friend in the music industry told me how popular An Cafe were in Brazil. And in actual fact, their international popularity far outstrips that of any other Japanese artist.
The following year, An Cafe took a break from their group activities for roughly two years and it was during this time that I travelled with bassist, Kanon, and drummer, Teruki, overseas on a number of occasions. The An Cafe members were all pursuing their own solo ventures, but they were also quite possibly the greatest support I had in my cultural diplomacy activities throughout 2010 and 2011.
Following their hiatus, An Cafe got back together and began to actively contend the international scene. I knew they had done a world tour together in the past so I wanted to see them perform live overseas for myself. As fate would have it, I got to do just that in Brazil – the country that was so quick to pickup on the group's existence.
Because I often appear on the An Cafe members' blogs or their Twitter accounts, a lot of the Brazilian fans know who I am too, so some of the fans who were waiting in line at the concert were excited to see even me. We hadn't met before but it was just like getting together with relatives you haven't seen in a while.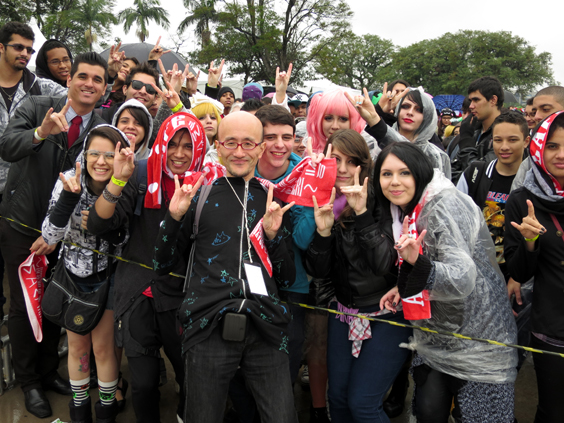 ▲I received a warm welcome from An Cafe fans.
Taking Part in a Pre-Concert Karaoke Battle