#11 A first trip to Wuxi, China! Misako also held her first tea party of the year in Japan!(1/11)

It feels like there are fans of lolita fashion throughout China!
The first country I went to this year was China! I'm so excited that I'll have lots of chances to go again this year! On this trip I went to Wuxi! About an hour from Shanghai by express train, this was my first visit to the city! Wuxi is famous for foods such as xiaolongbao (soup dumpling) and sweet-and-sour pork. I couldn't wait to try them for myself, so I went to get some xiaolongbao straight away! Served hot, they're filled with gravy and the juice from the meat inside, so be careful not to burn yourself! But as might be expected of such a well-known dish, they were absolutely delicious!
There was anime festival at the event, which included a lolita fashion show, talks, signings and photo sessions. Even though it took place on 22nd January, which was just before the Chinese New Year, a lot of lolita fashion fans still showed up! It was so great to see!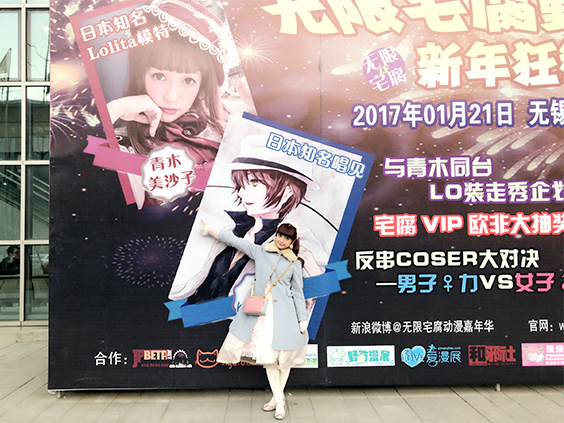 When it's my first time visiting somewhere, I'm always nervous to find out whether or not there are any people around who are interested in lolita fashion! But it seems that there are lolita fashion enthusiasts throughout China, which makes me so happy! Recently I have learnt how to introduce myself in Chinese and now I would like to learn a little more!
Also, whenever I'm in China, I always make sure to stop by KFC and Starbucks! I think its so awesome to see the store names written in Chinese characters! Compared to Japan, I find that KFC in China has a little bit more seasoning and flavor; it's so tasty! Starbucks is pretty much the same as what you find in Japan, so I find it kind of reassuring to pick up something that I'm used to! Wuxi was really cold when we were there, so I got a hot café latte to warm myself up. Next month I'll be going to Guangzhou, I'm so excited that I'll lots of chances to visit China this year!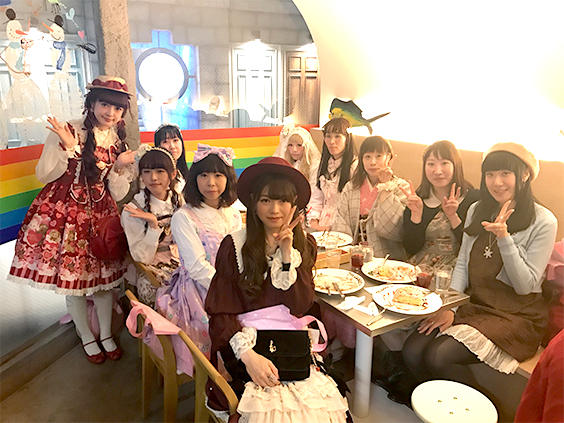 Oh, and I also hosted my first tea party of the year in Japan! It took place in Harajuku, at a famous pancake place called "Rainbow Pancake!" It was a small gathering of around 30 people, but was still super fun! With it being close to Valentine's Day, I got a really cute strawberry and chocolate "Misako special"! When I speak about Harajuku, pancakes always come to mind! And having a pancake tea party was kind of a dream come true!
One of my aims for this year is to hold a lot of tea parties in Japan! I want to create places where people can wear lolita and kawaii-style clothes and also make new friends! Both in Japan and abroad, this year I really want to raise the profile and increase awareness about lolita fashion. I'll try my best!
Misako Aoki
PROFILE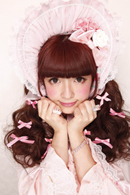 Misako Aoki
Lolita model, nurse, and President of the Japan Lolita Association

Models for KERA and the GOTHIC & LOLITA BIBLE while also working as a nurse. Was appointed as a Kawaii Ambassador (Lolita Fashion Representative) by the Ministry of Foreign Affairs in 2009. Has visited and attended events in over 30 cities across 20 countries and regions. Now has countless overseas fans.

Involved in setting up the Japan Lolita Association, has released "Lolita Fashion Book," has also worked in the development and promotion of new products. Contributes to activities that promote Lolita Fashion.

Misako Aoki official blog: http://lineblog.me/aokimisako/
Misako Aoki official website: http://www.misakoaoki.com/
Related Articles

This comment section is for readers to leave opinions and comments. Inappropriate comments may be deleted, so please remember to be respectful. Thank you!