#12 Launching a collaboration with a Chinese shoe brand!(1/13)

This is the first collaboration that I've done with a Chinese shoe brand, so I was a bit nervous
Spring is approaching, which means cherry blossom (sakura) season is nearly here! When you're overseas, sakura are often one of the first things that pop into people's minds when they think about Japan. This reminds me that we should all take great pride in sakura and that viewing them (hanami) is something to be savored! Experiencing hanami definitely makes you want to wear something pink! My lolita-based cultural diplomacy will see me visit many countries this year and I'm really looking forward to meeting lots and lots of people!
On the 6th and 7th March I went to Guangzhou and Shenzhen in China! The aim of the trip was to attend a launch event for a shoe collaboration that I've done with the Chinese shoe brand teenmix. I also went to see their shop, office, and factory. This is the third time that I've been to Guangzhou, but the first time I've done an event at the The Ritz-Carlton Hotel and I've got to say, it was so gorgeous! 200 lolita fashion fans attended, which was just brilliant! There was also a surprise song and dance performance. I tried to surprise the audience with a song and dance performance, which I hadn't done for a while!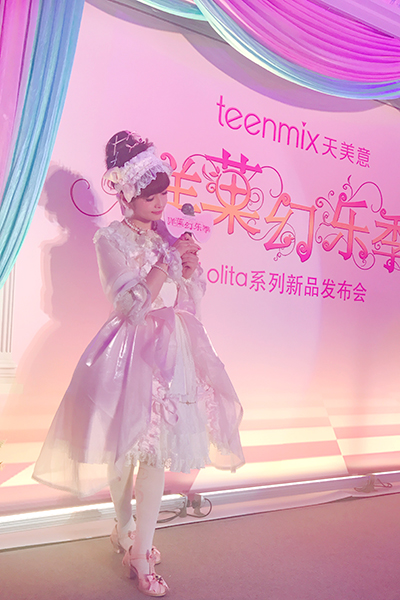 This is the first collaboration that I've done with a Chinese shoe brand, so I was a bit nervous. But the pretty Spring / Summer shoes that we launched got a good reception, so I was super excited! The shoes we collaborated on come in pink and mint! They have such a kawaii design and sparkle from whatever angle you look at them! They're also made from leather, so are soft and easy to walk in, which is a great selling point!
In Shenzhen, I got to visit teenmix's store, offices and factory. It was my first visit to a shoe factory. It was huge and all the people working there took so much care with each shoe they made! The designers were developing ideas while researching the latest fashion trends from around the world. I got to have a chat with them and learnt a lot from what they said! Their shop is located inside a massive shopping mall and they don't just sell lolita fashion shoes, they stock all kinds of styles! I hope to collaborate with shoe makers in lots of different countries in the future and deepen diplomatic ties on a cultural level through lolita fashion.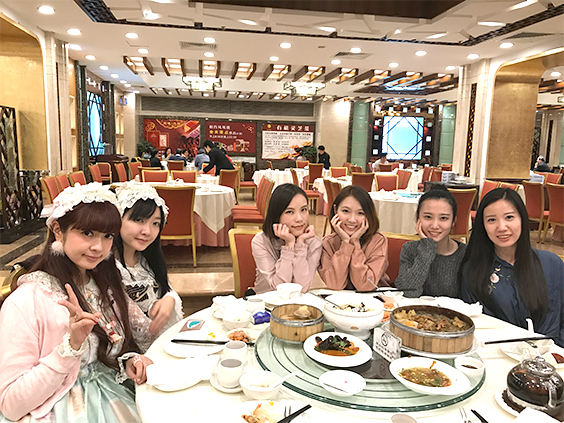 I've had many chances to travel to China and the cuisine is always something that I love to sample! There's so much delicious food to try! This time, I had a giant melon pan (melon-shaped bun) and really got my fill of Chinese food thanks to some delicious hotpot! I love hotpot so much and make sure to order it every time I visit! By the way, there's actually a famous Chinese hotpot restaurant in Ikebukuro, Tokyo, so you can even try it Japan! I'm definitely going to stop by there when I'm next in the area! Learning about food culture is so much fun!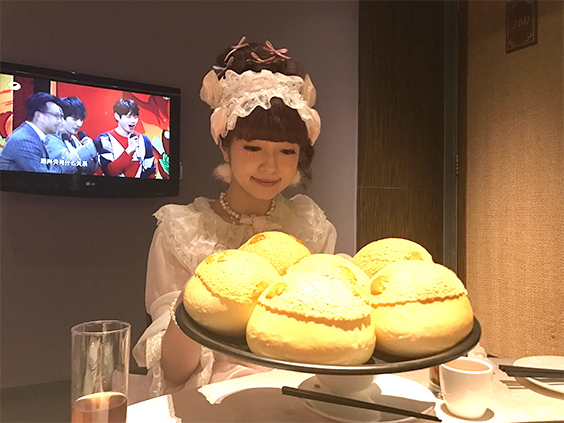 The next events I'll be attending will be in Mexico, America and China! Mexico and America are in completely different time zones. They're also pretty far away, so I'll make sure I'm ready for the journey by staying fit and healthy. I'll do my best to keep on using lolita fashion to promote cultural diplomacy!
Misako Aoki
PROFILE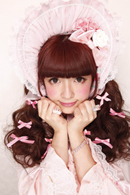 Misako Aoki
Lolita model, nurse, and President of the Japan Lolita Association

Models for KERA and the GOTHIC & LOLITA BIBLE while also working as a nurse. Was appointed as a Kawaii Ambassador (Lolita Fashion Representative) by the Ministry of Foreign Affairs in 2009. Has visited and attended events in over 30 cities across 20 countries and regions. Now has countless overseas fans.

Involved in setting up the Japan Lolita Association, has released "Lolita Fashion Book," has also worked in the development and promotion of new products. Contributes to activities that promote Lolita Fashion.

Misako Aoki official blog: http://lineblog.me/aokimisako/
Misako Aoki official website: http://www.misakoaoki.com/
Related Articles

This comment section is for readers to leave opinions and comments. Inappropriate comments may be deleted, so please remember to be respectful. Thank you!