asianbeat 4Koma Manga Contest Guidelines
Themes for Submissions
 (1)Everyday life
 (2)Fukuoka
 (3)"Princess of Aru Aru Kingdom" (Aru Aru Okoku no Ohimesama)
*Please base your original work on one of the three themes listed above.
*Multiple submissions and use of multiple themes from the abovementioned list is also acceptable.
Specifications for Manga Submissions
 (1)Format: 1 page of 4 frames
 (2)Size: A4 or B4, resolution of 350 dpi, pixels 3445 (w) x 4864 (h)
 (3)Image format: JPEG
Submission Requirements and Methods
 ・
DreamTribe
will be accepting submissions during the registration period (Dec. 5-19, 2012). 
URL: http://dreamtribe.jp/4komacontest/index_en.php
 ・Please register (free) as an author in advance at the DreamTribe website before making your submissions.
※ Submissions also accepted via email.
Please send your work (JPEG file) along with your name, pen name, email address, title and blurb of your work to dreamtribe4koma@crocus.ocn.ne.jp.
 ・Submitted works will be posted on the DreamTribe website.
 ・The application process for the contest is the same process you would follow for DreamTribe's comic submissions.
 ・When submitting, please check the 'DreamTribe Guideline'("DreamTribe komikku sakuhin toukou flow setsumei").
 ・Applications on the DreamTribe website are available in both Japanese and simplified Chinese.
 *For further information on submissions please check the details on the DreamTribe website at the time of registration.
Warnings and Information Regarding the Handling of Copyrights:
・It is possible for one person to submit more than one piece of work; however, please remember to keep in mind that each piece should be an original work.
・With the exception of 4-frame (4koma) manga being submitted under the category of 'Princess of Aru Aru Kingdom,' please refrain from submitting any other forms of derivative works (fan-fiction, etc.).(*Aru Aru city is the official copyright holder of "Princess of Aru Aru Kingdom" (Aru Aru Okoku no Ohimesama) and has consented to the use of its character for this contest.)
・At the discretion of the organizers, any content contrary to the spirit of the contest will not be published. This may include: obscenity, violence, promoting discrimination, slander, etc.
・Applicants maintain full copyrights over their submitted pieces of work and are responsible for ensuring their works do not infringe upon the rights or interests of third parties.
・The copyrights of submitted works belong to their respective artists. However, please note that DreamTibe, Aru Aru city, and asianbeat (Fukuoka Prefecture) reserve the right to use your work free-of-charge for the following purposes:
 ● Publication on the DreamTribe, Aru Aru city, and asianbeat (Fukuoka Prefecture) websites.
 ● Promotional work conducted by DreamTribe, Aru Aru city and asianbeat (Fukuoka Prefecture).
 ● Publication across various media for use in the promotion and advertisement of this contest, as well as in related projects and campaigns.
・Should it be determined that there are no suitable entries to award the Grand Prize or Runner-up, there will be not be any winners selected for those categories.
・In accordance with the laws and regulations regarding the handling of personal information and protection of privacy, each applicant's personal information will be treated with confidentiality.
PRESENTS
All the info. on asianbeat's present campaign!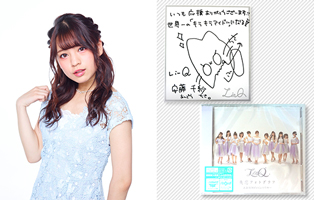 * Win a CD & a card signed by LinQ Chisa Ando!
[Details] Click
HERE
!