WHAT's Yamakasa?

The Summer Festival that Embodies the 'Nobosemon' (fierce passion) Spirit of the People of Hakata
Hakata Gion Yamakasa is a festival celebrated in Hakata, Fukuoka, in July each year. The festival constitutes a Shinto ritual and offering to the local deity of Hakata's Kushida-jinja Shrine and boasts an impressive 770 year tradition. From the 1st of July every year you can view the colorful and luxurious decorative floats, called 'kazariyama,' littered here and there around Fukuoka city, and then on the 15th and final day of Hakata Gion Yamakasa the streets turn into a sea of 'Yamakasa' (floats) as men race through the city at full speed, bearing these floats on their shoulders. During Yamakasa groups of men stroll around in 'shimekomi' (loincloths), and shouts of "oisa,oisa" resonate throughout the city.
For the men who participate in the race, during the Yamakasa period both love and work are off limits – this is a compulsory practice and an inviolable rule of the Yamakasa tradition. Getting "cozy" or even being a little flirty with your loved one is strictly forbidden. Also it's quite a common spectacle for Japanese office workers to see one of their colleagues trading in their suit for a hapi (Japanese traditional coat) and strolling around the city in what would usually be regular working hours. The people of Hakata are renowned for being 'nobosemon,' or fiercely passionate, and the men of Yamakasa are a major contributing factor behind this.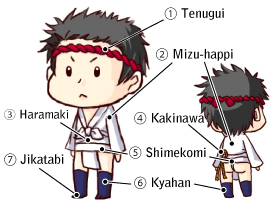 (19Tenugui・・・Headband signifying responsibility                                 
(2)Mizu-happi・・・Short coat with corners tied for safety
(3)Haramaki・・・Stomach band
(4)Kakinawa・・・Rope used to wrap around float's timbers
(5)Shimekomi・・・Loincloth
(6)Kyahan・・・Cloth leggings
(7)Jikatabi・・・Split-toed shoes
Another unique practice maintained throughout this period is that the people of Hakata refrain from eating cucumbers during Yamakasa because the shape and pattern of cut cucumber slices resembles the emblem of the festive deity, Gion-sama, enshrined in Kushida-jinja Shrine. This custom even goes as far as to have all cucumbers removed from meals served at school cafeterias. A highly peculiar custom this may be but it's also a talisman of sorts - a prayer that the Yamakasa runs smoothly and free of injuries.
Yamakasa reaches it's peak - "Oiyama"
The 'nobosemon' of the men of Yamakasa reaches it's peak on the 15th and final day of the festival – race day, aka "Oiyama." For "Oiyama" seven teams shoulder the floats, weighing a total of 1 ton, and compete in a 5km race around the city. On July 15th at 4:59am, the first float bearing team enters Kushida-jinja Shrine and recites the Hakata festive song, thus signifying the opening of the race. The teams are timed from start to finish and the reactions to those times will range from joy to sorrow but ultimately there is no trophy or prize for the winners – which only further accentuates the 'nobosemon' spirit of Hakata men.
In preparation for Oiyama the groups of men go through rigorous training and come race day put it all on the line. During the race the men are continually doused with water to keep cool and seeing how all the effort that went into the preparations take shape on race day is truly a sight! In order to fully understand the extent of the verve and intensity of this event it really must be seen in person!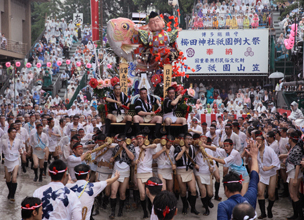 PRESENTS
All the info. on asianbeat's present campaign!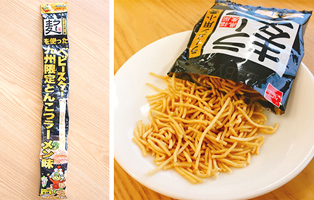 * Win a packet of "Ramugi Baby-Star (Kyushu limited edition tonkotsu ramen flavor)"!
[Details] Click
HERE
!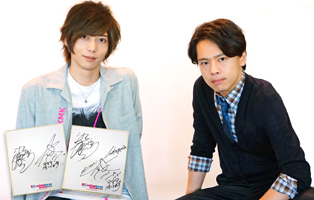 *Win a card signed by Akinori Nakagawa & Toshiyuki Someya!
[Details] Click
HERE
!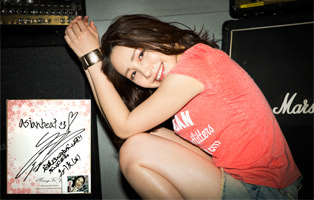 * Win a card and a cheki (photo) autographed by You Kikkawa!
[Details] Click
HERE
!