Ramen Oigen (らーめん おいげん)

A match made in heaven! Thick tonkotsu soup and roasted char siu pork!
Known for their thick tonkotsu (pork bone) soup, "Ramen Oigen" is located near the kego intersection. The rich tonkotsu broth, which is made by boiling 60kg of pork bones over a long period of time, has become one of the best known features of the restaurant's ramen. Their dishes are surprisingly easy to eat! That is another great aspect of the ramen that they serve. The name of the establishment is derived for the Miyazaki pronunciation of the phrase "jibun no ie" (my house). You will certainly feel like another bowl of their ramen once you've gotten back home!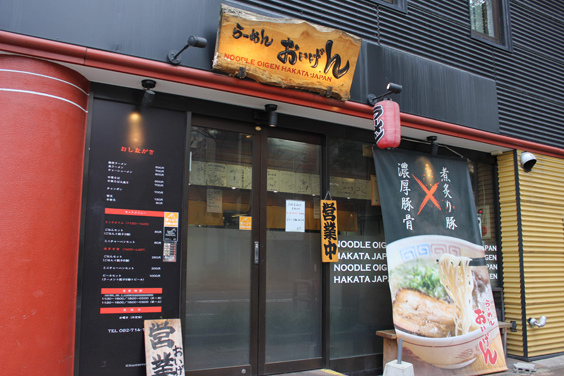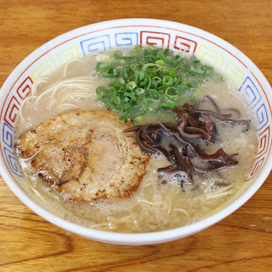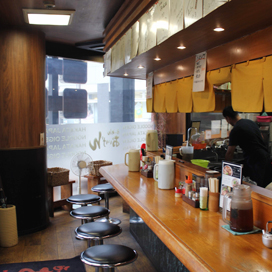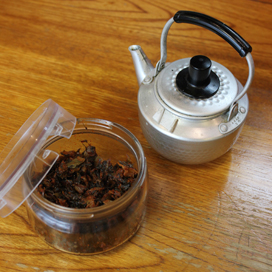 The owner of the restaurant was struck by the delicious flavor of tonkotsu ramen. Apparently it was one of the reasons the owner come to Fukuoka from Miyazaki! The thick soup has a strong tonkotsu aroma, which is created by blending two separate broths together. One is made by boiling down pig bones for 10 hours, while the other is cooked over a period of 20 hours. The fattier sections of the pork that rise to the top of the soup gives the dish the thick, rich quality that is synonymous with tonkotsu ramen. But the aftertaste is not particularly strong, which makes Oigen's ramen the perfect meal to eat after a night of drinking.
The restaurant has put in a lot effort into perfecting their pork toppings. The pork is grilled before it is served on top of the ramen. This draws out the umami flavour of the meat and helps create a wonderful fragrance. The restaurant uses special thin (medium-fine) noodles made by the well-established Yahata-based specialists "Abe Seimen (安部製麺)." Diners are sure to enjoy slurping up these noodles from the delicious soup.
There are a few free services that help complete the dining experience. Customers can top up the fat content in their soup, make use of the kaedama (extra servings of noodles) sauce, and help themselves to the homemade spicy takana (mustard greens). Feel free to help yourselves to the sauce and vegetables (photographed), which are left out on the tables for people to try!

[Menu]
-Tonkotsu (pork bone) ramen... 600 yen
-Char siu men (roasted pork fillet served on top of ramen)... 800 yen
-Chuka soba (Chinese noodles)... 600 yen
-Kaedama (extra serving of noodles)... 120 yen
-Toppings (onion, kikurage cloud ear mushrooms, bean sprouts, flavored egg)... 100 yen each
*During weekday lunchtimes (11:30 to 14:00), diners can add the "han-chahan set" (half size portion of fried rice) to their ramen for just 80 yen.
Other dishes are also available.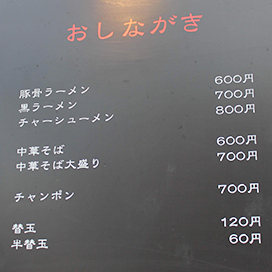 Ramen Oigen (らーめん おいげん)
Address: First Floor ARK Kego, 1-13-1 Kego, Chuo-ku, Fukuoka-shi, Fukuoka-ken
*Six minute walk from "Akasaka Station," Fukuoka City Subway
Telephone number: 092-714-1433
Number of seats (capacity): 12
Opening hours: 11:30 to 16:00 and 17:00 to 04:00 (next morning)
Closed: Irregular / Sundays
*All information correct as of February 2017.
Related Articles



PRESENTS
All the info. on asianbeat's present campaign!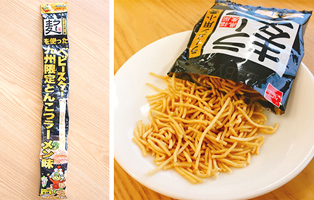 * Win a packet of "Ramugi Baby-Star (Kyushu limited edition tonkotsu ramen flavor)"!
[Details] Click
HERE
!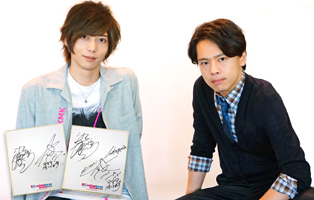 *Win a card signed by Akinori Nakagawa & Toshiyuki Someya!
[Details] Click
HERE
!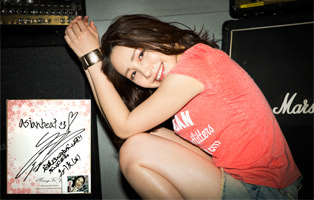 * Win a card and a cheki (photo) autographed by You Kikkawa!
[Details] Click
HERE
!