[J-Pop Culture Observations]#2 Reciting "Detective Conan" with Chinese School Girls! and Touring China with the Popular, An Cafe.

#2 Reciting "Detective Conan" with Chinese School Girls! and Touring China with the Popular, An Cafe.
In November 2010, Kanon, Teruki and Yuki of the globally popular visual-kei rock band, Antic Cafe (An Cafe), took part in the China-leg of a "pop-culture troop" – a part of a Sino-Japanese Youth Exchange project which I was in charge of. Members of a popular rock band taking part in a state-funded visit to China is highly unconventional (and possibly a first) for Japan.

The An Cafe members spend a lot of time with each other both on and off tour, but when they accepted my offer to play a role in a site of cultural diplomacy it seems that even they experienced something completely different to what they're used to on world tour.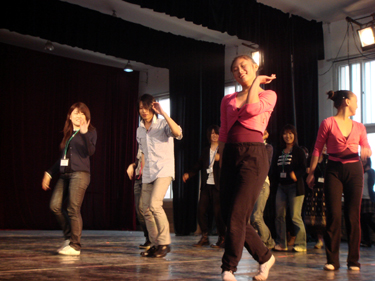 The troop members get a traditional Chinese dance lesson from the students. Kanon and fellow band members also took part.
I guess you could describe the place that the hundred or so troop members visited in Beijing as something along the lines of Japan's Takarazuka Music School or a conservatoire as they're called in French. It was a school where girls learn to dance from primary right through to high school.
The day began with my greeting to the assembly in the auditorium. On numerous occasions I've had the opportunity to give lectures to Chinese high school students on visit to Japan and had already witnessed just how popular "Detective Conan" is in China, so I suddenly decided to open dialogue with these school girls in Beijing by re-confirming Conan's said popularity.
"You all like Conan, right?"
(In Chinese) "Yes!"
The Japanese group members were taken back a little as the entire assembly all answer in unison.
"So I guess you can all quote Conan's catch phrase too then?"
(In Chinese) "There is only one truth!"
The mouths of the Japanese members fell agape in surprise.
Following this we all decided to recite the catch phrase together, the Chinese speaking Chinese and the Japanese in Japanese, all in unison.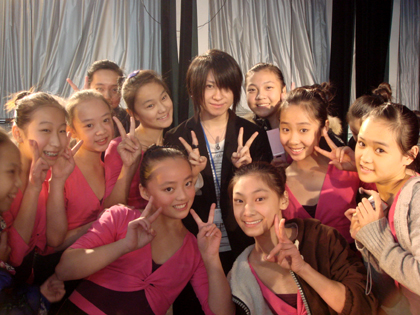 The school girls gather in an instant for a photo with An Cafe's Teruki.
It seemed at first as though the An Cafe members, who are usually surrounded by girls no matter where they go in the world, had not established much of a name for themselves amongst this type of crowd…Alas, it was like the girls suddenly picked up on their aura and they were swarmed in an instant. "Can I get your number?" Were the words from one particularly forward primary school girl.
I sensed the day that these girls become "Cafekko" was not too far away.
Next episode: Travels with "Eden of the East" director, Kenji Kamiyama – special guest of the "Salon Del Manga" in Barcelona!
Sakurai Takamasa - at the forefront of bringing Japan's kawaii culture to the world.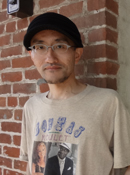 Contents Media Producer, author, journalist, managing director of Contents Street Inc. Chief Editor of iPhone magazine "Tokyo Kawaii Magazine" (ASCII Media Works), World Cosplay Summit Executive Advisor, Chief Researcher at Kodansha/Kodansha BC China Management Laboratory.
Cultural diplomat producing events in over 100 cities in 23 countries (as of July 1st, 2012). Books include "Galapagos-ka no susume" (Kodansha), "'Suteru' de shigoto wa umakuiku" (Diamond-sha), "Nihon wa anime de saiko suru
" (ASCII Shinsho), "Sekai no kawaii kakumei " (PHP Shinsho), and "Anime bunka gaiko " (Chikuma Shinsho). Writes regular columns in the weekly magazine "ASCII" and Yomiuri Shimbun.

●twitter http://twitter.com/sakuraitakamasa/