[J-Pop Culture Observations]#3 A New Outlook on Life: Barcelona's Salon Del Manga with Director, Kenji Kamiyama.

#3 A New Outlook on Life: Barcelona's Salon Del Manga with Director, Kenji Kamiyama.
It has been three years since I first started receiving invitations to attend Salon Del Manga in Barcelona, Spain. There were 65,000 people in attendance at this year's event, held in late October 2010.

I attended as a guest but I was also involved in the planning of the event, and as such, a "guestaff" – or so was the title that the organizers decided to bestow upon me this year (i.e. a guest and staff member).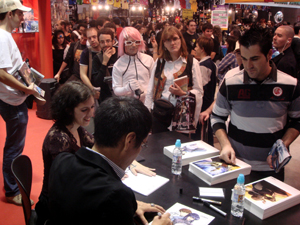 ▲A huge queue of fans line up for Kenji Kamiyama's autograph.
I attended the event this year with Kenji Kamiyama – director of such anime as Ghost in the Shell S.A.C. and Eden of the East. So this week and next week's articles will be based on the autograph signing session and the talk given by Kamiyama at the event, reflections on my time spent with numerous Kamiyama fans over the four days, as well as the interview he gave me on the plane ride home.
It's not something you often get to see as a creator, but I've really come to understand just how passionate people are about anime overseas. I was really taken aback by the love of anime portrayed by the people in Spain alone and I truly feel that this trip has given me a new outlook on life. "
Kamiyama recounts the constant sense of reverence towards the creator he felt at the event, whether it was from fans at the autograph signing or meeting with event officials. "The fact that the fans and distributors were all referring to Eden of the East in the original Japanese, 'Higashi no Eden,' was proof of this."
Unregimented by the widely accepted notion that "animation is for kids," creators in the anime industry continue to push the limits of what can be done with images, and unlike the film industry in the US, individual works aren't necessarily created for mass, global-market appeal. Nevertheless, people overseas can relate to the world-view that these creators have fashioned and that's why Japanese anime, in all its uniqueness, has spread throughout the world so easily.
"Of all my works to date, not once have I created with a consciousness of the overseas market. I don't plan on altering the way I create from now on either, but after this event, I can't help but not be aware of the fact that people overseas will be watching so avidly. I had heard of anime being popular overseas but to go and witness it for myself was really moving."
I asked Kamiyama if there was anything he'd like to say to all the young creators upon returning to Japan.
"Well, with regards to audience – domestic as well as international – they don't have a grasp on how the works they are involved in are being received. Fans have their own way of consuming and enjoying our works, whether it be through Komike (Comic Market) or Nico Nico Douga, etc., but creators are not so good at understanding this and end up creating in a very introverted kind of way. I'm not suggesting we put all our efforts into just trying to please the fans, but rather, that we try harder to understand how and in what form our works are being received and from there I'd like us to work together to come up with ideas that are really fresh and original."
To be continued next week.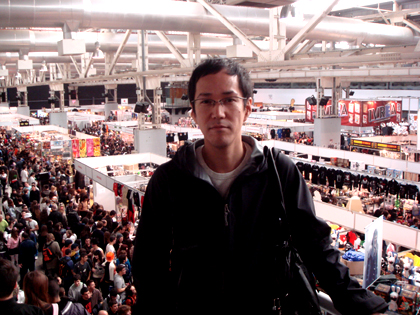 Director Kamiyama Kenji at the event hall and a sea of people below.
Next week: Barcelona's Salon Del Manga with Director, Kenji Kamiyama – Part 2.
Sakurai Takamasa - at the forefront of bringing Japan's kawaii culture to the world.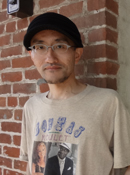 Contents Media Producer, author, journalist, managing director of Contents Street Inc. Chief Editor of iPhone magazine "Tokyo Kawaii Magazine" (ASCII Media Works), World Cosplay Summit Executive Advisor, Chief Researcher at Kodansha/Kodansha BC China Management Laboratory.
Cultural diplomat producing events in over 100 cities in 23 countries (as of July 1st, 2012). Books include "Galapagos-ka no susume" (Kodansha), "'Suteru' de shigoto wa umakuiku" (Diamond-sha), "Nihon wa anime de saiko suru
" (ASCII Shinsho), "Sekai no kawaii kakumei " (PHP Shinsho), and "Anime bunka gaiko " (Chikuma Shinsho). Writes regular columns in the weekly magazine "ASCII" and Yomiuri Shimbun.

●twitter http://twitter.com/sakuraitakamasa/

PRESENTS
All the info. on asianbeat's present campaign!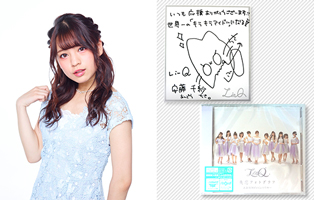 * Win a CD & a card signed by LinQ Chisa Ando!
[Details] Click
HERE
!