Ramen Kobo Ryu (らーめん工房 龍)

A big name in the world of Kitakyushu Ramen, welcoming diners near and far!
Even though it looks small, the restaurant "Ramen Kobo Ryu" is big name in the world of Kitakyushu Ramen that welcomes diners from not just the local Yahata area, but from all over the country.
Their ramen dishes have three features that work together perfectly; a mild soup that has a condensed umami tonkotsu (pork bone) flavor, medium-thin noodles that are easy to eat, and top quality ingredients. The perfectly balanced ramen is the result of a technique honed by a committed owner who has been in charge of the kitchen since the restaurant opened 21 years ago. Their take away ramen is also really popular!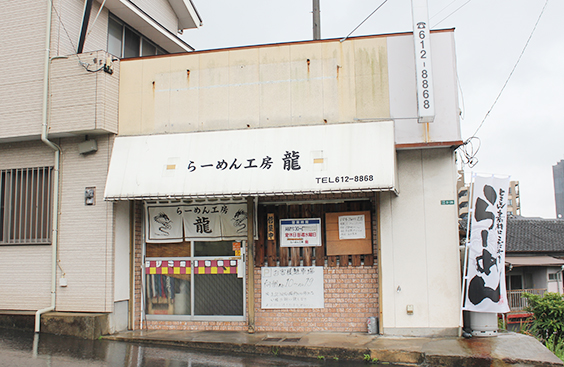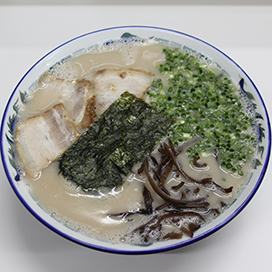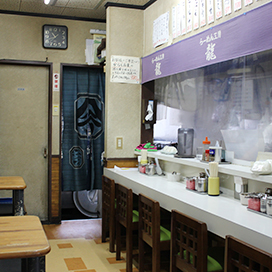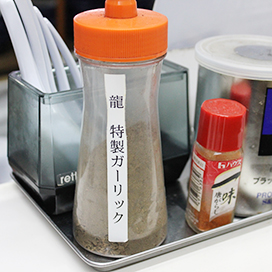 Everything served in the restaurant has been prepared by the owner's hand to an unwaveringly high standard, from the noodles that are skillfully cooked using a flat colander, to the slightly sweet char siu (roasted pork fillet), and popular pickled takana (leaf mustard). That's not all; the owner also prepares the condiments served on the tables, such as the red pickled ginger and special pepper blend. Made from boiling pig bones for over 13 hours, the soup has an exquisitely rich quality. There's not a particularly strong tonkotsu (pork bone) smell and the aftertaste is almost refreshing. Each mouthful accentuates the relatively thick broth and brings out the rich, umami flavor in the dish. It is so tasty you won't your spoon down until you've had every last drop!

The dried powdered garlic is known as "Ryu Tokusei Garlic" (specially made Ryu garlic) and can be found on the dining tables. It's a great addition to a bowl of ramen if you are looking for extra punch or a slightly stronger smelling dish. There are some days when they run out of soup after only three hours, so make sure to visit nice and early!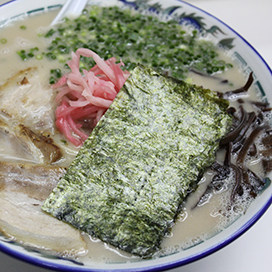 [Menu]
Ramen... 600 yen
Char siu men (ramen topped with roasted pork fillet)... 770 yen
*Omori (large serving)... each plus 100 yen
Yakimeshi (fried rice)... 520 yen
Gyoza (dumplings)... 300 yen (6 pieces)
Onigiri (rice balls)... 160 yen (2 pieces)
And more...

Ramen Kobo Ryu (らーめん工房 龍)
2−3−28 Sangamori, Yahatanishi-ku, Kitakyushu-shi, Fukuoka-ken
*6 minutes walk from "Sangamori Station," Chikuhō Electric Railroad Line, close to the Einomaru-nishimachi 2-chome intersection
*Parking available (10 spaces)
Telephone number: 093-612-8868
Number of seats (capacity): 13 seats
Opening hours: 11:30-14:30 (* until the soup runs out)
Closed: Wednesdays and the second Thursday of the month

*All information correct as of September 2016
Related Articles