Interview Now - Azusa Tadokoro -(2/2)
I'm into anime and TV shows where the characters care for each other...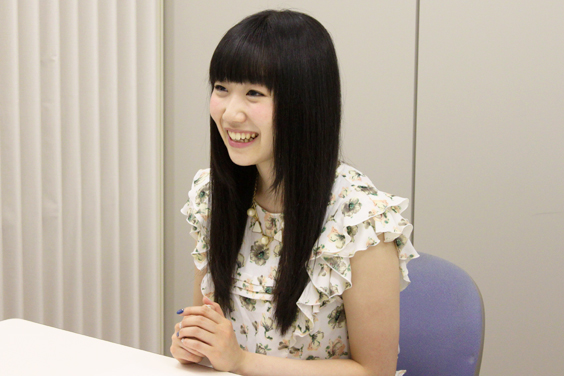 Q. What are you in to at the moment? Is there anything that your crazy about?

Recently I've been obsessed with foreign dramas, as well as "Crayon Shinchan" (lol)!
I've loved "Crayon Shinchan" for a long time, and recently I rented out the film again so I could re-watch it, I'm always renting out and watching films and TV anime shows. I think the friendships that exist in the "Kasukabe Boueitai (Kasukabe Defense Organization)"* are so wonderful! * (An organization that Shinchan and his friends create in "Crayon Shinchan" to promote peace in the city of Kasukabe.)

I'm into shows where the characters care for each other... And in drama series from abroad too, I really like to watch TV programs that show friendships being cultivated, such as "Sherlock," "Supernatural" and "The Walking Dead." On my days off I just watch these kinds of shows all day!

Q. Oh, we see! What about manga, anime and games? Is there anything that you're hooked on?

As far as manga is concerned, I've always loved "Natsume Yuujinchou (Natsume's Book of Friends)" and "Kuroshitsuji (Black Butler)," and even now as soon as a new release comes out I buy and read it straight away.
To be honest, I'm so bad at games. I'm totally useless, about the only game I can play is the smartphone app "Tsum Tsum!"
Q. As a voice actress it must be so important to protect your voice. Do you know any tricks of the trade or have any secrets methods for looking after your voice?

I once lost my voice, so I have to make sure that I take care of my self. So I have a humidifier and usually wear a mask when I sleep. When I feel like I have used my voice too much, I use an inhaler before I go to sleep. I have to stay really alert and take lots of different precautions to keep my voice healthy.

Q. Do you carry anything around with you in case of emergency?

I always carry throat candy with me. On my last visit to Taiwan, I bought some candy, which is a bit like Chinese medicine, from a convenience store. I heard that they work really well and are good for your throat, so I make sure to always have them with me. They're even in my bag right now!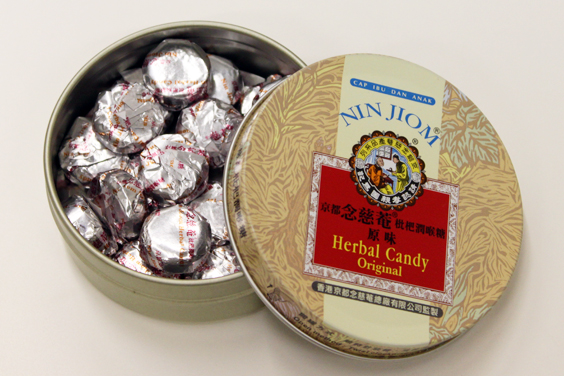 Q. The container is so cute and stylish! They sell this kind of stuff in just a normal convenience store?

I know, can you believe it! They sell this in convenience stores! And the taste... I think the taste is pretty unique. They are delicious and taste a bit like mizuame (sweet Japanese candy). You'll either love it or hate it (lol)!
I was so thrilled, it really gave me a lot of confidence, I felt so happy!
Q. You mentioned about your trip to Taiwan, what about your travels abroad? What kind of performances have you been doing outside of Japan?
Well, I've been to Singapore 3 times and Taiwan once.
Q. What did you think the differences were between the countries you visited abroad and Japan?
To be honest, they are not that different at all! All the fans knew exactly when to shout out for all the songs. I guess they really like Japan, that's why they study Japanese. Everyone was really good at Japanese!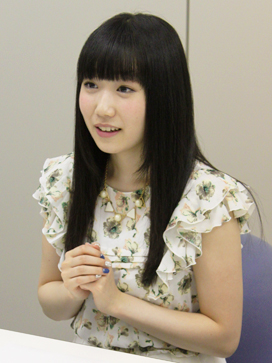 When I would speak in Japanese, everyone would understand what I was saying. All the people I met were so warm, and even though there was many people who had no idea who I was, I was really touched by how everyone welcomed me.
For my last trip, I went to Singapore by myself, and I MC'd (the event) entirely in English! I had thought that my English was really shoddy, but everyone did their best to understand me and when they got what I was saying they were excited and I was so thrilled, it really gave me a lot of confidence, I felt so happy!
Q. On the topic of English, we've seen the promotional video for "Beyond Myself!" on YouTube and in it you were speaking English! Was there any particular reason that you did it in English?
No, not at all (lol)! That just went so badly! My manager gets carried away, I sometimes get made to do that kind of thing! At that time my English just was not good enough, but now I am able to speak a lot better!
Q. Are you currently studying English?
Well, I'm trying (lol)! I'm totally hooked on foreign dramas at the moment, but I still really struggle with English!
Q. Recently the titles for all your blog enteries have been written in English. What kind of titles have you been choosing?
I've been picking up words and vocabulary that I hear in foreign dramas, such as "Supernatural." But there is a lot of slang and words that are really of no use to me (lol)! Maybe they would come in handy if you were in really extreme situations (like in TV show), but they are not the kind of phrases that you can use in everyday life! I couldn't use anything I'd heard from TV programs during my trip to Singapore, they weren't any use to me at all!
I have fans abroad! I really want to go and see them again!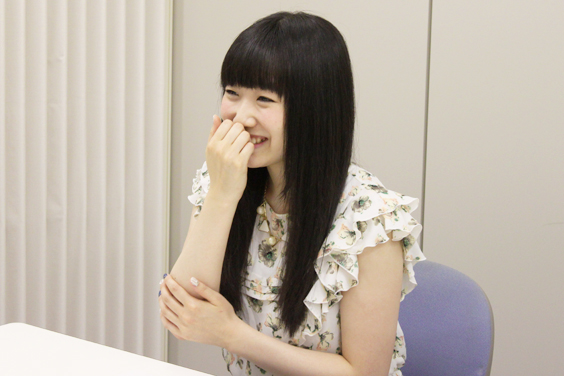 Q. Well, with TV drama's I guess you are going to hear a lot of slang (lol)! Are there any countries/regions you want to go in private (not for work)?
Well, if we're talking about a private trip, I've heard that Saipan is beautiful, so I would love to go there. And Guam is kind of close, right? I'd like to go to a resort close by. My first trips abroad have been for work, so I really want travel outside of Japan and do some sightseeing with my friends!
Q. For your next performance where would you like to go to?
Well, I'm not too sure, but as I'm used to it now, I think I would like to go to Singapore again. I've made contacts and friends there, and if I go back there will be local fans that will come to my performance, and it would be great to see them again!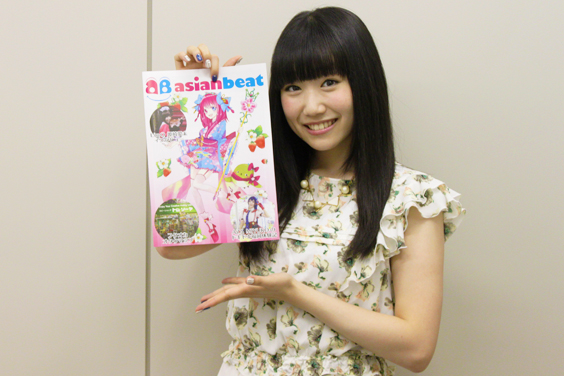 Q. Finally, do you have a message to your fans who read the asianbeat website?
I hope that in the future there is a chance for me to visit all the different places where my fans live, and if I do, then let's meet up and have some fun! Until that time I will continue to do my best as a recording artist and voice actress! So please keep an eye out for me! Thank you so much!
Azusa Tadokoro
2011 Grand-prix winner of the "36th HoriPro Talent Scout Caravan - Voice Actor Audition for the Next Generation." Plays the role of Aoi Kiriya in the anime "Aikatsu!" and also does the voice of Shizuka Mogami for the game "THE IDOLM@STER MILLION LIVE!" First solo live performance in December 2013. Debut album "Beyond Myself!" was released in July 2014, and in December of the same year carried out a live tour in Tokyo and Osaka. Furthermore, in April 2015, the release of first single "DREAM LINE" was announced.
Official Website:
http://tadokoroazusa.com/
Official Blog:
http://ameblo.jp/azusa-tadokoro/
Azusa Tadokoro autographed cards Present Campaign!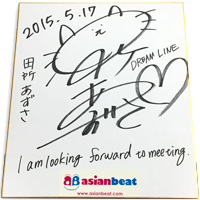 THREE lucky readers
of asianbeat have the chance to win a card autographed by Azusa Tadokoro! Don't miss this chance to win!
The application period is now over. Thank you!
The Three lucky autographed cards' winners are...
星人 san
타도코로 아즈사 긔여워! san
RTasuberu san
(asianbeat will contact the winners directly.)