Fukuoka Otaku Map-ver. 痛(Two) - "ONE PIECE Mugiwara Store, Fukuoka"(1/15)

All kinds of awesome treasures to discover!!
It's here at last! The FUKUOKA OTAKU MAP ver.痛 (two)! finally gets underway! In this edition check out the biggest ever "ONE PIECE" official merchandise store, the "ONE PIECE Mugiwara Store, Fukuoka!"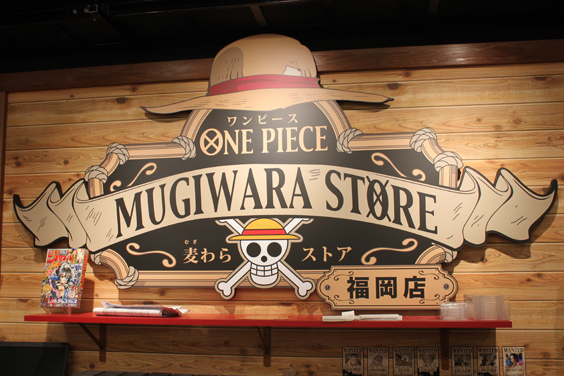 The "ONE PIECE Mugiwara Store, Fukuoka" opened on Friday 22 May 2015 in Fuku-Pop section of the 7th floor of Fukuoka Parco, Main Building!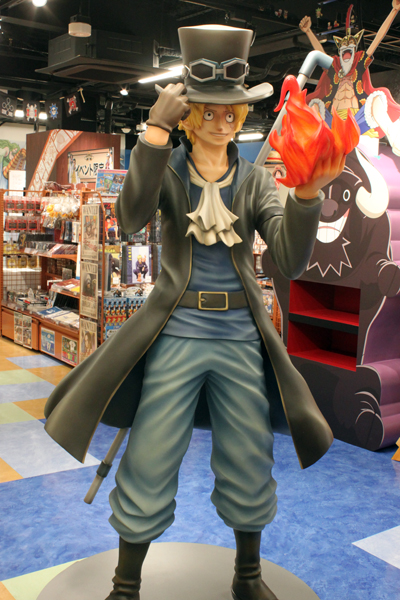 Stepping foot inside the Fukuoka store, the first thing you see is a life size model of Sabo! In addition to "ONE PIECE Mugiwara Store" in Fukuoka, shops have also been opened in Shibuya, Tokyo Tower, Osaka, and Nagoya, with each store featuring a different life size figure (the character varies from store to store)! For your information Ace is in the Osaka branch and Luffy is in the Nagoya store, so if you have the chance please stop by!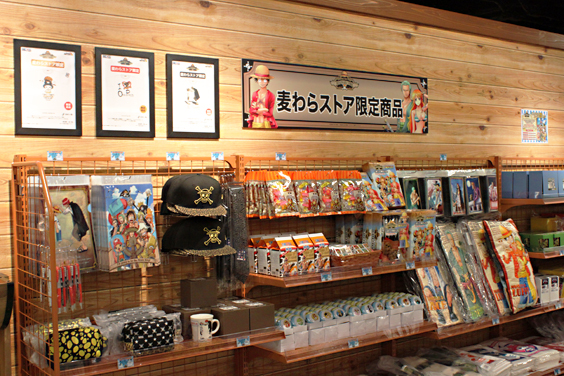 When you visit the Mugiwara Store, the area that you just have to check first of all is "Mugiwara Store Limited Edition Goods" corner! They have rare goods that you simply won't be able to find outside of the store, as well as a whole range of fantastic souvenirs!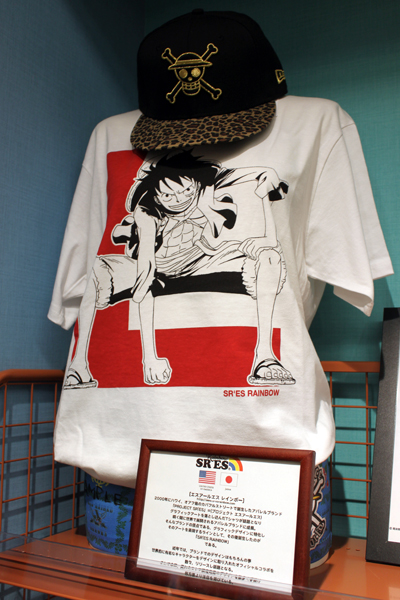 You can even try on stylish "ONE PIECE" goods, in the clothing (apparel) corner! With a special range of clothing that has been created through a collaboration between "ONE PIECE" and Hawaiian Street brand "SR'ES RAINBOW," there's more stylish, high-quality goods than you can possibly imagine!
Inside the store, they have recreated wonderfully accurate version of the "ONE PIECE" world, and inside you will find adults and children alike, scattered around enjoying themselves in absolute bliss! Customers have been desperately trying to find the "Hidden Luffy" images around the store and have really taken to the challenge!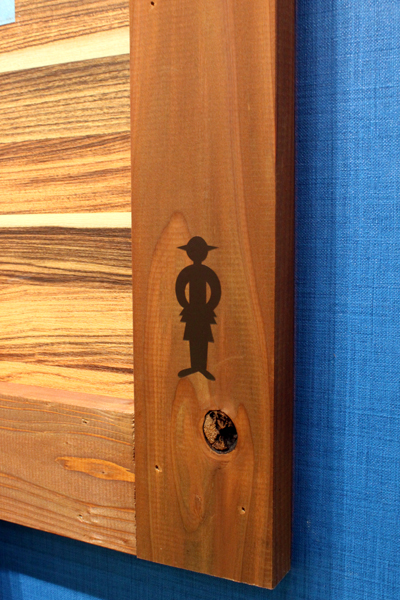 In the store silhouettes of Luffy have been hidden in various places around the shop. The location of these "Hidden Luffy" images is top secret and even adults have been frantically trying to find where they have been located!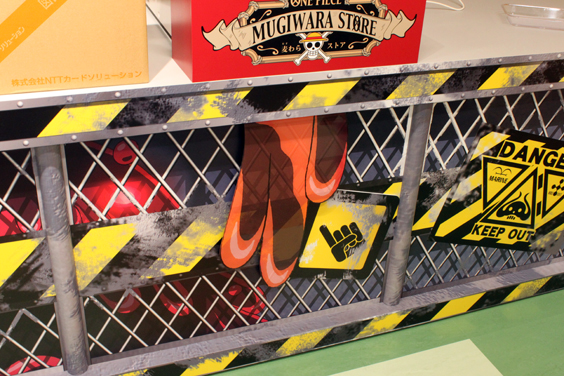 Turn the degree of difficulty up to MAX! Finding the "Hidden Luffy" silhouettes is no mean feat! Even if you really concentrate, it's not a given that you will be able to find them, I could only find this one after having it pointed out to me!
Yen isn't the in store currency, instead they use "belly" just like in "ONE PIECE"! It's easy to keep track of though... 1 yen is 1 belly, so there's no need to worry, you can fully experience the world of "ONE PIECE" right up until you pay for your goods at the cash register!

The Mini "YAKARA (Comrades)" Badge Set is one of the recommended items that is on sale in the Fukuoka store. There are 2 sets and each one costs 7,500 bellies(yen) (plus consumption tax). These are some limited merchandise that can be found in the Mugiwara Store.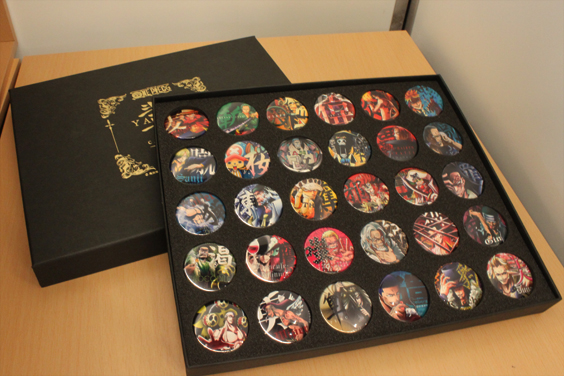 The "Mini "YAKARA (Comrades)" Badge Set" Vol.1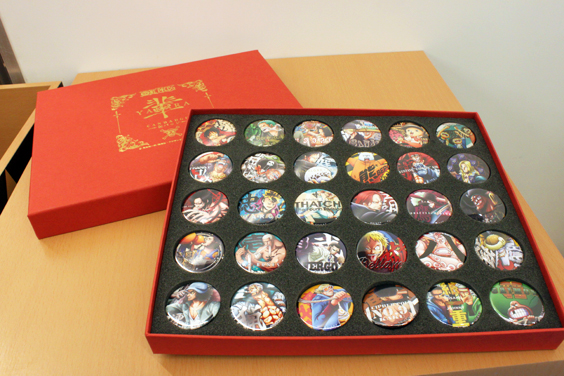 The "Mini "YAKARA (Comrades)" Badge Set" Vol. 2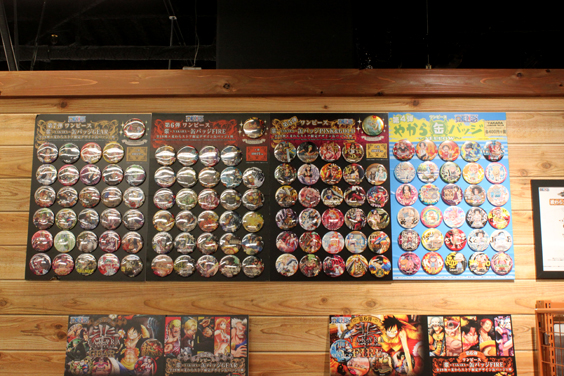 The "Mini "YAKARA (Comrades)" Badge Set" is a top seller in the store and is made up "YAKARA (Comrades)" Badges" (each one costs 400 berries, plus consumption tax), which are difficult to get your hands on! Usually the "YAKARA (Comrades)" Badges are sold individually packaged (so you don't know what your'e going to get), but when it comes to the set you can see what badges you are buying, which makes it a great purchase for collectors.
On my visit I got to speak with the super cute crews!! The Mugiwara Store uniform is just the same as the navy outfit that appears in ONE PIECE, with the characters for "Justice" emblazoned on the back.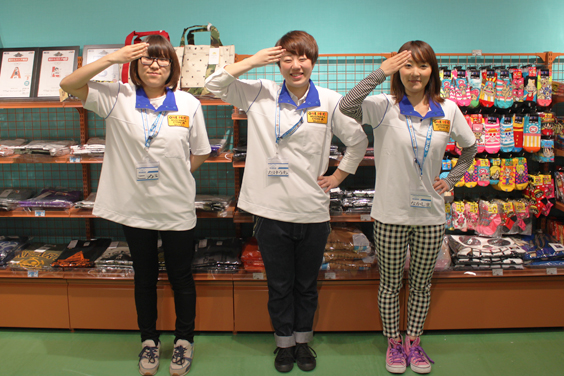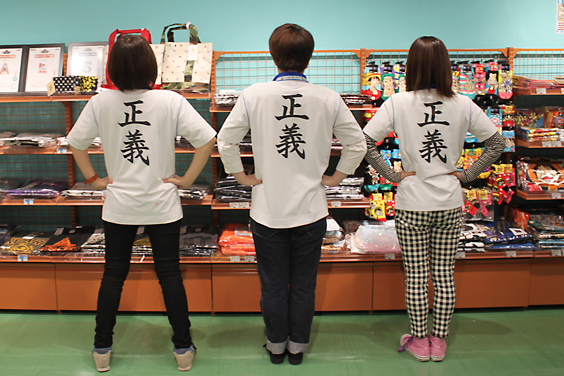 From Left to right: Koga san, Takeuchi san and Nakashima san.
Three people who just love ONE PIECE and hearing about your favorite characters! Koga san's favorite characters are Nico Robin and Franky, Takeuchi san's is Roronoa Zoro and Nakajima san's is Trafalgar Law! If you're wondering about what product to buy, feel free to have a chat with the crew. As they are fans themselves, they will certainly be able to give advise you on what goods might be a nice purchase!
And with that being said, we asked them what products they would recommend. Here's what they suggested...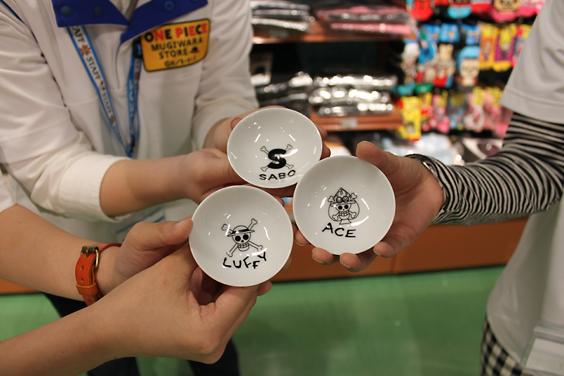 The "Brothers Vow 3 Piece Cup Set" 2,300 bellies (plus consumption tax)
As these are items that are from the show, they appear in a moving scene in which the brothers Luffy, Ace and Sabo, make a toast and share a drink with each other, there is little doubt that fans will be desperate to get their hands on this cup set! This is a really unique, versatile piece of merchandise, it's an item that has been replicated from a scene in the show, can be used to keep valuables in, and even used for serving snacks!
Whilst allowing fans to enjoy the world of "ONE PIECE" in this way, the show is a bit like a dream land where you can purchase goods that you've seen favorite character actually using in the show. There's just to many items for us to introduce to you here, so make sure that you get down to the store to see the full range of merchandise that they have on offer!
ONE PIECE Mugiwara Store, Fukuoka is HERE!
ONE PIECE Mugiwara Store, Fukuoka
- Products: ONE PIECE Character goods
- Address: Main Building 7th Floor, 2-11-1 Tenjin, Chuo-ku, Fukuoka-shi, Fukuoka Prefecture
- Official Website:
http://www.mugiwara-store.com/
*All information correct as of June 2015
©尾田栄一郎/集英社
©尾田栄一郎/集英社・フジテレビ・東映アニメーション