The Third Annual asianbeat 4Koma Manga Contest - Related Events
Kitakyushu Manga Museum 4-koma Manga Course
Date:October 13th (Monday)
Time: 13:00-16:00

"Lecturer - Sei Keisuke": From Nippon Designer Gakkuin, Faculty of Manga

Place:
Kitakyushu Manga Museum Event Corner
 Asano, Kokurakita-ku, Kitakyushu-shi 2-14-5
 At Aru-aru City, 6th floor

Theme:
Drawing 4Koma Manga

Applications:Please submit the following information by October 12th (Sunday). You may submit your applications:
 1. Via e-mail
 2. Fill out an application at the Kitakyushu Manga Museum and submit it directly
 3. As a return postcard

Please make sure to include the following:
・Theme: 4-koma Manga course
・Your address, along with your postal code
・Your full name, how to read it, your age, (if you're a student please also include what year you are in)
・Phone number
・What degree of experience/skills you have in working with manga (e.g. Coloring or tracing skills, if you have the ability to draw original characters, etc.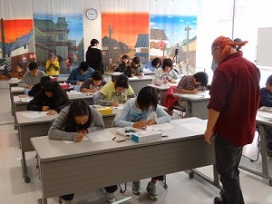 A couple picture from the manga course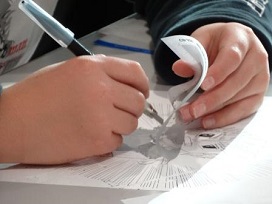 (1)If you decide to submit your application by return postcard please send it to the following address:
 Kita-kyushu Manga Museum
 AruAru City 6 floor, 2-14-5 Asano, Kokura-kita-ku,
 Kitakyushu-shi 802-0001

(2)If you decide to submit directly to the museum please take your filled-out application to the following:
 6th floor reception or the sommelier counter
* Please make sure to also include a valid e-mail address

(3)If you decide to submit by e-mail please do so at the following address:
 manga@city.kitakyushu.lg.jp
The Third Annual asianbeat 4Koma Manga Contest Exhibition
The award-winning, popular works will also have the opportunity to be displayed at the Kyushu Manga Museum in "The Third Annual asianbeat 4Koma Manga Contest Exhibition."

*Dates: January 31st (Saturday), 2015 to March 20th (Friday), 2015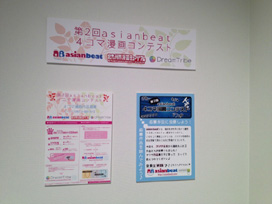 A look at last year's event
Related Links