The Third Annual asianbeat 4Koma Manga Contest - Winners-
From October 1st to November 17th 2014, we accepted submissions for 'The Third Annual asianbeat 4Koma Manga Contest' and received a total of 283 entries. Of these, we selected 83 different pieces to be cast into an online popular vote (November 26th 2014 - January 16th, 2015) and critiqued by a panel of the experts. Below we announce the winner of our Grand Prize, For outside Japan Prize, Fukuoka Award, Kitakyushu Manga Museum Award, and asianbeat Award.
Grand Prize!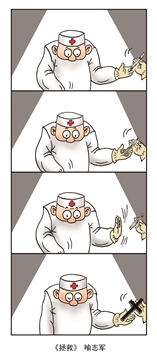 Title: Salvation
Artist: yzj64

Judges' Comments:
・The punch line is so fine and in professional grade.
・Cross-border funny work! Not only picture but also rhythm are on the first class.
For outside Japan Prize!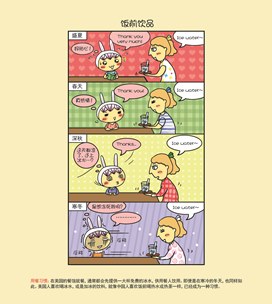 Title: Pre-Meal Drinks – Memories of Studying in America
Artist: carolwenxue

Judges' Comments:
・Pretty picture. The season also is well represented.
・Picture is cute. Funny expression about the usual habit won the support.
[Translation (Chinese part only)]

1. [Summer] Great
2. [Spring] Great
3. [Fall] Ice Water again?! But it's getting kinda cold…
4. [Winter] Are you trying to freeze me to death?

Note: In America they serve ice water at restaurants before the meal. In China it's customary to have warm water or tea before a meal.
Fukuoka Award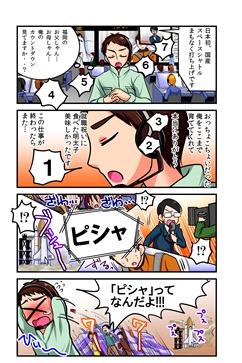 Title: 3, 2, 1
Artist: のゆき

Judges' Comments:
・even I am not a local laughed involuntarily!
・This humor is probably understood by only Fukuoka people love roe.

[Information]
In Fukuoka there is a TV commercial by a well-known mentaiko producer and in the commercial the mentaiko is described "Aji ga pisha to tsuito~," which can be translated as "it's packed with flavor." "Pisha" is an onomatopoeic word meaning "splat," so quite literally it means the mentaiko is "splat with flavor." Then, just as the clock is about to strike 9 in the commercial the characters say, "Now to countdown to 9 o'clock with a 'pisha' (splat). 3, 2, 1, pisha!" Just about everyone from Fukuoka is familiar with this ad.
[Translation]
1.
The first ever Japan-made space shuttle is just about ready to launch.
Mom and Dad in Fukuoka…Are you watching my countdown…?

2.
I was a clumsy child but you raised me and got me this far. I'm truly grateful.
The mentaiko I ate in celebration of getting this job was delicious
When this job is over I want to…

3.
Murmur… Murmur…
Pisha
Rooaaarrr

4.
What the hell is "pisha"!!!
Kitakyushu Manga Museum Award!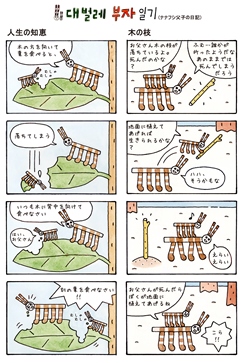 Title: Diary of a Father and Child Stick Insect 2
Artist:dong jun shin

Judges' Comments:
・I felt comfortable by this heartwarming work.
・Parent-child conversation is pleasing. Picture also has a rhythm and future is expected.
[Translation]

- Life Lessons -
1. If you eat leaves while facing the tree
2. you will fall.
3. Always eat with your back to the tree.
Okay, Dad.
4. No, don't eat this one!!

- The Twig -
1. Look, Dad, a twig has fallen from the tree. I wonder if it's dead?
Hm…looks like someone broke it off. If we just leave it there, it probably will die.
2. Will it live on if we stick it in the ground?
Haha, it just might.
3. Attaboy
4. When you die, Dad, I'll stick you in the ground, too.
Oi!!

asianbeat Award!

Title: It Moves
Artist: Surume Ouji

Judges' Comments:
・I impressed your notice on a detail!
・I also noticed it recently. The gem which is expressed a small thing well.
[Translation]

1. My manga is done~ Now to send it off. Hm?
2. That's weird… Maybe my eyes are just tired.
3. (blank)
4. Ah
If you look closely, it moves
Kawaii
I only just noticed.