Check-out our newly designed asianbeat website!

The asianbeat website has been reborn!!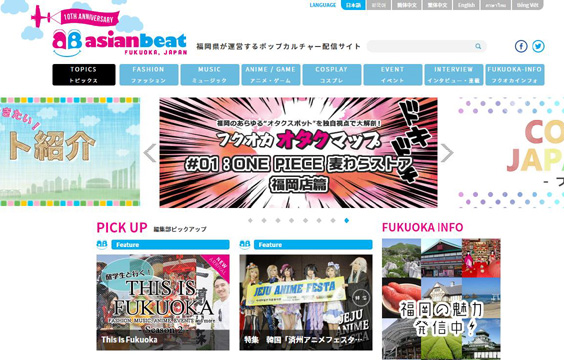 asianbeat was created on September 30 2005 and so in 3 short months we will be celebrating our 10th birthday! Japanese pop-culture, which has come to be synonymous with words such as "Kawaii" and "cosplay," has proven influential with young people the world over, and having produced countless fans of the country, can rightly be called one of the prides of Japan.

When asianbeat was first established, perspectives on youth culture, in the form of pop-music, anime and manga, were not things that local government's were actively engaging with, and this was a real challenge for the asianbeat staff at that time. Amidst these difficult circumstances, and as the result of the staff's efforts to create a hub for cultural exchange between young people in Japan, Asia and throughout the world, interactions over youth culture have dramatically expanded.

In our 10th year, in order to keep people afloat on the latest in the world of pop-culture, and to share the appeal of Fukuoka Prefecture through the eyes of young people, asianbeat has massively updated its website! The content of the site has been totally revamped! For example, the main page of the website has had a face-lift, photographs and images have been utilized to make the site easier to use and navigate, the "asianbeat Gallery" has been created, and we will be uploading videos so please stay tuned!

The depreciation of the yen has seen huge cruises start to call at Port of Hakata as a part of their journeys, and consequently the number of international tourists visiting Fukuoka has been rapidly increasing. asianbeat will move forward with the same passion and verve to create a hub of cultural exchange between young people in Fukuoka, Japan, Asia and around the world, which we had when we started out, and we will continue to update those of you living abroad, through the eyes of the youth, on the latest pop-culture trends, as well as the appeal and allure of Fukuoka! (Y King)
Related Articles
PRESENTS
All the info. on asianbeat's present campaign!