"BAKE CHEESE TART," the cheesecake specialists, have finally opened a store in the Tenjin Chikagai, Fukuoka!

Finally hitting Fukuoka! This cheese tart, which originates out of Hokkaido, is made out of 3 different types of cheeses!
Amidst the usual hustle and bustle of Tenjin Chikagai, conspicuous yellow boarding is likely to have caught your eye over the last couple of months. A quick glance and many of you would have seen photographs of countless cheesecakes and a sign saying that a new store would be opening in September! Perhaps above all else, cheesecakes are a particular favorite of mine, so I was eagerly awaiting the shop's opening! And the day finally arrived when I could get to try them for myself!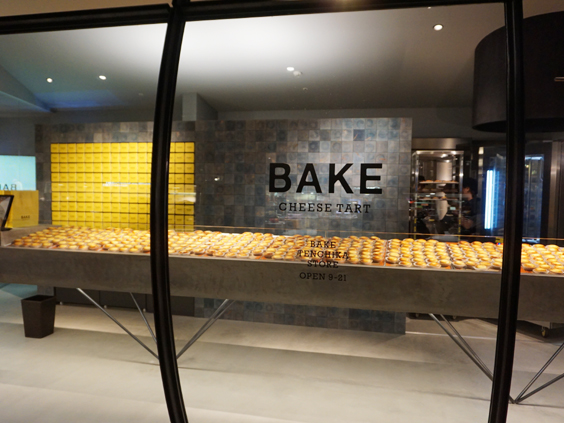 The golden cheese tarts shine inside, the bright yellow interior accentuates the whole store.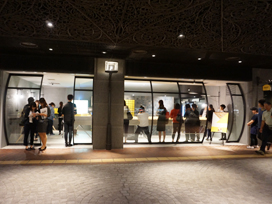 The store is located just beside the Tenjin Subway Station.
You'll only find flavor like this in a store specializing in cheesecakes!
The day before opening to the public, the media was invited along for a tasting session, and asianbeat was honored to go along to sample what they had to offer.
At first glance it looks a bit like an egg tart, but once you bite into it you'll be shocked at soft, fluffy texture of the cheese mouse. Unbelievably, it's even softer than it looks! Perfectly complimented by the crispy base, the cream cheese, which is a blend of 3 different types of cheese from Hokkaido and France, is not too sweet. And with a slight tart flavor, the taste exquisite, simply to die for!
There's 4 ways to enjoy these cheese tarts, of course you can try them at room temperature. But you can also have them warm by toasting them up in your oven, chilled by storing them in your refrigerator, or even try them as a kind of cheese cake ice cream by keeping them in your freezer.
Come wind or rain, Tenjin Chikagai is always accessible. I will definitely be swinging by to pick up a cheese tart on my way back to work after my lunch break! (Editorial Dept.: Yamashita)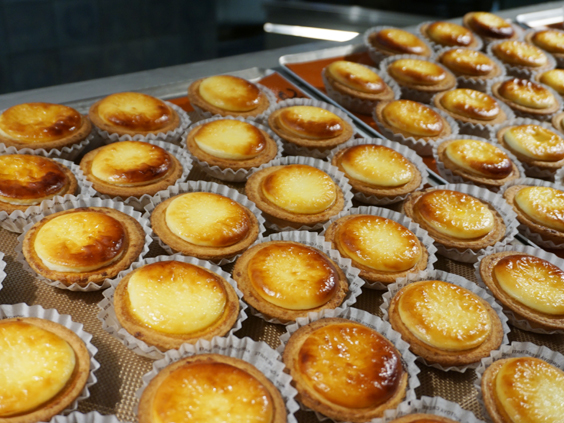 A sight to make you smile! Seeing this amount of cheese tarts in one place really is something!
SHOP INFO: BAKE CHEESE TART Tenjin Chikagai
Address:Tenjin Chikagai East 4th Block, Basement Floor 2, 2 cho-me, Tenjin, Chuo-ku, Fukuoka-shi
Opened on 17th September (Thursday) 2015
Opening hours:9:00-21:00
Menu:
1 baked cheese tart: 216 yen (tax included)
Box of 6: 1,242 yen (tax included)
Official Website:
http://bakecheesetart.com/index_en.html
External Links