The Cosplayers Serving Up Handmade Riceballs in Shinjuku's Golden Gai. (1/7)

Golden Gai's once-a-week cosplayers? Cosplay café, "Omusubi Mura."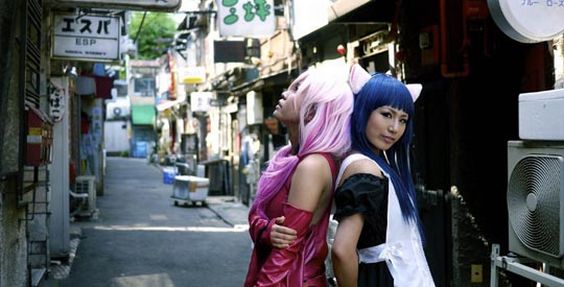 Photo Gallery HERE
Commonplace is boring. You lose interest in something once you know you can see or do it just about anywhere. If you go to Akiba (Akihabara) you can find "moe" everywhere. There's perhaps too much going on in this country.
However...
Japanese pop culture is ever evolving and for the first time in a while I caught wind of one of those rare rumors that I felt just had to be pursued.
"In Shinjiku's Golden Gai there's a shop called "Omusubi Mura" – a café run by a couple of well-known cosplayers."
Golden Gai is a small area of Shinjuku, famous for its architecture and its nightlife. It's a reflection of Tokyo in the 1950s and a popular drinking spot for people in all kinds of trades and professions. Thus, Golden Gai and Cosplay Cafés are not two things you would generally associate together. I was curious just who and what motive inspired this concept, so I decided to check it out for myself.
Cosplay café "Omusubi Mura"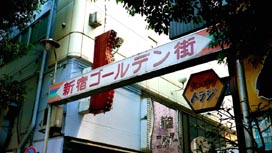 ● Experiencing Shinjuku's past and future in Golden Gai.
I arrived at Golden Gai around noon. It's certainly not the type of place you would expect to find a cosplay café, but lo and behold, there was "Omusubi Mura."

Opening the door to the café, it was no more than a small, 10-seater space that just looked like a rundown bar. But behind the counter where two girls – cosplayers – dressed as characters from the anime "Guilty Crown."
Cosplaying Yuzuriha Inori is Ulala.
Ulala has a big following overseas, particular in Indonesia and South East Asia.
Cosplaying Tsugumi is Haruka.
Two rising stars of the cosplay world.

The lunch that they serve is rather wholesome. Riceballs and a soft drink.
I ordered the mentaiko riceballs and right in front of me the two began molding the riceballs by hand. This is something you very rarely see! And the food tasted good too.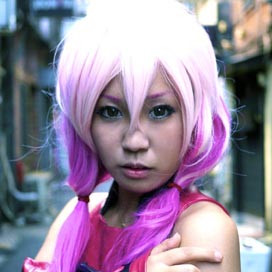 ● Ulala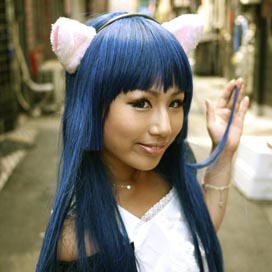 ● Haruka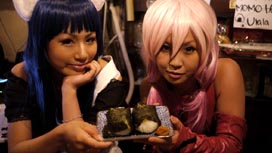 ● Their handmade riceballs.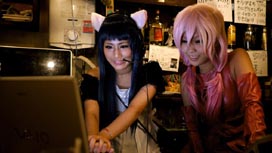 ● All of a sudden they started up a live feed.
As I ate my riceballs I asked the girls about their work and their cosplaying, and somehow, amongst it all, I got dragged into one of their live broadcasts on Nico Nico Douga.

Their world is surreal, it's post-modern, and it's uniquely free.
"We're willing to try anything as long as it seems interesting. We want to raise cosplayers who can entertain customers while they work."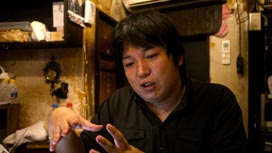 ● Speaking with Mr. Shibusawa on the future of cosplay.
The company behind "Omusubi Mura" is ONIGIRI Project – also the agency managing some big name cosplayers like "YUIMINO," who took part in this year's Japan Expo.

I asked Mr. Shibusawa of ONIGIRI about the idea behind Omusubi Mura.
――Why a cosplay café in Golden Gai?
Shibusawa: A friend came to me and said, "I have a shop in Golden Gai which is run by a different person each day of the week. Do you think you can come up with something interesting for the shop?" At ONIGIRI we're willing to try anything as long as it seems interesting, so I agreed. We set it all up and my friend just burst into laughter, saying "You're actually going to do it!" (lol)
――How many customers do you get? Do you make a profit?
Shibusawa: We get about ten customers in one day. Omusubi Mura isn't about profit so much as it is about the fun, friendly interaction between cosplayer and customer. The girls running the shop really enjoy themselves too; that's the main thing.
――What are Omusubi Mura's and ONIGIRI's plans for the future?
Shibusawa: Omusubi Mura will continue operating once a week. As for ONIGIRI, we want to raise cosplayers like the girls running Omusubi Mura, who can sing, dance, and connect with people, and ultimately be able to entertain customers while they work. We also want to create a cosplay school to further project cosplay culture throughout the world.
For those who want to experience this unique harmony of past and future be sure to check out Omusubi Mura in Shinujuku's Golden Gai.
Photo Gallery HERE
(Editorial Dep't. - Nakahara / Photos: Tetsuya Ishida)