Keurig Neko Cafe(2/2)

All of the cats at Keurig are rescued strays which have undergone a full medical check-up and have received all necessary inoculations. They live in the cafe until they are adopted by customers. On average five to six cats are adopted every month. Prospective "parents" are screened by Keurig staff prior to adoption. The next step is a one week "home stay" during which the cat and prospective owner get to try each other out. As most of the Keurig's staff are graduates of pet-keeping schools they are well qualified and highly motivated. Rest assured, this is no gimmick. Nomura stresses that her ultimate goal is to help the strays and create awareness of the problem and to promote respect for animal life.

While the cats are the main draw, a lot of effort goes into the preparation of the food, desserts and beverages. The menu features a range of pastas, grilled meat/fish, stews, the pictured BLT, and more. With so many women patrons it's no surprise that the dessert menu is substantial. The French Toast made with soy milk and Black Sesame Pudding are currently very popular with customers. That's all for humans, but what about the kitties you ask? For just ¥100 you can treat them to a bowl of sliced boiled chicken strips and become their favorite person.
Keurig puts a unique twist on the traditional cafe concept whilst offering high-quality and delicious fare. Whether or not you're intending to adopt, or even if you're a "cat person", drop by and check it out - a visit is an experience in itself!
Keurig Neko Cafe Daimyo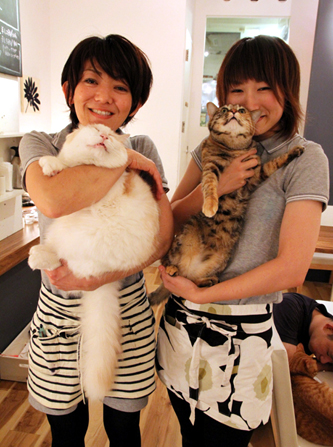 Keurig Neko Cafe Daimyo
1F Watt Bld., 1-10-15 Daimyo, Chuo-ku, Fukuoka
Open: 11:00 ~ 22:00 L.O. 21:00
Closed: Tue.
Tel: 092-985-3202
Prices: 30 min. visit ¥280 (10 min extensions/¥150),
60 min. + Drink Set ¥880, 60 min. + Food Set ¥880~¥1,380, 60 min. + Sweets Set ¥1,080, BLT Sandwich ¥780, French Toast ¥680, Flower Herb & Lemonade ¥580, Sapporo Black Label Beer ¥480
View Larger Map