Interview Now ~Kalafina~(1/3)

Since their debut in 2008, Kalafina have performed theme songs for numerous big hit anime. They're attracting a great deal of attention from overseas, and as such, the scope of their activities extends beyond Japan's domestic borders. After a successful two-day solo concert in Hong Kong in May this year, the group kept their foot on the gas, performing to an audience of 5,000 at their first appearance at "Japan Expo" in Paris in July and then going on to release their first best of albums, THE BEST "Red" and THE BEST "Blue," currently sweeping the music charts. It was announced recently that Kalafina will be performing a two-day concert at the Nippon Budokan on February 28th and March 1st next year, and as part of their national campaign, group members Wakana, Keiko and Hikaru visited Fukuoka on July 24th and they took time out of their busy schedule to sit down and talk to us!
Speaking with the trio, their loyalty to their fans and their passion and drive to spread Kalafina's unique stylings to more and more people throughout the world is clear.
Towards the end, we also have some autographed cards signed by Wakana, Keiko and Hikaru to giveaway to a few lucky asianbeat readers, so take your time and enjoy the interview!
Kalafina, the release of their first best of album, and their upcoming solo concert at the Budokan next year.
Q.(asianbeat) Your best of albums, THE BEST "Red" and THE BEST "Blue," released on July 16th have been extremely well received. Congratulations.

Kalafina: Thank you so much!
Q. I'm sure you get feedback from various places on a daily basis, but how do you feel about it now?

Wakana:It's been a week since it went on sale and we've been on this national campaign, going around to a whole lot of stores, giving live performances, watching people's reactions and listening to their feedback, and they often say things like, "Thank you for putting out a best of album," and "With these two discs I can learn more about Kalafina." Hearing from the customers directly like this makes me glad that we were able to put out a best of album. There are fans who have supported us our entire careers and so we tried to sum up the past six and a half years onto these two discs and hopefully a lot of people go out and have a listen. We wanted to show our gratitude to our fans with these two albums and I'm really happy with the result.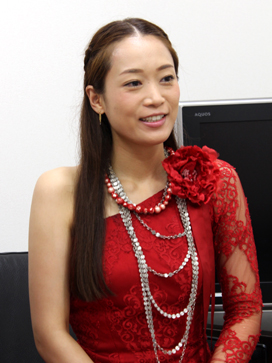 ▲Wakana
Keiko:From the day of release until today, we've been going around to all different places. We've visited record stores, met customers at our campaigns, and it's hearing back from the customers in various ways like this that makes me glad we put out these best of albums. Because it's our best of albums, I want to take my time and hear feedback from as many people as possible.

Hikaru:What I feel most is happy. I posted the announcement on my blog, "Now on sale," and seeing all the comments from people like, "Congratulations, that's great," it made me really happy that we put out a best of album.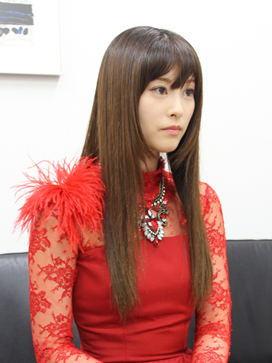 ▲Keiko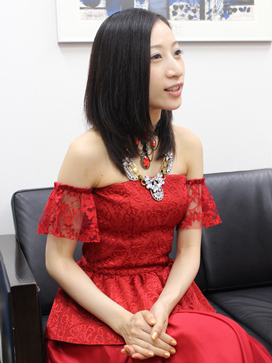 ▲Hikaru
Q. I listened to your two best of albums and even watched your live performance on Blu-ray, and I have to say, the richness and harmony of your beautiful voices is really soothing. Your producer is none other than the great Yuki Kajiura, right? What is she like in real life?

Wakana:Kajiura-san is a very feminine and wonderful person. She's extremely good at expressing her own musicality to us during recording, etc., and we often give live performances together and she's very good at speaking in front of people; I'm always learning from her. When we left to go on this national campaign, she told us, "Make sure to take bath salts," handing us a whole bunch of them – that's the kind of wonderful person she is.

Q. Is there a meaning behind the title of these albums, "Red" and "Blue"?

Keiko:The concept behind the two albums is the same, but "Red" and "Blue" both have their individual meanings. We've sung songs for so many different genres over the past six and a half years and we've come to realize just how broad a field music is. So we decided to divide our songs into two general categories: "Red" representing the up-beat, energetic songs, and "Blue" for the soul-soothing, more relaxing songs. We selected an even number of "Red" and "Blue" songs for each disc, so even though they have been divided into "Red" and "Blue," the same elements have been compiled into both discs.

Q. You always have such amazing outfits with each one being slightly different from the other two. Is this a reflection of your individual personalities or a personal preference perhaps?

Hikaru:Each time we get our costumes made, we get our jackets and other pieces made to match the theme of a particular concert or the vibe of a particular song. Of course they take our opinions into account, too, but they also know our voices are unique in their own ways and they keep this in mind when they're putting our costumes together.

Q. When you see the finished product, do you ever think, "I like that one better"?

Wakana:The design can be a point of jealousy at times.

Keiko:They're all fabulous, but we're always mindful to maintain a balance between the three of us.