Interview Now - 宝来忠昭 (Tadaaki Horai) & 新木さくら (Sakura Araki ) [LinQ] -(2/2)

From here on we speak with one of the film's stars, Sakura Araki.
This is a movie that all the members of LinQ worked really hard on, so I hope you all enjoy it
Q. First up, could you tell us about the character you play?
I play myself, Sakura Araki, in the film, a character lacking in self-confidence who thinks she's not capable of anything. LinQ breaks up in the movie and she fights alongside the other members of LinQ to try to keep the group together and continue to follow her dreams.
Q. What was your drive behind making this movie?
Like LinQ, this movie is based in Fukuoka, and I went into the filming hoping that it would help more people living in Fukuoka and Kyushu to learn who we are. I also want all the young girls and girls our age out there to realize the importance of following your dreams.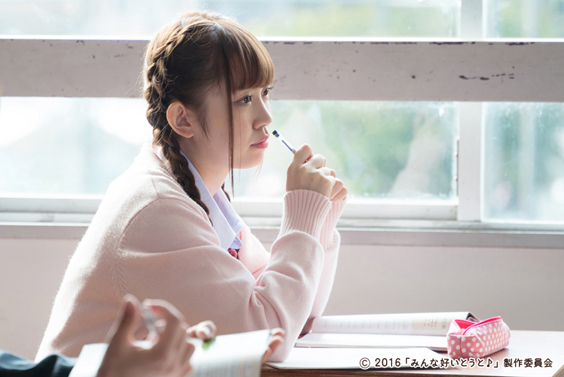 Q. Was there a particularly memorable or difficult scene?
There are a lot of scenes in the movie where I have to run through the streets of Fukuoka, but it's not just running, there's always a reason behind the running and it was expressing that emotion whilst running that was quite difficult.
Q. The movie was shot entirely in Fukuoka, but was there a particular spot where you shot that you would recommend to a friend living outside of Fukuoka or overseas?
I would recommend Daizaifu Tenmangu shrine. I've always liked that shrine, particularly the scenery along the path leading up to the shrine and its solemn atmosphere.
It's well known around Japan as a shrine dedicated to the god of learning, so I would recommend the spot to students. I think it would also be a good starting point for overseas visitors who are interested in Japanese shrines, and more than anything, I want them to try the
umegaemochi
(traditional rice cake with azuki bean filling) that are sold at many of the stalls lining the path leading up to the shrine. The freshly made ones are hot and delicious (lol).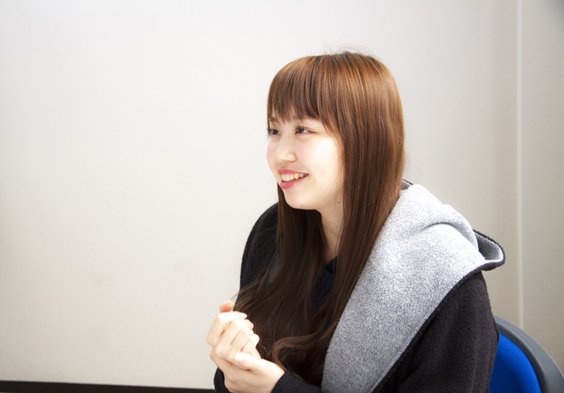 Q. Which is more nerve wracking, singing and dancing on stage as an idol or acting?
They're equally nerve wracking (lol).
Acting was quite embarrassing for me in the beginning, so I was really nervous.
It's been two and a half years since our debut but I still get nervous even now. But I like the nerves that come with performing live – I hope they never go away. With acting, once you fully become your character you're immersed in their world, so I guess when I think about it like that, I'm more nervous performing as an idol (lol).
Q. The film's release is imminent. Do you have a message for all the people waiting to see it?
The film will be out in cinemas soon, but I hope that all the fans that go to see it will come to like LinQ even more than before, and I hope that through the film LinQ reaches a wider variety of people as well. This is a movie that all the members of LinQ including myself worked really hard on, so I hope you all enjoy it. Enjoy it multiple times even (lol).
"Minna Suitouto♪" (Love You All)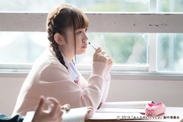 Screening from March 19 at United Cinemas Canal City 13 and cinemas around Kyushu.
The film is a celebration of Fukuoka: set entirely in Fukuoka, the film stars Fukuoka idol group "LinQ" and features a host of Fukuoka-born actors and production staff. The story starts with "LinQ" suddenly announcing their disbandment. This is a coming-of-age drama filled with all the emotions, troubles and daily lives of young girls chasing after their dreams, set in entirely in Fukuoka!
Director Tadaaki Horai & Sakura Araki (LinQ) autographed cards Present Campaign!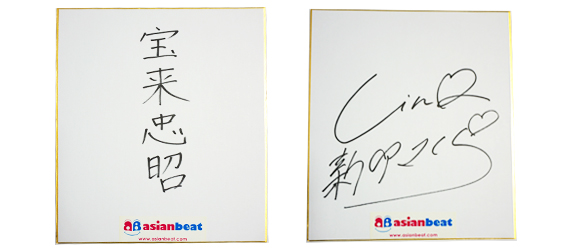 Two lucky readers of asianbeat have the chance to win a card autographed by Director Tadaaki Horai (1 lucky reader) & Sakura Araki [LinQ] (1 lucky reader)! Don't miss this chance to win!
[Application Period]
March 10th (Thursday) until April 10th (Sunday), 2016 (Japan Standard Time)
The application period is now over. Thank you!
The two lucky autographed cards' winners are...
天平 san (Director Tadaaki Horai)
べっしー san (Sakura Araki [LinQ])
(Please note, winners will receive an email directly from asianbeat. If you don not reply with a confirmation message within a week, you application will become invalid and you will not be able to claim your prize.)
Related Articles
External Links