Interview Now - 峯田茉優 (Mayu Mineda), 福原綾香 (Ayaka Fukuhara), 阿部里果 (Rika Abe) -(1/2)

On 23rd February (Saturday), at the Next Stars Circle, an event that was held for the first time to cheer on the "next stars" from Fukuoka in field of voice acting, we interviewed the "next star" Mayu Mineda, and special guests Ayaka Fukuhara and Rika Abe! There are amazing presents to be given out, so please read until the end.
It was really fun to be able to stand on the same stage as my seniors for the first time.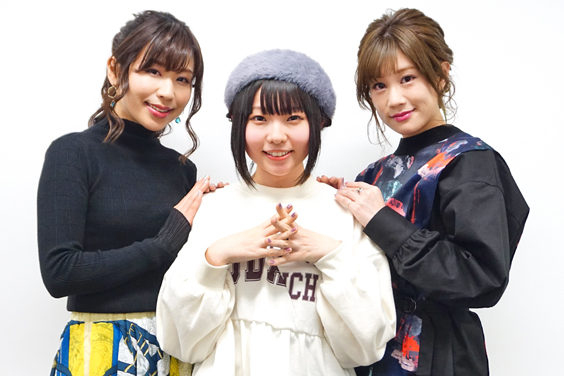 (from left) Ayaka Fukuhara, Mayu Mineda, Rika Abe
asianbeat (hereafter referred to as ab) : The event was a great success, wasn't it! Can you tell us about yourselves and what you like?
Mayu Mineda (Mineda)
: I like utility poles, heavy machinery, and other inorganic substances, machine-related things, and also mapo tofu!
Ayaka Fukuhara (Fukuhara)
: Things that I like are...I still suffer from "chunibyou" (eighth-grader syndrome)! This is my second time in Fukuoka, and while eating various delicious foods and enjoying sightseeing, I had fun at the event!
Rika Abe (Abe)
: My hobby and my motivation in life is to watch cute girls and track their lives, but I think that cute girls are universal, and so it would be great if we could transcend linguistic and cultural barriers and share "kawaii" with the world!
ab: Now that you have completed "Next Stars Circle" (the morning session), what are your thoughts?
Mineda
: This was the first time that I was the main at an event, and also my first event in Fukuoka, so I was nervous. But it was really fun to stand on the same stage as my seniors. I'm nothing but grateful to have been chosen as the "next star", but in order meet everyone's expectations, from now onwards also, I want to do my best!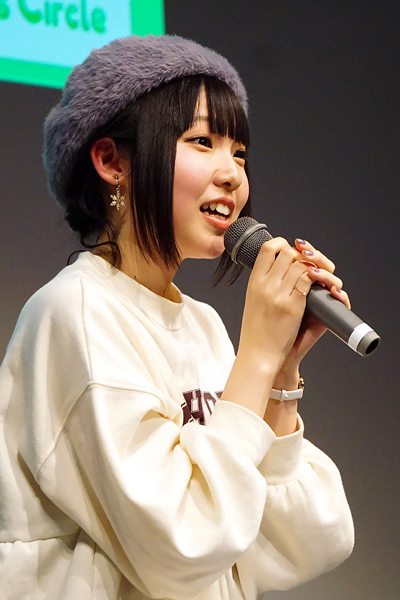 Fukuhara: Our intention was to do our best, and at the same time draw out Mayu's brightness, but Mayu didn't need our help at all. She talked about her likes on her own, and she wasn't timid. A girl who wouldn't bring shame on the title of "next star", indeed, I thought. Even though the three of us are at the same agency, there was no talk event of the three of us like this before, so it was really great to have this chance to do that.

Abe: I felt very fortunate to be able to come to Fukuoka for the first time to perform as these three members. Of course, there were feelings of nervousness when standing in front of everyone, but we were able to keep smiling from beginning to end. I'm really grateful to the project for calling us here to support the "next star" from Fukuoka.

ab: Is there anything you want to eat in Fukuoka, or any place you want to go?

Abe: Fukuoka is too much a gourmet kingdom, such that I haven't even begun to scrape the bottom of the barrel yet! I've heard that women-friendly, chique yatai stalls are popular nowadays. Also, I think over and over again, Fukuoka is hot, isn't it!
ab: This website's new series on udon "♥FUKUOKA UDON" has started, so please do check it out!
Mineda
: Fukuoka's udon is a little soft, isn't it? I want to try eating it!
Fukuhara
: Speaking of our work, it's like life-long learning, and it has an indissoluble connection to the auditions we do, so I want to pay a visit to Dazaifu Tenmangu, where I can pray to the god of study.
ab: Is there anything you are addicted to at the moment in your private life?
Mineda
: I was addicted to walking from way before! Walking in unknown places without a map, casually getting lost, is fun (lol). Continuing to walk without so much as knowing where the train station is, when it gets to that impossible point, as one would expect, I look at a map to find my way home. I like taking long walks, so I can keep walking for about three hours (lol).
Abe
: For me, it's shaved ice. Speaking of our work, there are many occasions when we have a lot of free time, and I'm always lost about how to use that time, but you can go and eat shaved ice on your own, so recently, I've been thinking that's good. It's getting warm and seasonal, so can't wait to have it!
Fukuhara
: Since spring last year, I've been addicted to muscle training. I tell the trainer where I want to train, and we'll meet there and he'll instruct me. Even weights, while saying, "Ayaka, you have grit, so you can lift it!", the trainer will increase the weight, and so before I know it, becoming able to lift heavy weights for men's! It's a lot of fun!
ab: Do you feel that muscle training is useful in your work as a voice actor?
Fukuhara
: When it gets to the last song for the live performances and we are moving around the venue, even though I want to communicate my feelings from one end of the stage to the other, I was so tired from the constant movement that I just left like that, and I really regretted it. But after I started muscle training, I've become able to keep smiling until the end.
ab: What's something you have to keep an eye on regularly as a voice actor?
Abe
: Right now I'm doing a little stretching and shadow boxing, I've been doing that at least, but it's hard to think about going to the gym. Talking about a voice actor's work, I think it's like being an athlete. For example, when you are doing live concerts or for example you are touring for two days, then as expected, it's a situation where I'm facing up to whether or not I have the stamina. So, listening to Ayaka's words, I thought once again that the gym would be good!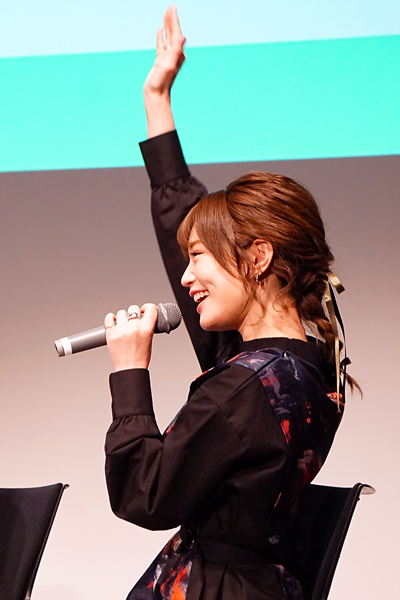 Mineda: In order to do simple muscle stretching and training for lung capacity, I run but listening to my seniors' words, putting more of a load on my body would be good, I think (lol).

ab: Thank you! Finally, for those domestic and international aspirants to a career as a voice actor, and to your fans, please leave a message!

Fukuhara: Enjoying Japanese culture from abroad is something is a energising thing, so first of all, thank you! There's not yet a lot of opportunities to go to wherever you are, but I want to do my best to entertain you when we are able to meet! At those times, do introduce me to your local delicacies and amazing sightseeing spots, okay! To those who are aiming to be voice actors, I can't say anything too outrageous, but voice acting is a job that capitalizes on your experiences and your interpersonal relationships, I think, so please enjoy your life as it is, and make the best use of activities with the aim of becoming a voice actor!

Abe: I think that the strength and values of the Japanese anime and entertainment industry can cross the boundaries of language and regions, and can communicate even more with the world, so I want to do my best to be able to go overseas! A voice actor's work is different in aspects from singing in a theatre, but they are, in the end, on the same axis, connected by the essentials, and so it's not the case that there is one "answer"; it is our role to find that answer, I think. Leading on from that, everyone who is aiming to be a voice actor, believe in yourselves, cherish those around you, whom are supporting you, and let's enjoy today, too!

Mineda: Before becoming a voice actor, I was always an otaku and I loved anime culture. Even though I couldn't get through to overseas people on the language front, thinking that we shared that feeling of "liking something," I thought it would be great if we could share that feeling more and more. If we have a mutual love for anime, then I think that our tastes must be similar, so I would like for you to teach me cultures and various other things that I don't yet know!