Interview Now - 石川健朝 (Taketomo Ishikawa) | Director of "Hakata Mentai! Pirakarakochan" -(1/2)

Cast auditions for the TV anime, "Hakata Mentai! Pirkarakochan," which is scheduled to be broadcast from July 2019, were held in Fukuoka City on Friday 19 April. This original short animation set in a Hakata-esque, but non-Hakata, mysterious shopping street, and sketches out the slapstick day-to-day life of a mentaiko fairy "Pirikarakochan" and various other food fairies. We, the editing department, were greatly drawn to this work, because it featured the Fukuoka delicacy, 'mentaiko' (marinated roe of pollock), and Hakata's streets! Promptly, we spoke with Director Taketomo Ishikawa about the highlights of his work!
I wanted to make an anime that children and parents could watch and enjoy.
asianbeat (hereafter referred to as ab): Please tell us what prompted you to produce "Hakata Mentai! Pirikarakochan", an anime which is closely related to Hakata.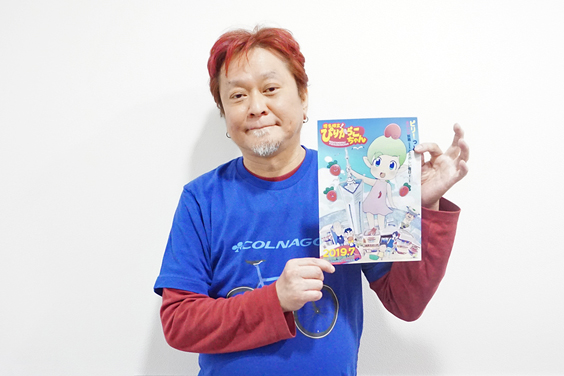 Director Taketomo Ishikawa
Taketomo Ishikawa (hereafter referred to as Ishikawa)
: The number of international tourists coming to Fukuoka is steadily increasingly, and many restaurants in Fukuoka make it high up in Japanese gourmet rankings, so while having a meal, there was this talk that "it would be interesting to make an anime that would promote delicious Japanese food to the whole world". We immediately thought of "Mentaiko", and indirectly from there, talk of "Pirikarakochan" or something like that, started. "We can make material for the show out of the attention-grabbing variety of food in Fukuoka", "It would be easier for children to understand the food if we anthropomorphized it", "in that case, let's try making the food into fairies" - thoughts in this vein allowed us to expand upon the idea.
ab: This time, you are handling the prop and character designs, which are important in building the worldview of the product. What are you conscious of in making this work?

Ishikawa
: The characters' cuteness, and demonstrating the charm of Fukuoka's streets in a fantasy. So that children will be interested, we made the characters and background in a fantastical manner, and made it cute. From there, we also have mysterious characters appear, whose personalities cannot be known from their exterior alone, because the appearance of such people will please the children.
ab:The streets of Fukuoka become a motif in the anime. Through the anime, what did you want to communicate?

Ishikawa
: This anime has a strong fantastical tone, so I want to convey the idea of lively and fun streets. Actually, city of Fukuoka is compact and very lively. On the other hand, it's the screenwriter who has a strong emotional attachment to Fukuoka; in contrast, when the anime is too thick with elements of Fukuoka, I play the role of breaking out of that. This is because, whilst people who live in Fukuoka will watch this anime with interest, this animation also has to be the one that people living outside Fukuoka can watch and enjoy. And so, for example, it's more than enough for two characters appearing in the anime to speak in dialect.
ab: I see. It's difficult, isn't it!

Ishikawa
: First things first, we have decided to make something that please children. The second thing is that we want to make an anime that children can enjoy together with their parents. So that adults can also enjoy it, we have made the characters' movements more elaborate, put in surreal gags and so on, so please enjoy those parts.