GANDUM in Okayama!? Our Convoy Heading for the Giant Z GUNDAM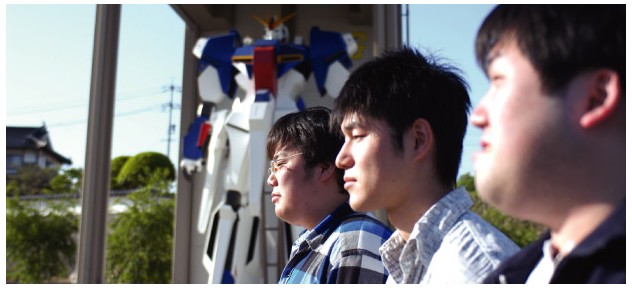 GANDUM in Okayama!?
Our Convoy Heading for the Giant Z GUNDAM
The big "Z", waiting for us 450km east of Fukuoka
The morning we set off it was sunny, only a couple of forgotten "lonely" clouds in the sky, floating away. The sun bleaching the earth – that we have polluted so much – shining so brightly. Our destination, Tsuyama City Okayama Prefecture is 450km from Fukuoka. About 90 minutes after we set off we crossed the Kanmon Bridge and entered Honshu. Cars were sparse on the Chugoku Highway – something like a highway in the American countryside.
The pulsating Z beat
About one hour after crossing the Okayama Prefecture boarder we exited at the Innosho Interchange. From there, it is about a 10-minute drive to get to the roadside "Michi no Eki" station called Kume no Sato where the "Z" is on display. We could feel the pulsating beat as we raced toward it. And then suddenly, there it was. In the middle of a one horse country town this place was buzzing with many cars – and there it was, Zeta Gundam (Z-Gundam) towering above all.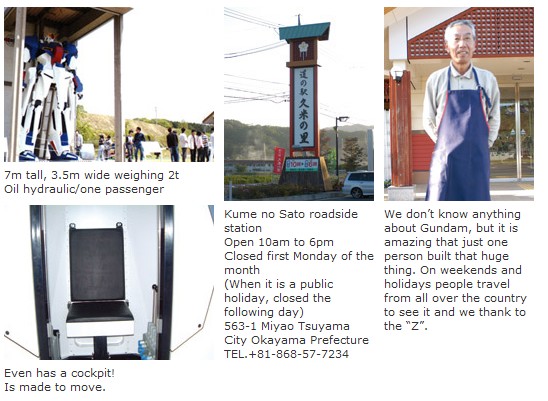 Gundam fans from throughout Japan
The giant Z Gundam was built by Shoichi Nakamoto, an impressive youth. It was originally built at his home. Once he transferred it to Kume no Sato, the place is flooded with fans visiting and became a sacred Gundam site. It has no weapons, making it a symbol of peace.