"K-ON!" The Movie

"K-ON!" the movie was released in cinemas in Japan on December 3rd 2011, and if you were already a fan of the TV series then this latest installment will surely not disappoint! Here's a bit of what you can expect from K-ON's first feature film – read on!
No matter where they go, they'll always be "Hokago Tea Time"
In the first two days of its release, "K-ON!" the movie drew crowds around Japan of approximately 240,000 and raked in sales of 316,000,000 Yen, ranking it in 2nd place for new releases – an instant hit!
The anticipation for this movie had been building at asianbeat HQ for a while and so we made it top priority to see it as soon as it came out! We noticed a bit of a stir around the Internet, with people commenting things like, "I just love K-ON!" "I cried so hard," or "They're all as cute as ever. It definitely lives up to expectations!" And so with our anticipation levels soaring ever higher we made our way to the cinema.

The movie kicks off with Yui, Mio, Ritsu and Mugi discussing their plans post-graduation. It's almost as though nothing had changed – the Hokago Tea Time members in their club room, drinking tea and talking about the band. On this particular day though, they learn that their class is planning a "graduation trip" overseas, and so Yui and the gang decide to plan a trip of their own – to London! (with junior member, Azusa, too of course.)
Until now, the majority of "K-ON!" had taken place on school grounds, so it came as a bit of a surprise that all of a sudden they were heading overseas. What this movie proves though, is that no matter where they go, they'll always be "Hokago Tea Time." Even in London, free-spirited Azusa-loving Yui, scaredy-cat Mio, decisive and strong-willed Ritsu, cultured and delicate Mugi, and level-headed Azusa all remain the exact same girls that everyone fell in love with from the beginning. As the movie comes to a close, we're left with the four girls about to take part in their school graduation ceremony. The graduation ceremony was also shown in the 2nd season of the TV series, however, the movie presents a new angle on the event, adding even greater depth and understanding to what was portrayed in the anime. You simply can't sit through the final episode of the TV series without reaching for the box of tissues, and the movie version is no different! I know the series well and I was in tears, but this was the first "K-ON!" experience for fellow staff member, Shagawa-san, and even he was bawling! Rock-loving Yasunaga-san (another staff member) on the other hand said he simply couldn't get their catchy songs out of his head, and added, "I'm definitely a Mugi fan though!" To this Shagawa-san exclaimed he was more of a "Ritsu-guy." And thus it would seem the "K-ON!" series found itself two more loyal fans.
As the two asianbeat staff members demonstrated, you don't have to have seen the anime series to know what's going on in the "K-ON!" movie – there's plenty for fans and non-fans alike to enjoy. The cinema wasn't packed with just "otaku" types either: there were young couples, high school girls, families – a wide range of audiences. "K-ON!" fans I'm sure don't need an invitation, but for those not so versed on the show, what better chance to jump on board this fabulous series and find out for yourself why Japan and the rest of the world has fallen in love with "K-ON!"

"K-ON!" The Movie – Released December 3, 2011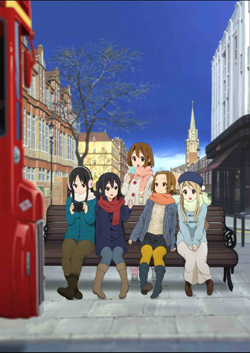 <Storyline>
They passed their university entrance exams and now all Yui, Mio, Ritsu and Mugi have to do is wait until they graduate. One day, after hearing their classmates are planning a "graduation trip" overseas, Yui and the gang (Azusa included of course) decide to go on a holiday of their own. Their destination – by way of drawing straws – London! There's just one thing playing on all of their minds though – once they graduate one of them, Azusa, will be left behind. As Azusa's seniors the girls want to do one last special something for her, they just have to figure out what. And with that, the five "Hokago Tea Time" members make their way to London. "It doesn't seem to matter where we are, we're just the same as ever," "We spent so much time together," "We've been so lucky," "Together forever, right!"
The five girls all together on their first holiday overseas. Just what lies in store for them, I wonder…
<Director> Yamada Naoko <Creator> Kakifurai <Screenplay> Yoshida Reiko <Voice Actors> Toyosaki Aki, Hikasa Yoko, Sato Satomi, Kotobuki Manako, Taketatsu Ayana, Sanada Asami, Fujitou Chika, Yonezawa Madoka, Nagata Yoriko <Distributor>SHOCHIKU Co., Ltd.
©Kakifurai・Houbunsha/Sakura-kou K-ON bu