What is After School Midnighters(1/2)

This summer, let's ride on a joyful school attraction.
INTRODUCTION
 The main character 'Kunstilijk' is a naked anatomic model that stands in a science room of an elementary school. Kunstilijk also reigns over the school after midnight with his partner Goth, a skeletal specimen created by him. One day, when three naughty kindergarteners accidentally meets him, his ordinary life changes. The scariest and craziest after midnight adventure begins…"After school midnighters" is an attraction movie directed by the genius filmmaker Hitoshi Takekiyo whose company based down in Fukuoka. A number of oversea film buyers give high praise to this movie for its originality after watching the pilot version (a film of short duration serving as a guide to a projected series). It is also the first time to decide releasing this movie in 5 countries at the same time. This summer, not only Japan, the whole world will unprecedentedly ride on a joyful party!
Directed by:Hitoshi Takekiyo
Written by:Yoichi Komori
Voice Actor:Koichi Yamadera,Hiromasa Taguchi
official site
http://afterschool-midnighters.com/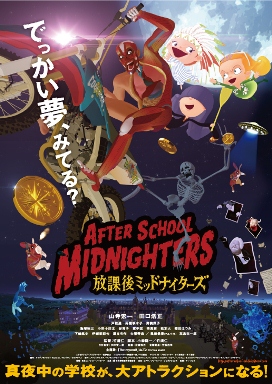 ©AFTERSCHOOL MIDNIGHTERS PERTNERSHIP
PRESENTS
All the info. on asianbeat's present campaign!