Interview with Katsuhiro Otomo

It's fun what we do. I think that's a good thing.
Q: What works have influenced you?
A: There are many. So many people influence me, it's too hard to name just a few.
Q:What is it that you value most when you are creating?
A: When I decide to do a story, I try to maintain the aspects of that story that I thought were interesting from the very beginning and I try and uphold those elements right to the end.
Q: Please tell us the process you went through in creating "Combustible" (Hi no Youjin).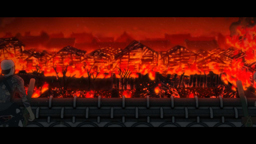 A: I saw a number of short animation pieces at the Annecy International Animated Film Festival and Market and that's when I decided I wanted to make one for myself too. The original idea for "Combustible" that I drew in manga form involved a lot of gambling and bloodshed and the artwork was quite difficult, so I decided to turn it into a proper "Edo fireman story" using traditional Japanese picture scroll-like artwork with the first half representing "stillness" and the second half "movement" with intense fire and action sequences.
Q: "Akira" was set in Neo-Tokyo, "Combustible" is set in Edo and you've created a number of other works that are also set in Japan. Is the Japanese setting a personal preference?
A: Not really. It's just that I understand Japan, so it's easier to create works in this setting. "Steamboy" is set in London but that was much harder.
Q: What aspects were you most particular about with this latest work?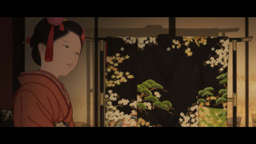 A: I really struggled trying to make Edo look realistic in animation. I collected various materials and visited museums, but the more I researched the more things just kept coming up. It's not up to historian standards, but by being too accurate with the portrayal it begins to look a little too strange and unfamiliar to regular people, so rather than a realistic approach, I mainly focused on trying to achieve an aesthetic close to the style of Japanese picture scrolls. As for creating the fire scene, there's a scroll from the 12th century that depicts a fire outbreak, so I showed it to the staff, the way the smoke was depicted and the shape of the flames, and I said to them, "Let's make this move." So with no screenplay we began working on the storyboards. I took charge of almost the entire layout and background designs myself – right down to the roof tiles.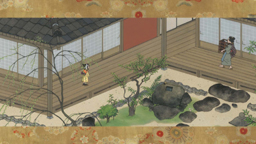 I always decide on the layout myself, but it was really hard depicting the first town in Edo. It was like putting a camera inside a single-page picture scroll style painting and as the camera zooms in the houses get bigger and at the end you reach the rear garden of a large store. Drawing the pictures as though you're gradually closing in on them created a unique effect and it turned out quite interesting. But we also used CGI in parts as well. For the designs on the kimonos and the tattoos, we created the texture with a brush and drew each frame by hand. It took a lot of time but the composition is limited, so it was within our capabilities. Certain parts of the characters were also done in 3D CGI as were the Japanese hairstyles, with CGI placed on top of the heads of drawings like wigs. Ultimately, the reason why depicting Edo in anime form was so difficult was all the detail. The kimonos were hard to get right –creating the silhouettes alone was difficult enough. If you don't draw the movements just right the kimono begins to look like a 'yukata' (light cotton kimono worn in summer), so I had some of the female staff members get dressed up so we could take videos of their movements and hold sketching sessions.
Q: Do you have a final message to all the young people out there reading this page?
A: Finding something that you think is interesting and making it for yourself: that's the starting point for people like me. I want you all to try doing this for yourselves in your respective countries as well. I have various film and animation projects in the works at the moment, so I hope you look forward to seeing more from me soon.
Katsuhiro Otomo Profile
Debuted as manga writer/artist in 1973. Later in 1983, he published "Domu", "Akira" and other works.
He himself directed the animated version of "Akira" and produced other animated works such as "Memories" and "Steamboy". In 2005, the French government decorated him with a Chevalier order of art and culture.
(C) SHORT PEACE COMMITTEE (C) KATSUHIRO OTOMO/MASH・ROOM/SHORT PEACE COMMITTEE