The origins of Japanese pop and rock. Interview with Ryuichi Honda, director of the movie "GS Wonderland" (2/2)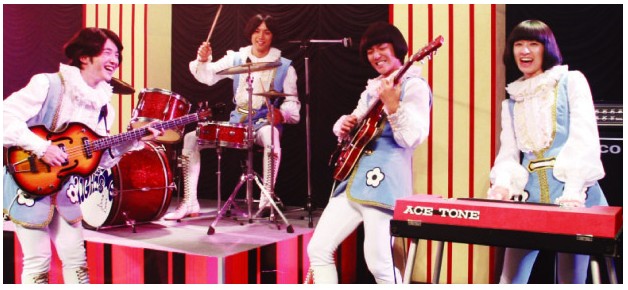 The origins of Japanese pop and rock
Interview with Ryuichi Honda, director of the movie "GS Wonderland"
How to make a GS movie...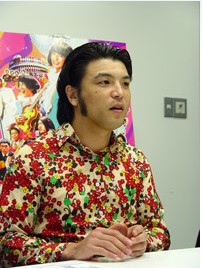 The script, tempo and direction were fantastic. It was entertaining and paid attention to detail – I was really impressed. Where did the idea of putting a girl into a GS band come from?

It wasn't easy coming up with the idea (lol). The producer told me "We need something catchy", and while I was wracking my brains I came across a picture of Ai Akamatsu(*2) from the band "OX". She was really cute - then I thought to my self, "What if one of the band members was really a girl?" The producer liked the idea and that's how it happened.
Was Chiaki Kuriyama the first choice for the part?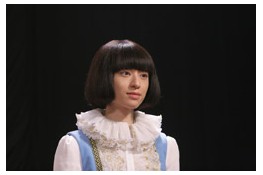 GSI personally thought that she would be good from her looks, image and that she would look great dressed up as a boy. I thought she suit the part of the delinquent Mick, and contacted her agency from early on.
The movie is entertaining, but it also has that touch of Honda mania in it. Was it difficult to find the balance?
I like movies that anyone can enjoy, and that is foremost in my mind when I make a film. The scenario is about a cult GS band so it does have a bit of my "mania" in it, but I think the direction makes it an easy movie to follow.
Have you been able to reproduce the sixties?
I didn't want to put anything in that was not true to the era. It was a time before I was born so I don't know what the musical instruments, clothes and streets looked like. So I got the advice of children of the sixties –Ko san(*3) and Kurosawa san*(*4)- and made sure everything was true to the era. Sally Kubota(*5) and production staff got the instruments together, and the make up artists and stylists had their work cut out reproducing hairstyles and fashion. Unfortunately Kurosawa san who helped us with the scenario passed away.
Did you come across any other difficulties?
I was very particular about the wardrobe. If I didn't get it right it would be a bit of a farce. For example, if a band didn't wear short cut tight trousers and boots it would be weird. But if I was to go that far it would mean that we would have had to make the whole wardrobe from scratch, which the budget would not allow. Instead we got some pre existing costumes and changed them a little to look authentic. The wardrobe designer and I worked on each individual costume, and we made sure that they were true to the GS image.
Is the movie influenced by GS movies from the sixties?
I have always been a GS movie fan. One of my reference points is the Nikkatsu movie "Seishun a GO-Go". It starred a band called "Young and Fresh" that was made up of Nikkatsu actors and it was a movie of how they formed the band in the electric guitar boom, and then went on to break up. The GS movies of the time were more like idol movies full of scenes where the star performs. That's OK, but I wanted to make a total movie, not just a collage of clips. It just wouldn't be right.
*2_Debuted in the height of the GS boom in 1968. Was known as the "Big Three" along with The Tigers and The Tempters. Ai Akamatsu was the only girl in the band and played the organ.
*3_Mamoru Ko (Music Producer) / reproduces rock and pop from various record companies. He has produced various projects including "Hotwax – Japanese movies and rock music"
*4_Susumu Kurosawa (Premier GS researcher) / It is said that he gave birth to Japanese rock history. Author of "Nihon Rock-Ki GS Hen" (Japan Rock Chronology GS Edition). Passed away in April 2007.
*5_Sally Kubota (Music producer) / Musician, designer. Debuted in the Neo-GS leading band "The Fanmugifuto" as bassist. He has created the artwork for a number of CD jackets including Mayumi Kojima's Go! Go! 7188.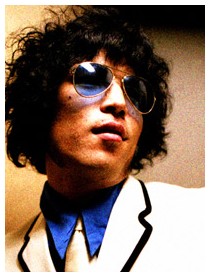 GSRyuichi Honda (Movie Director)

Born in Kanagawa Prefecture in 1974. After studying at the Osaka University of Arts entered the Nihon University Graduate School of Art Image Art major. His graduation work "Tokyo Harenchi Tengoku Sayonara no Blues" won the Off Theater Grand Prix award at the 2001 Yubari International Fantastic Film Festival. His first commercial work was the 2002 film "Kamisama no Kureta Sake, Sexy Drink Daisakusen". He has since made a variety of films. In 2005 his film "Dappi Wife (My Wife's Shell)" won high praise at the Hamburg Film Festival 2005. He is popular overseas.
Movie "GS Wonderland" released November 15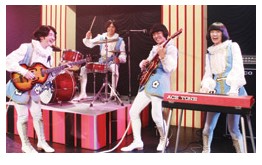 GS mad youth and their moment of glory
The Group Sounds (GS) boom was at its peak in the late sixties. "The Tights Men", a GS band who wear white tights and frilly outfits become overnight stars. However the most popular member of the band is really a girl. Can they keep it a secret?
Director: Ryuichi Honda
Cast: Chiaki Kuriyama, Takuya Ishida, Hiro Mizushima, Yosuke Asari etc.
Distributor: Desperado, Nikkatsu
Theater: Cine Libre Hakata Station
http://www.gs-w.jp