Ready to G-SHOCK the world. The latest radio receptor watch is another "world first". Can receive China signal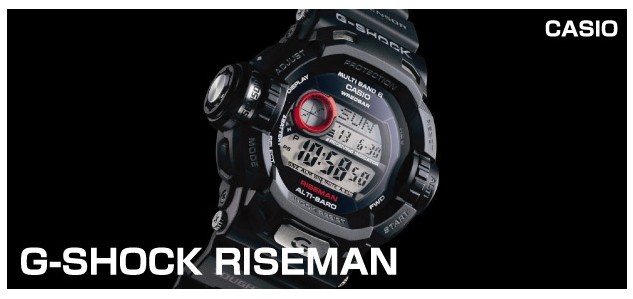 《CASIO G-SHOCK RISEMAN》Ready to G-SHOCK the worldThe latest radio receptor watch is another "world first"Can receive China signal
G-Shock with abundant kind and colors.The CASIO G-SHOCK watch was developed to create a wristwatch that was shockproof, and it indeed changed the common conception that watches break easily. Its popularity was given a boost when Keanu Reeves wore one in the 1994 movie Speed, and as of today, over 1600 models have been released in Japan, with the top end model costing as much as ¥500,000. It has gained support from the everyday user to collectors, developing a fusion between fashion and culture.
A new G-SHOCK has just hit the market.

Before it went on sale in Japan in late June, the makers were flooded with inquiries about this new wristwatch. Its name is the CASIO "G-SHOCK RISEMAN"

It is a radio wave receptor watch which automatically sets correct time. As well as the world's six atomic time transmitters, it additionally is compatible with the China signal. With this function you can visit any major city in the northern hemisphere without having to adjust your watch to time difference. And of course it is programmed to calculate daylight saving time as well.

In addition, is has sensors to measure altitude, air pressure, humidity and has a 24 hour stopwatch. A perfect partner for people whose hobbies include hiking or running.

Even though the G-SHOCK series has been on the market for 25 years, its original character is still the same.
It will now be even more functional and reasonably priced.
Doesn't break when dropped.
Water resistant.
Suitable for any user.
Keeping the essence of the original G-SHOCK.

The face has a red round trim and unisex style. The comfortable strap doesn't stick with perspiration, which is the secret essence of G-SHOCK.
But more than functionality is the attractive face and ease of use that attracts buyers, and many Asian tourists visiting Japan buy it for themselves or as a gift for someone special back home. The demand for such a product has crossed Japan's boarders and is spreading throughout the world.
< Atomic Timekeeping Transmission Locations >
Japan
Europe
North America
Asia (China, Korea, Taiwan etc.)
*In countries without transmission you can manually adjust time.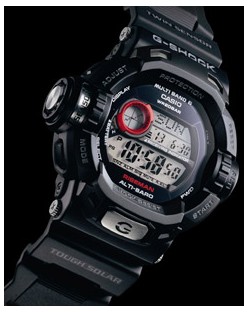 G-SHOCK RISEMAN
(retail price ¥28,350)