Lolita Fashion Basics

What does it feel like for the girls in lolita dresses? And what do they actually do all the time? There are a lot of people out there asking these questions, right? In this article I will explain the fundamentals of lolita fashion for people who don't know anything about it, describe the different types and genres of lolitas and introduce the Japan Lolita Association, of which I am the president.
What is Lolita Fashion?
Put simply, lolita fashion is wearing outfits based around pink and white with huge amount of child-like frills and lace, reminiscent of the nostalgic girls manga "O-hime-sama". The 2004 hit movie Kamikaze Girls featured Fukada Kyoko as the main character Momoko Ryugasaki and raised the topic of lolita fashion, giving it the push it needed to bring the movement into the mainstream. The basics items in a lolita wardrobe are blouses, jumper dresses, petticoats (a skirt worn under another skirt to give it shape), bloomers (big poofy underwear), socks, shoes, hair ribbons and heart shaped bags. With these eight items you can do a complete head to toe lolita transformation. I think all women want to be a princess sometimes and making that dream come true is one of the allures of lolita fashion. Moreover, lots of girls want what they say and how they act to match their outfits so they can be a complete lolita in mind and body.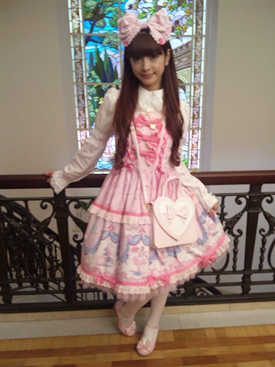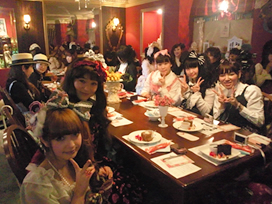 Lolita fashion is a Japanese re-imagining of a 17th century French artistic movement called rococo*. It's not just about outward appearances, lolita fashion values the spirit of rococo, from a time when noble-women wore corsets tied tight enough to break their ribs, attended tea parties, balls and dances, and spent every day just having fun, as described by Momoko Ryugasaki at the start of Kamikaze Girls. Modern day lolitas hold tea parties and embrace rococo: the fashion, the makeup and the love stories. A tea party is very important as a chance to wear lolita fashion and make new friends.
*An artistic movement from 18th century Europe
Types of Lolita
There are various different types of lolita. Momoko from Kamikaze Girls was a sweet lolita. By the way, I'm a sweet lolita too. Now, there are many lolita brands so the style is spreading and different types of lolitas can find different music, books and movies to match their taste. There are so many different subdivisions of lolitas that this time I'll only introduce the three main types.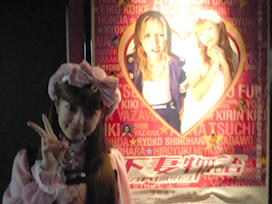 Firstly, sweet lolita is a style based around pinks and whites and lives by the mantra "It's gotta be cute!". Typically, sweet lolita's favorite books and films follow the model of Momoko-chan from Kamikaze Girls. They love to watch anime like Sailor Moon and listen to idol groups such as AKB48. In contrast to the pinks and whites of the sweet lolita there is black lolita, also called gothic lolita. Using mainly blacks and whites to make a cool adult style, this lolita really captures the gothic tone. Crosses, bats and skulls are standard motifs together with designs that often give the impression of nuns or vampires. Gothic lolitas can usually be found with a copy of The Rose of Versailles or watching Death Note. Finally there is the punk lolita: she wears the British brand Vivienne Westwood and rubber soled Dr. Martens boots. The essential colors are black and red, combined with skulls for a rocky look. The favorite band of many a punk is NANA and a large chunk of the girls you see attending Visual Kei concerts are part of the punk lolita group.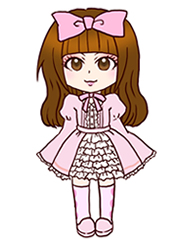 Sweet lolita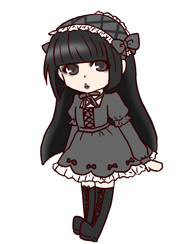 Gothic lolita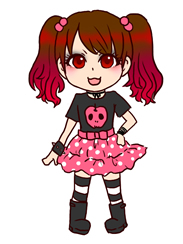 Punk lolita
The Creation of the Japan Lolita Association
In the past 10 years lolita fashion has gained a lot of recognition including events and fashion shows abroad and even articles in Vogue magazine published in 18 nations. Despite the attention it is receiving abroad, the movement is still often confused with manga and anime cosplay.
Therefore, to tell more people in the world about lolita fashion, to let more people feel confident and proud to wear this style and to spread this piece of Japanese culture around the world I set up the Japan Lolita Association in 2011. We run events and fashion shows, plan cultural activities and, together with various other groups and artists, aim to expand and stimulate lolita fashion. The Japan Lolita Association started off simply studying lolita but in the future hopes to change lolita from present day fashion to future culture.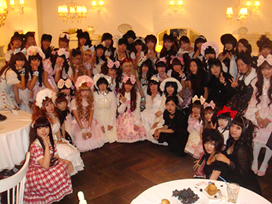 Article related to Japan Lolita Association