Live Performance Breaks Language Barrier MISIA's Asian tour, Hong Kong Concert Report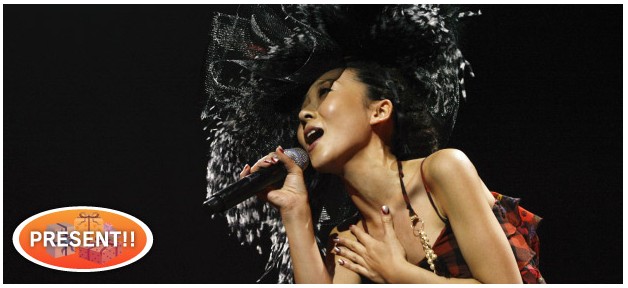 Live Performance Breaks Language Barrier
MISIA's Asian tour, Hong Kong Concert Report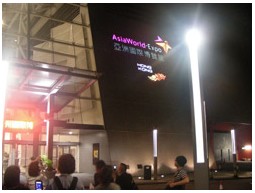 On Saturday October 4 over 7000 fans packed the Asia World-Expo Arena to see MISIA's first ever Hong Kong concert. MISIA got her break in Hong Kong on the back of her song "Everything", which is the theme song of the TV drama "Yamato Nadeshiko", starring Nanako Matsushima and Shinichi Tsutsumi. And because of this drama the fans have been waiting for her to come for eight years. As this was a first for MISIA, the venue was totally enveloped in tense anticipation.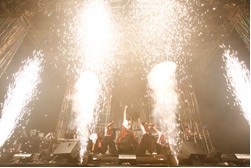 The concert opened with MISIA accompanied by six dancers singing "Royal Chocolate Flush". With her amazing vocal range of five octaves, she captivated the crowd rolling out hit numbers one after the other, in remixed versions. This was followed by the fantastic spectacle of fireworks rocketing up from below the stage.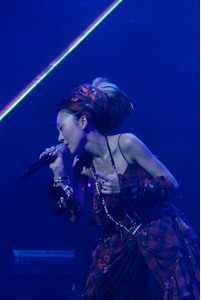 "Hello and welcome. This is my first Hong Kong concert so I am very happy, It is so great that I could meet you all". MISIA spoke in fluent Chinese and English. "Music is the special language that brings us together to sing and dance. Let's dance together, let's sing together, and let's make this a special night". This was MISIA's message, but how did the Hong Kong audience receive it?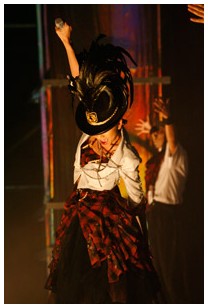 After her first talk she sang "Catch the Rainbow", a track released on the net in Asia. She put her hands in the air and tried to get the audience to dance with her, but the Hong Kong fans seemed a bit reserved.
Nevertheless, as MISIA put her voice into action, the feeling in the venue started to change. When she sang "Yes Forever" in a cappella the sighs could be heard. Next was "It's just Love" which brought applause from the crowd, but to everyone's surprise she sang the last verse in Chinese, bringing a warm feeling to the audience. The timing was just right for her to bring out "Everything", and the intro music hit. This was it, time for MISIA to get into top gear and put the audience in the palm of her hand.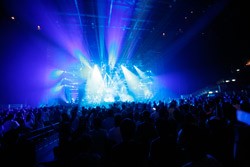 MISIA is a special kind of artist who, with her song and dance, can overcome the barrier of language. Still she does not make light of the importance of words, and works hard on studying languages. On this night she sang in Chinese, and spoke to the audience in their local language. And you could tell that her heart was in it, and so could the fans. Those shy Hong Kong fans let loose and were dancing and waving and shouting out aloud. They were jumping – and in time too!
And he encore "Into the Light" was something else. MISIA used her whole body, from tip to toe to express herself – giving it her all.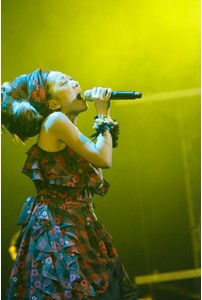 MISIAMISIA is celebrating her tenth anniversary as an artist. And this performance was of a scale of no other, with a giant balloon and laser lighting, a smorgasbord of a decade of MISIA. There was songs for listening and entertainment for all. Finally, her last song went back to her beginning, her debut song "Tsutsumi-komu-yoni", which she sang from the heart. Everyone thought that would be the end but she asked "Is it OK if I sing just one more song?" With the backing of a single keyboard she sang "Taiyo no Maraika". It was a fitting love song to end the concert. In all it was 14 songs over two and a half hours of MISIA singing and dancing. She then went on to express her appreciation to all, and with a final breath, voice raspy from singing she cried "See you". The Hong Kong fans clung on to her final words.
"Hi. Do you mind if I take your photo for asianbeat?"
I took a few snaps at the Hong Kong venue of MISIA's concert.

anthony(30)
I want to sing with MISIA!
IVAN(35)
I have been a fan for ages.
CHUN(25),GIGI(22)
This is our first time. We both love her.
KING(29)
I have been a fan since 1998. The CD doesn't do her voice justice!
Sugiyama(28,Endo(31)and a Hong Kong friend.
I want to hear "ONE"!

Maeshima(30),Miko(28)
We came from Saitama and Tokyo just to see this concert!

CLARA(25),CINDY(25)
We are twins and we both love MISIA, Especially her voice.

CATHY(26),KENSON
(25)We don't have any chance to meet MISIA in Hong Kong so today was great!
Rio(30s),Jennifer(30s),Magi(30s)
I got into MISIA after hearing the TV drama theme "Everything"

LING(20s),DEBBY(25),KATE(20s),C(20s),JOJO(20s),JACKY(20s)
We all love MISIA, and are studying a bit of Japanese.