FUKUOKA KURODA NINJA CLAN / 福岡黒田忍者隊

The acrobatic group that gives mind-blowing Ninja performance!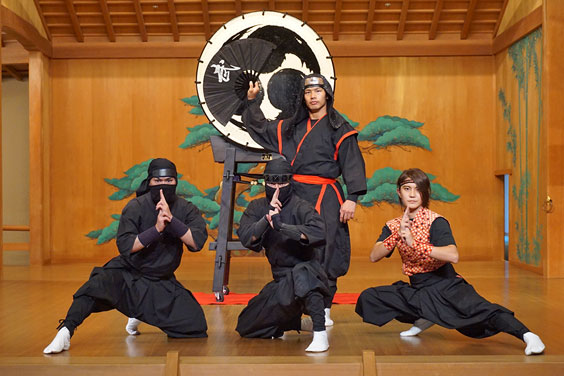 SASUKE /佐助 (upper middle), WAKU / 涌 (left), TETSU / 鉄 (center), and SHION / 汐音 (right)
[Special thanks to Ohori Park Noh Theater for the photo shoot]
Come and witness the amazing Ninjas in Fukuoka!! The "FUKUOKA KURODA NINJA CLAN" is an acrobatic group formed on 22 February 2020 (known as "Ninja Day" in Japan), who dressed in black costume and have superb physical abilities like superhumans! It was formed after the legend that the ancestor of the Fukuoka domain, Kuroda Kanbei, and the first feudal lord, Kuroda Nagamasa, secretly placed a Ninja group under their control. Since then, they have been participating in various activities that promote the Ninja culture and the charm of Fukuoka all over the country. All six members are talented performers who have trained in the Ninja team Iga "阿修羅 / Ashura" and Oshino "靁凮刄 / RAI-FU-JIN". Besides the leader SASUKE who is good at jōjutsu (martial art using wooden staff), other members like TETSU who wields the Nicho-gama (two sickles) and SHION who plays Japanese musical instruments such as Shinobue and Japanese Taiko are attractive too. "As a world-renowned Japanese culture, we hope to introduce the Ninja culture not only to the Japanese people, but also to people overseas," said Sasuke. Want to see how Ninjas skillfully wield their tools? Come and watch the show by FUKUOKA KURODA NINJA CLAN!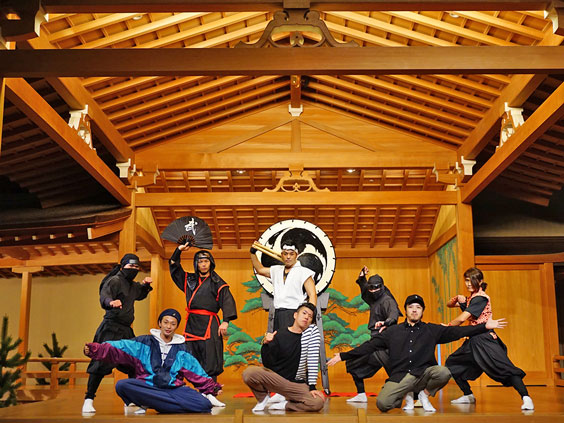 The PV shooting took place at Ohori Park Noh Theater (Fukuoka) in October 2020.
Photo: Members of FUKUOKA KURODA NINJA CLAN, SCRAPS (provided music for PV), and Japanese Taiko player Ichi.
[Special thanks to Ohori Park Noh Theater for the photo shoot]]
INFORMATION
FUKUOKA KURODA NINJA CLAN / 福岡黒田忍者隊
Ninja show is being held regularly at the amusement park "KASHIIKAEN Sylvanian Garden" (Higashi-ku, Fukuoka Prefecture) every month. Please check the official website and SNS for the showtime and other information.
- Official Website:
https://www.fukuoka-ninja.com/
- Twitter:
@fukuoka_ninja
- Facebook:
@fukuoka.ninja
- YouTube:
HERE
!
External Links
PRESENTS
All the info. on asianbeat's present campaign!