Fukuoka Otaku Map #13 The Radio Amateurs Shop Apollo Denshi(1/8)

Text/Interview:トク(1093)
Supporting the world of remote control cars since the 1980s
Do you all know about the RC (remote control) car boom that took the world by storm in the 1980s? Whether it was a Grass Hopper, a Hornet, or a Hot Shot, all the boys wanted to get their hands on a dream machine of their own, so they desperately tried to save as much of their pocket money as they could. I too was one of those boys. If you were a part of that first wave of that radio control car boom, then you're going to love "Apollo Denshi."
At first glance it looks like a very serious and un-Otaku-Map-like, but inside it's quite remarkable.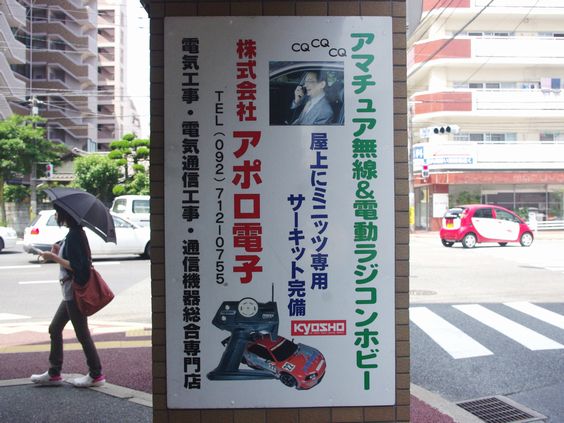 With only this sign to go by, I navigated my way to the store to investigate!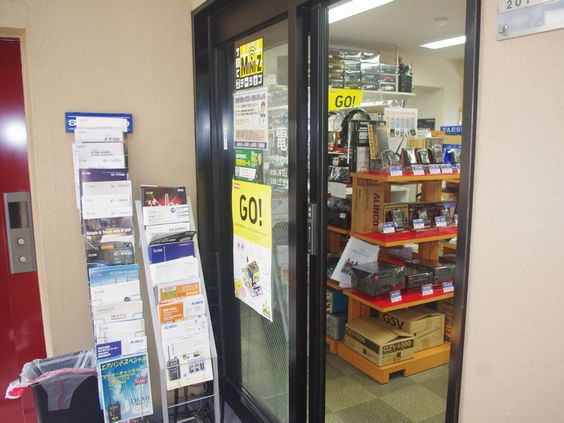 It may look like just another Amateur Radio Shop from the entrance; however…
 Let me start with a bit of background info on radio-controlled cars! Radio control vehicles, or "rajikon" as they are known in Japan, refer to vehicles that are controlled wirelessly from a distance using a transmitter or remote. The most common of these are the hobby-variety model cars, planes and helicopters, but what you may not know is that they are also used in various industrial and agricultural fields as well.
It is believed that "rajikon" first entered into public consumer markets in 1974, with the release of the Tamiya Inc., M4 Sherman Tank. Toy manufacturers KYOSHO CORPORATION, Tokyo Marui Co., Ltd., Nikko, and Taiyo soon followed suit, releasing R/C products of their own and instigating what was to become the radio control car boom.
Radio control cars generally come in 1/8, 1/10 and 1/12-scale sizes, and in the 1980s, the 1/10 scale cars were the leading cars of choice. The size of the cars and the space required to operate them meant that this was a rather participant-limited hobby. But then in 1999, KYOSHO CORPORATION released the affordable and compact 1/24 size car, the "Mini-Z Racer," and this opened up the radio control car market for an even broader range of people to enjoy. Personally, I consider this to be the first stage of the "rajikon" revolution. (The second stage would be the Mini 4WD!)
The Mini-Z Racer is realistic in its replication with accurate scaling – a size that fits in the palm of your hand. And you wouldn't know it from its size, but this car can really go (even drift!). With its high quality design and immense popularity, especially the sportier models like the Super GT, F1 and Ferrari models that rated on par with their larger scale counterparts, radio controlled cars became an instant global phenomenon.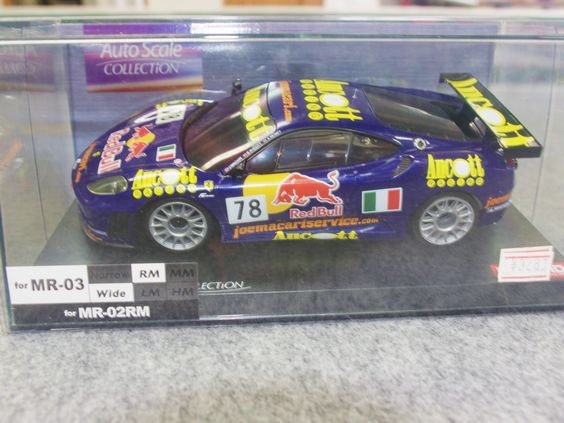 The accuracy of the replication is incredible!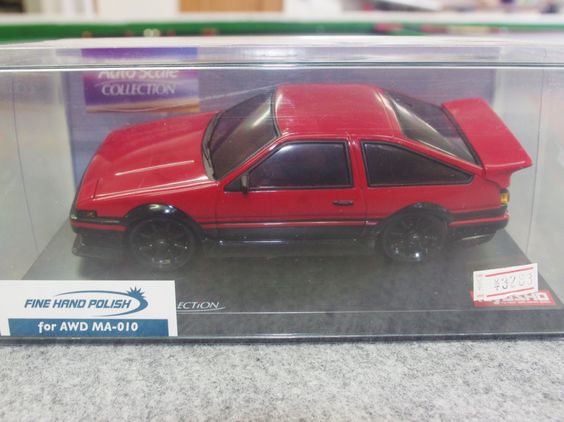 Of course there are plenty of domestic, Japan-made cars, too.
Well I think that's about enough of the background history; time to introduce Apollo Denshi. The first thing that surprised me when I walked into the store was the in-store circuit. And also the fact that it takes up more than half of the store. "It's a completely original course," say the staff, who spent 2 months setting it up solely for the pleasure of their Mini-Z customers! They laid carpet for the track to provide optimal surface conditions. My hat goes off to their enthusiasm.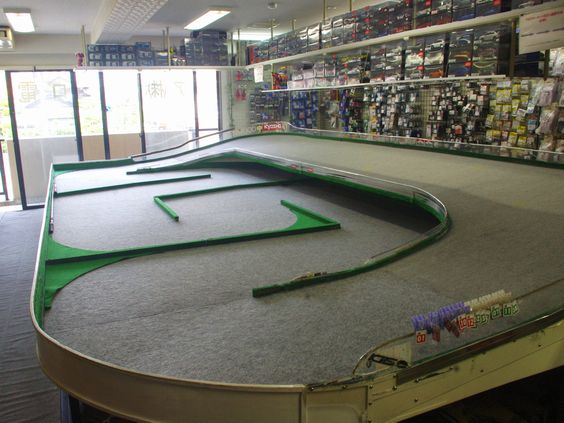 It's almost too big for its frame.
The store was established as a specialty store that deals in amateur wireless models, to "bring the joy of wireless technology to a broader audience." However, with the growth of the mobile phone market and the drop in the number of amateur wireless users, they revised their policy and now aim to "provide an avenue for wireless entertainment in new ways and forms," also strengthening their focus on the Mini-Z Racer market (of course, they currently still deal in amateur wireless models too, though). This is one of Japan's longest running stores that has been in partnership with KYOSHO CORPORATION ever since the release of the Mini-Z series.
The predominant users of these cars are aged in their 30s and 40s, and 90% are male. Also, because of the sheer quality of the replication of these cars, apparently there are a lot of users who started out as hobby modelists (making plastic models) and converted to Mini-Z fans. I'm told that the hardcore modelists who converted to Mini-Z will often buy the unpainted car bodies and do the coloring themselves. They also change the tires according to the type of course and surface conditions they're going to be driving on and tweaking all the minute details so that they end up with a machine that's "entirely theirs." I think once you're that involved, you're basically on par with a proper racing team. One of the reasons adults get so hooked on these vehicles is that they get to experience what it's like to be the owner of the car they've always dreamed about and even put together a racing team. Apparently it's also quite common for fathers who have come to the store to buy a present for their sons, to end up immersed in the hobby themselves (lol).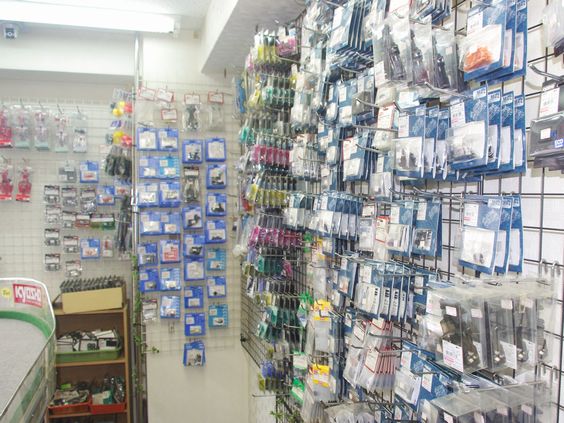 Custom parts aplenty. You can customize your R/C vehicle just like you would a real car.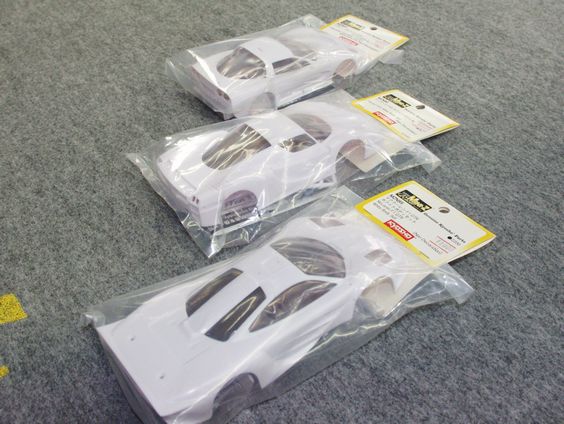 The real thing might be a little out of budget but at least with these you can finally own that Lamborghini, Ferrari or Mustang that you've always wanted (lol).
The circuit at Apollo Denshi is set up so that all Mini-Z Racer drivers can enjoy their machines whenever they like. It's available for use to anyone and everyone, whenever they wish to use it. The usage fee is 500 Yen for adults and 300 Yen for children, with no time restrictions – so you could even race on it for the entire day if you wanted to. Once a month they hold their monthly race meet where racers and "rajikon" enthusiasts of all ages (from teens to 60s) do battle with their most prized machines. So if you're into cars or even just plastic models, you should definitely check this place out.
The Radio Amateurs Shop Apollo Denshi is HERE
The Radio Amateurs Shop Apollo Denshi
- Products: Mini-Z, radio communication equipment for amateur use, telecommunication equipment for business use.
- Address: 2-11 Ropponmatsu, Chūō-ku, Fukuoka-shi, Fukuoka Prefecture

*All information correct as of July 2014.