Fukuoka Otaku Map #09 CARD SHOP CHANPLOO(1/4)

Text/Interview:トク(1093)
■ This is a shop that deals in over 10,000 items and receives a flood of interest from people around the world
I heard a rumor that a well-established shop had moved to the Tenjin area, so I wasted no time in going to check it out. For this installment, I introduce "Card Shop Chanploo," located next to Kego Elementary School on Kokutai-doro (the street that has Village Vanguard on it (lol)). For years the store operated nearby the old Kyushu University campus in Ropponmatsu, but moved to Tenjin after the university relocated. I assumed that the store must mainly cater to university student-types - those who have a lot of free-time and money on hand – but when I asked the store manager, rather unexpectedly, he informed me that, "The ages of our customers vary greatly; from toddlers, right through to those in their 40s." Never underestimate trading cards. The fan demographic is almost too vast.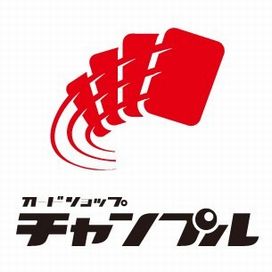 ● Students who used to live in the Befu area in Ropponmatsu will probably recognize this logo.
Card Shop Chanploo specializes in buying and selling trading cards and Data Carddass cards. They deal in a wide variety of items and genres that includes not only cards like "Yu-Gi-Oh!" and "Vanguard" that are sold in packs, and the "Dragonball" and "Kamen Rider" type cards that are sold in vending machines, but also the medallion-type collectibles like the "Pokemon" and "Yokai Watch" range. They've also opened an online store, and I'm told that inquiries come from all over the world. So as you can imagine, the amount of stock they deal in is incredible. Just going by what I saw, there was easily more than 10,000 items in-store. According to the manager, there are so many items that they have a hard time keeping track of it all. Aside from the store itself, they also have a storage facility for stock control apparently, so it's quite likely that this store deals in the greatest number of items in Fukuoka.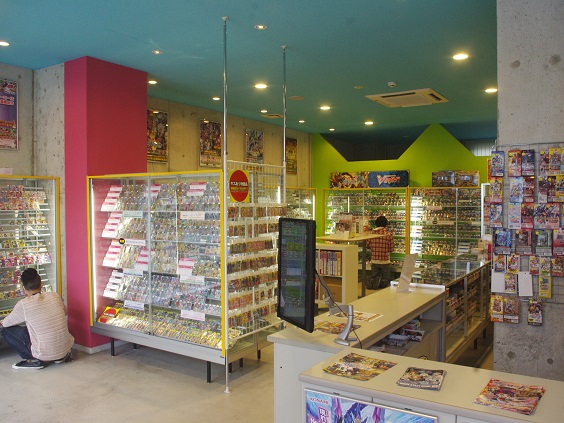 ● The store is overflowing with items. These are all trading cards!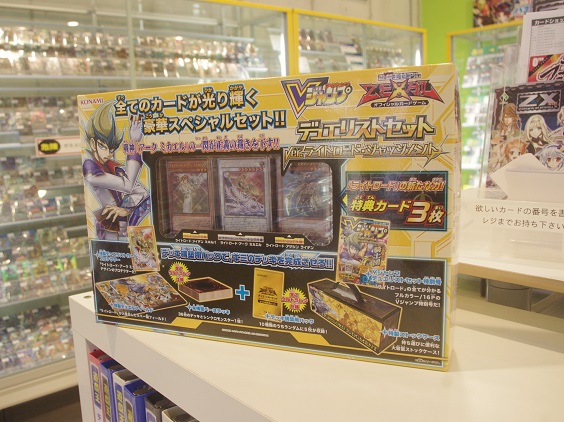 ● For beginners, I recommend you start with buying a deck first!
The inside of the store is a bare-concrete, simple design – which makes the cards on display really easy to see. And surely enough, they even have a "card database." There are 10 volumes devoted to the Yu-Gi-Oh! series alone! As far as databases go, though, this one is quite meticulous, and impressive as an anthology of the various series' too. They also have a touch-panel display where you can perform product searches and get estimates on the market prices of particular items. With this system you can find info on the card you're looking for in a flash and with ease. Of course, it still doesn't compare to the knowledge and assistance provided by the friendly staff, though.
● It's a strange feeling, searching for analogue items on hi-tech machinery.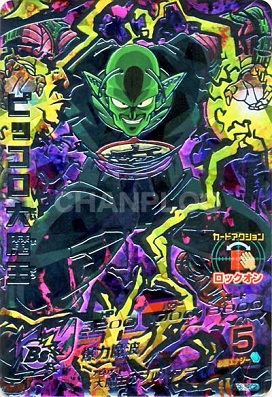 ● Dragonball and "Jump" comics related items are quite popular in Europe, apparently.
With the spread of the Internet, the store's business has grown with more domestic and international customers coming to the store and more people buying online, apparently. Office workers from the Kanto region stop by the store when on business trips to Fukuoka, and tourists from South Korea and China buy cards to take back home as souvenirs. A lot of overseas visitors, I'm told, buy cards because they're impressed by the quality and design of Japanese trading cards. On a side note, the market price of trading cards changes daily – just like the stock market. There are cards that fetch more than 10,000 Yen, and lately auction items are also apparently becoming quite popular. "Cool Japan" isn't only about big-budget movies and life-sized robots. As this store has shown, there are other Japanese contents and businesses out there that penetrate deeper levels of an even broader user demographic.
>>To see more inside CARD SHOP CHANPLOO
CLICK HERE
CARD SHOP CHANPLOO is HERE!
CARD SHOP CHANPLOO
■Products: Trading cards, Card games etc.
■Service: Duel Space,
■Address: 1-14-1 Kego, Chūō-ku, Fukuoka-shi, Fukuoka Prefecture 2-6-1-1104, Akasaka, Chuo-ku, Fukuoka-shi, Fukuoka-ken, JAPAN (*Relocated)

*All information correct as of April 2014.