FUKUOKA OTAKU MAP ver."痛"(two) - "Henshin Zakka Shop Parfait"

A unique cosplay specialist store in the center of Fukuoka City!
In this installment we will be introducing you to "Henshin Zakka Shop Parfait" (formerly known as "Cosplay Shop Parfait"), a store which moved to the otaku hot-spot of "Kita-Tenjin" in April 2015, having initially opened in Ijiri, Minami-ku, Fukuoka. Starting with outfits and costumes, this comprehensive cosplay store not only stocks wigs, as well as props, but is also a place where you can order custom made outfits, trade-in used goods and get your hands on secondhand items! Facing the main gate of the temple "Ankoku-ji" on "材木町通り (zaimokucho-dori)," this shop is located in Tenjin 3 chome, above Family Mart convenience store.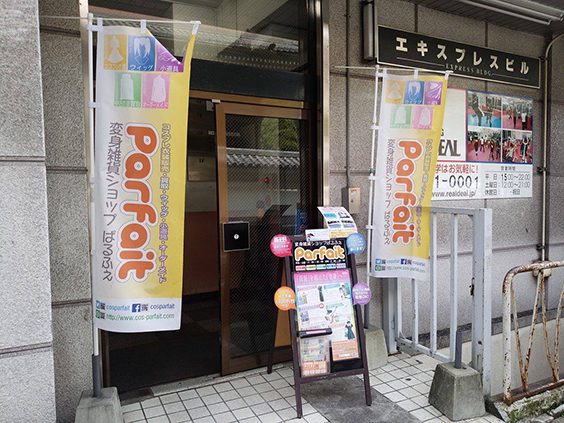 The entrance is just to the side of Family Mart. Look-out for the hanging signs!
After you've entered the building and climbed the stairs, you will find Parfait located inside. It's a multi-tenant building with different shops and businesses inside, so once you enter it does feels a bit like another world. But there's no need to worry, just pluck up a bit of courage and keep on going! Inside Parfait there's all kinds of cosplay outfits on display, and with a stock that features both new and secondhand items, there are other 300 items to choose from.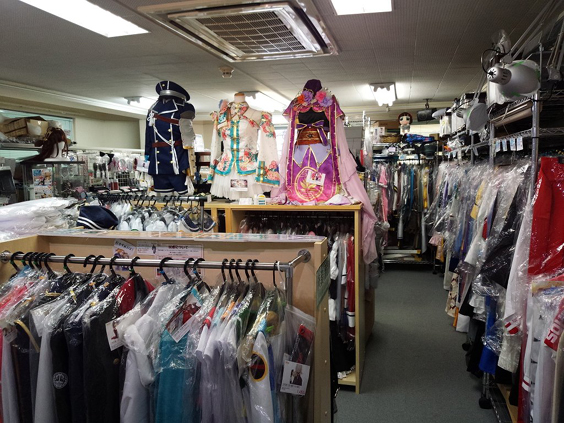 Once inside you will be struck by the huge selection of cosplay outfits in stock!
Female customers account for around 70% of the store's clientele. If you look at national trends, around 70% of female cosplayers dress up as male characters, while around 50% of male cosplayers dress up as female characters.
The desire to change and transform one's appearance seems to transcend gender! Recently some of the most popular costumes are based on characters from "Touken Ranbu -ONLINE-," "LoveLive!," and "Kantai Collection -KanColle-." Specifically when recreating productions (anime, games, etc.) that have lots of characters, it has become popular for cosplayers to co-ordinate what they wear and try to get a group together to "match" all the various different characters.
There's a chance you might be after an outfit or size that the store does not have in stock, but that shouldn't be a concern as they can order costumes in, which usually take around 2 to 4 weeks to arrive. Even though they have a huge range of outfits, there are some occasions that the shop can't meet customers demands.
However, they almost have no limit whatsoever when it comes to the wants and needs of their customers.
The store manager told us that "every year there are hundreds of anime and games created, which in turn gives birth to tens of thousands of new characters, and as such there are times when we don't have the outfit or correct size that a customer is looking for in stock, so please get in touch at least a month before the date you need the costume."
But, if it's urgent and you desperately need an outfit, or have left your wig at home, it's totally fine to just turn up and use them as a last resort! In fact, it seems that there are lots of people who find what they are looking for on the day!To allay any fears that your outfit might not fit, you can try before you buy to make sure that you find the right size.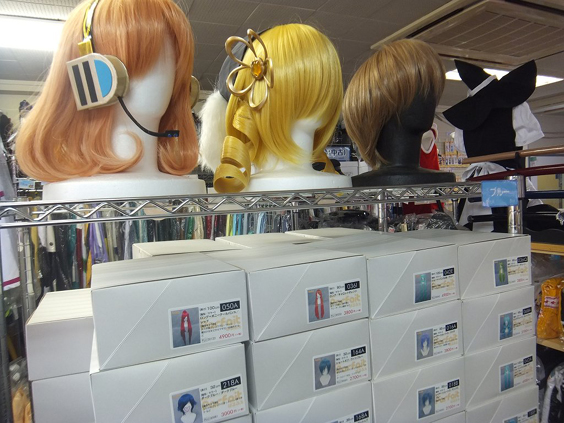 The wigs are sold in boxes like these.
As you might expect, they stock wigs and general, all-purpose goods, but they also have "character wigs," which are cut and styled to match the hairdos of specific characters. These wigs are easy to match to outfits and are a sure way of creating a top notch ensemble! You can't try on the wigs but you can check the colors!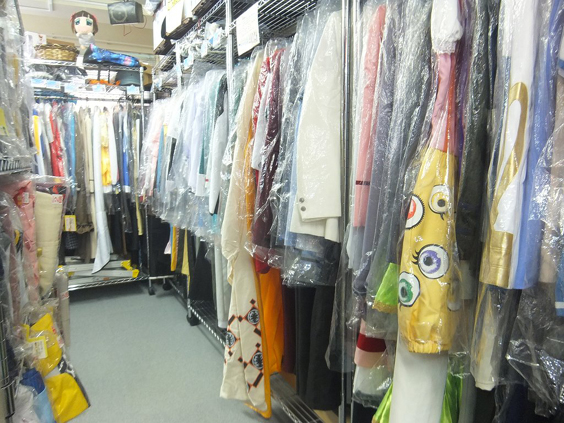 One of the best selections of secondhand outfits in the whole of Kyushu!
There is more to the store than just new cosplay outfits and wigs, indeed one of Parfait's big draws is that customers can trade-in and buy secondhand costumes. They stock new items, which can cost in excess of 10,000 yen, as well as reasonably priced pieces that are half this price. This range of goods and prices is a great help to many cosplayers that use their services. When it comes to cosplay, there are lots of people who will only wear an outfit 2 or 3 times, so even though they are called "secondhand," there is a fair few items that are good as new! And depending on the secondhand piece you pick up, you might also be able to find the matching wig and shoes to go with it. In those kinds of situations there's not much preparation needed in getting an outfit together, you can buy everything in-store and be set to cosplay (from the wig, to the outfit and shoes) straight away!
Whether it's an item you've only worn once, brand-name goods, items without a brand-name, or even costumes that you've made yourself, there's a good chance that you can trade them all in at Parfait!
If you are looking to sort out a room full of outfits, having trouble finding storage for clothes that you haven't worn much, trying to raise funds for a new costume, or simply just looking for something to cosplay in, why not stop by when you are next in town?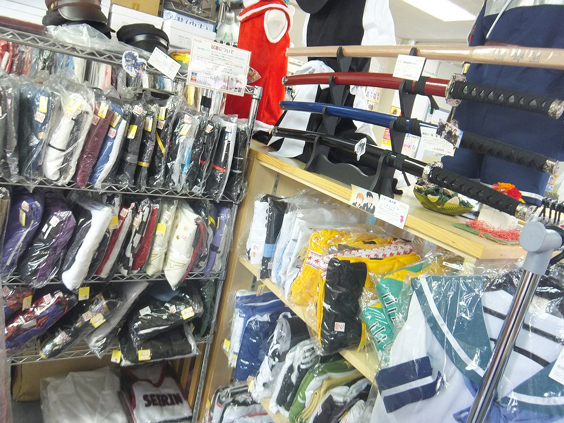 Another one of Parfait's major selling points is the "order made (custom made)" service, which they provide. And it's not just costumes that you can get tailor made, you can also order wigs and shoes! You can hand in a rough draft of the costume that you are looking for inside the store (notes/drawings done by hand are accepted), or you can mail your design in. It should be about 3 to 4 days before you receive an estimate. And it takes around 2 months and costs within the region of 20,000-30,000 yen (to complete a custom made piece). You can also decide what you want in store while looking at samples of different materials. So for anyone interested in ordering custom made outfits, it is worthwhile checking beforehand. Recently it hasn't only been anime characters; they have also had plenty of orders for outfits that customers want to wear for concerts, as well as costumes for completely new and original characters.

Inside the store, in order to provide a full service for active cosplayers, they approach things from the perspective of a cosplayer. Customers can speak to the staff about cosplay, find out what outfits staff would recommend and learn the easiest way to wear different costumes, all of which can really help open up your mind to new options. From newcomers who are interested in giving cosplay a go, to people who are already involved cosplay, this store provides all kinds of services, meaning that all customers are sure to find what they are looking for!
Henshin Zakka Shop "Parfait" is HERE!
Henshin Zakka Shop "Parfait"
■Products and items: Wide range of cosplay outfits and costumes, order custom made items, trade-in used goods, etc.
■Address: 2nd Floor Express Building, 3-2-18 Tenjin, Chuo-ku, Fukuoka-shi
■Website:
http://www.cos-parfait.com/
*All information correct as of April 2016.