Fukuoka Otaku Map #08 TOM SAWYER Tenjin Loft(1/6)

Text/Interview:トク(1093)
■ An impressive concept: "complete support for the joys of making and collecting" and an impressive collection
For this installment we venture down to the southern area of Tenjin (Fukuoka), where you can find the store we're introducing today: "TOM SAWYER Tenjin Loft." The store is a long-established toyshop and is located on the first basement floor (B1) of Tenjin LOFT (they also have a branch in Ijiri). The store is based around the concept of providing "complete support for the joys of making and collecting" and with a vast range of items that includes not only Gunpla and character-based models, but also the currently trending items like the KanColle ("Kantai Collection") series, as well as some of the more hardcore collections like the AFVs (Armored Fighting Vehicles), their genre-free lineup of goods is nothing short of impressive. The items literally fill up entire walls and the store is so jam packed you'll think there couldn't be an item that this store
doesn't
have.
For the older generations, you will be pleased to know they're well stocked on their 80s nostalgia, too, like items from the "Dr. Slump," "Spaceship Yamato," and "Armored Troopers VOTOMS" series. It's quite literally a hobby treasure trove. Once you go in, it will certainly be a while before you come back out.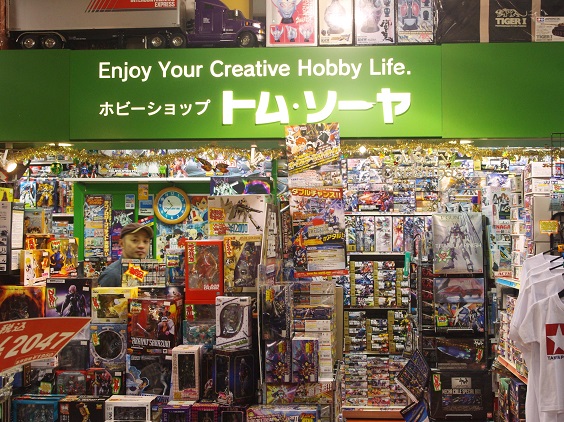 ● The entrance is certainly a sight. There are so many items, it's hard to know where to look first. haha
From the entire lineup, their collection of "Gunpla" and "Mini 4WD" is perhaps most impressive. First of all, the Gunpla range is teeming with gems. There are rare items here being sold at regular prices. It's been more than 10 years since I've seen the Gundam scenic model series on display in a shopfront. The 1/72 mechanical "Char senyou Zaku" was quite an expensive model back in the day, but I'm older now and have the money, so I had to practice some self-restraint. You would probably classify it in the old-kit category of plastic models, but I'd say it's quite rare to see model of its type with a box still in such good condition.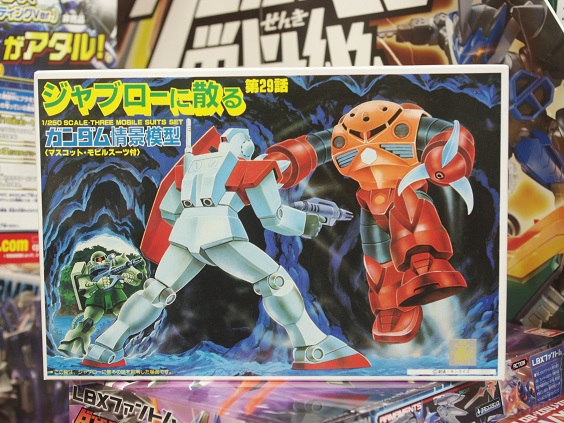 ●This was the very first diorama I ever made!
Now on to the "Tamiya Mini 4WD" range. I'm sure there are plenty of people out there who have heard of this series, but the Mini 4WD is now in the midst of a revival. That "Mini 4WD" loved and played with by children right across the nation more than 10 years ago now, is back, bigger and better. So it's an item that both parent and child can enjoy.
But don't be fooled into thinking this is just a mere toy. There are more than 300 setting parts to these cars, so you can change the tires, the brakes, etc., and customize the car to your needs depending on the type of course you wish to race them on. If you solely focus on making your car the fastest it will most likely just fly off the track – balancing out the center of gravity is key. It's actually quite complex and it's no exaggeration to say the skill involved is worthy of labeling this hobby as the world's smallest motor sport. There's even a design competition called the "Concours d'Elegance." So it's not just about racing, you can also have fun with the design as well. On a side note, the other day a race event was held in "Kashii Kaen" amusement park in Higashi-ward, Fukuoka, that attracted over 700 fans.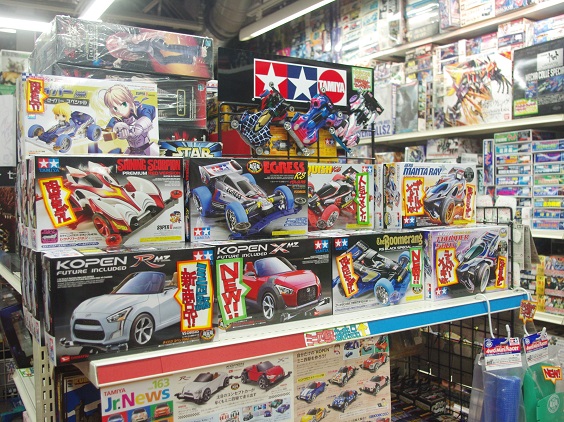 ● All the intellect behind motor sports packed into these tiny cars.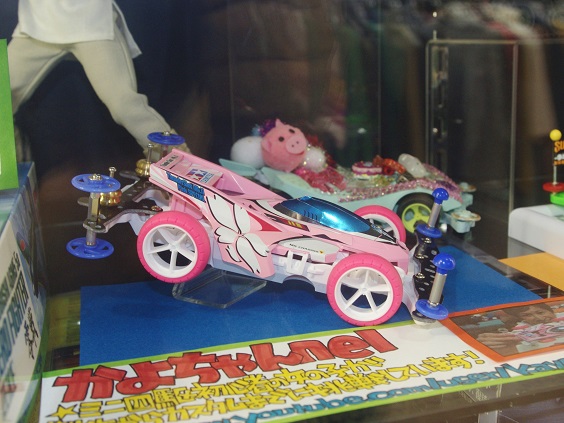 ● Even the world of Mini 4WD have their own '
itasha
'!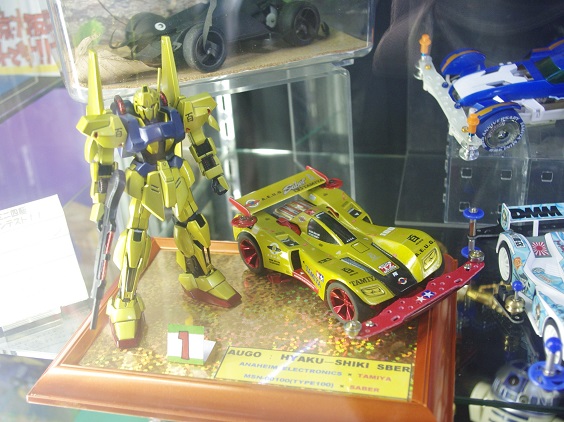 ● Gunpla collaboration item.
Also, Tom Sawyer supports young artists and they provide personal space in their showcase at the front of the store for artists to display their work. Currently, in March, they are displaying original monster figures by an artist named ukdaydremaer, Showa-period-retro style illustrations by Yaguchi Hibana, tiny picture books that could sit on your finger called "mamehon" by the artist Kozono Miharu, as well as the works of Fuchimoto Muneji, the founding father of "orirobo" – origami robots made using a single sheet of paper, without the use of scissors. The individuality in these works is definitely worth a visit!
And just so you know, the only place in Fukuoka where you can find the "Tsuno Kachuusha" (horned headbands) by ririco:ramu that are in hot demand all over Japan right now, is at TOM SAWYER.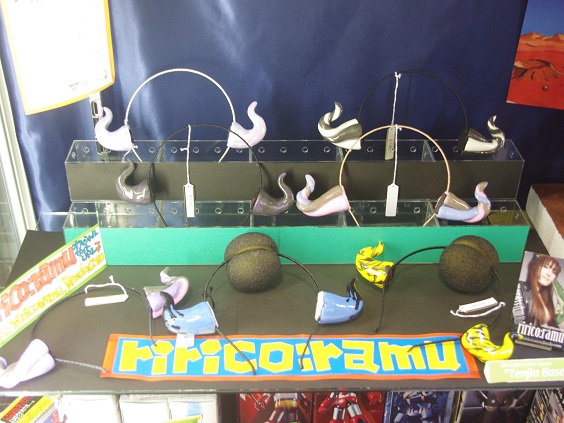 ● Horned headband. An ultra hard-to-find item.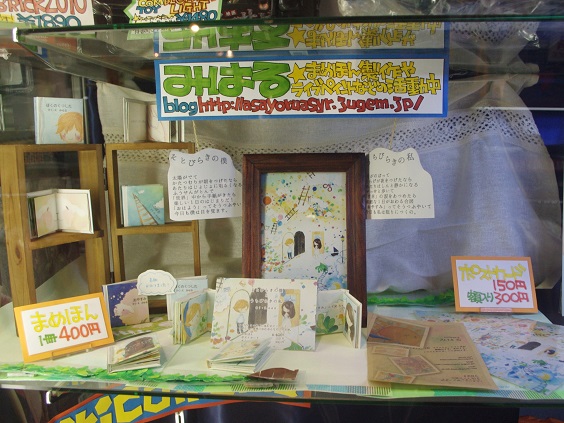 ● It reads like a normal book. The minute detailing is exceptional!
With items ranging from the fun and simple right through to the hard-core and fanatical, this is one hobby store that has it all. Parents could take their kids, or kids could take their parents – it's a store that has something for everybody.
>>To see more inside TOM SAWYER Tenjin Loft
CLICK HERE
TOM SAWYER Tenjin Loft is HERE!
TOM SAWYER Tenjin Loft
■Products: figures, plastic models, resin garage kits, mini 4WD, dolls, etc.
■Address: Tenjin Loft B1F, 4-9-25, Watanabe-dori, Chūō-ku, Fukuoka-shi, Fukuoka Prefecture

*All information correct as of March 2014.