Fukuoka Otaku Map-ver. 痛 (Two) - Ultraman World M78 Canal City Hakata(1/16)

Fun for all the ages! The only official Ultraman shop in Fukuoka!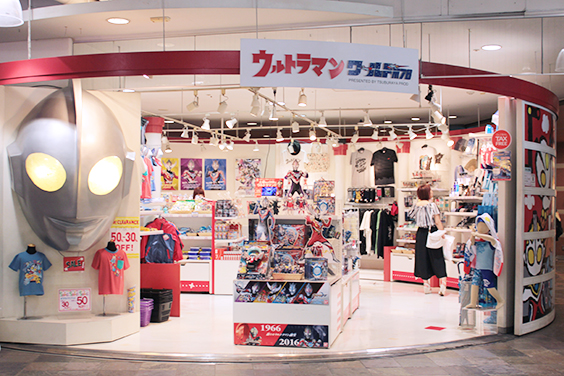 This year the Ultraman series is celebrating a milestone, with 2016 marking 50 years since "Ultraman" was first broadcast. Fighting evil in order to maintain peace and protect the earth, the Ultra heroes are still adored by children, even to this day.

The "Ultraman World M78 Canal City Hakata" is located in the first floor basement of Canal City Hakata, and as the only official store in Fukuoka, is packed with a huge array of Ultra hero merchandise. From toys and daily necessities created for children, to business related products aimed at adults, they have really expanded the range of goods on sale, meaning that there is something for all age groups to enjoy. Kids and adults who are young at heart… Join us, as we take a closer look inside the "Ultraman World M78 Canal City Hakata Shop!"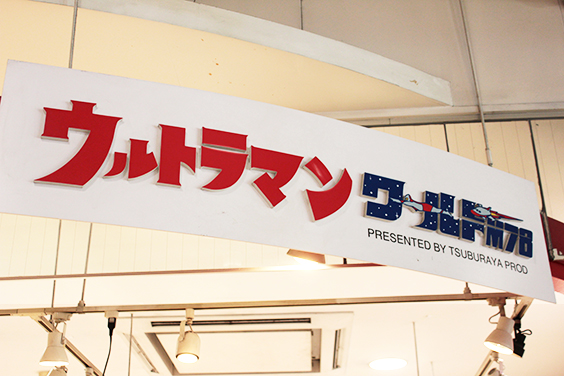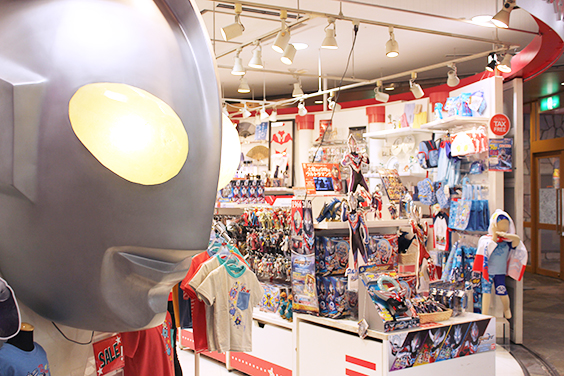 Just to the right of "La Boon." in Canal City Hakata's first floor basement, shoppers wil find themselves greeted by Ultraman's huge face upon their arrival! The "M78" in the shop's name is taken from "M78 Seiun (Nebula)," which is the name of heroes' home planet.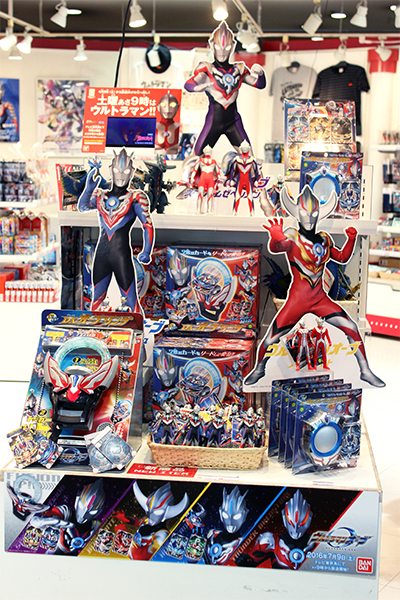 The bestsellers tend to be goods that tie in with the most current "Ultraman" series on TV. As "Ultraman Orb" was being broadcast at the time of this article, there were items such as "sofubi (soft vinyl)" dolls and makeover sets on display at the front of the store. In line with any new releases, the shop also holds events where fans can get a photograph with, or shake the hand of one of their favorite Ultra heroes.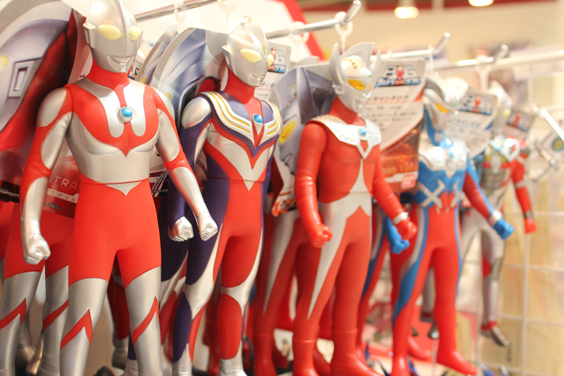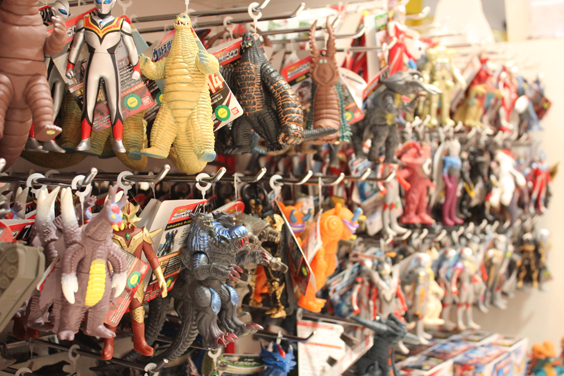 Speaking of staple merchandise, naturally they have soft vinyl figures of a variety of previous Ultra heroes and "kaiju (monsters)" on sale. You're sure to notice these kinds of toys, both big and small, lining the shelves on both sides as soon as you enter. When it comes to this kind of variety and choice, this is the only place of its kind in Kyushu!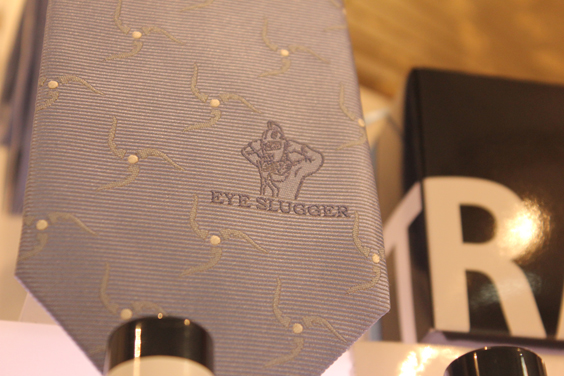 It's precisely because of the love that exists for the series across all generations, that you will find a full range of goods aimed at adult fans. There are items for business people, such as neckties and suit refreshers, which convey the impression that people in the world of work are heroes in just the same way as Ultraman. Designs featuring Ultraman, which have this as their underlying message are sure to give you a boost in your everyday life.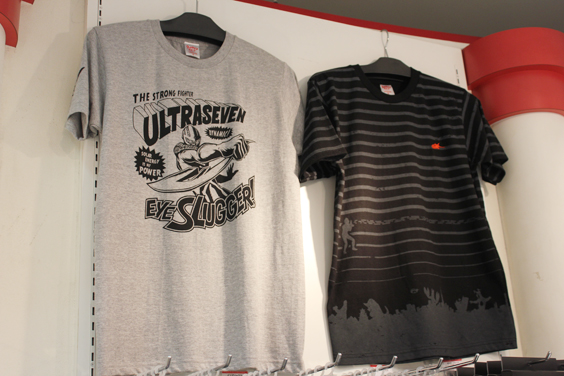 Clothes, such as T-shirts, are among the most popular items with customers from abroad. From pieces that have Ultraman drawn across the front, to more casual, relaxed designs, there's a really impressive variety for shoppers to explore. With such a great selection on offer, whatever option you choose is sure to look cool.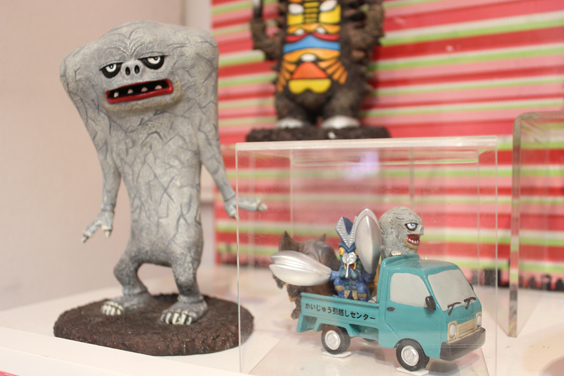 One of the hot topics among adult fans is the release of the "Otonari no Kaiju (lit.: Monster Nextdoor)" series! Filled with humor, this series depicts kaiju in their off time, when they are not fighting and causing havoc. Here you can see some of the kaiju featured look surprisingly bored and unenthused.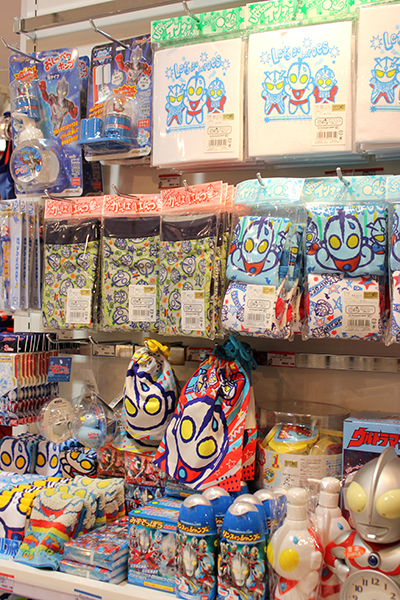 With families accounting for 60% of customers, the store has also developed an extensive selection of goods for children. The "super deformed" cartoon version of Ultraman, "M78 Ultraman," is super cute! If you look carefully you can see sweat dripping from Ultraman's forehead... That comes from all the hard work he's been doing alongside the kids he's trying to help!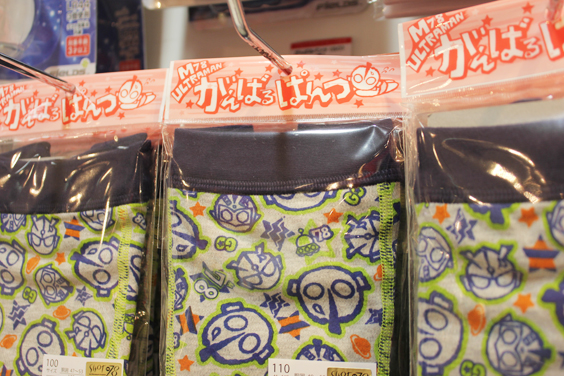 It's no exaggeration to say that they have everything in stock that you could possibly need for a child's daily life. Among these daily necessities, which includes items such as toothbrushes, is a section called "Ganbarutaiin Goods," which aim to support younger kids, by offering them the message that "it might be tough going by yourself, but you can do it with Ultraman at your side! "
Events are also held in which Ultra heroes visit the store, giving fans the chance to come into contact with their favorite characters. At the "Ultraman World M78 Canal City Hakata" you can get a real feel for how much love there is for a group of Japanese heroes that transcend generations. Make sure to go along to experience it for yourself!
Ultraman World M78 Canal City Hakata is HERE!
Ultraman World M78 Canal City Hakata Shop
Ultraman World M78 Canal City Hakata Shop
- Products: "Ultraman" related products, Ultraman World M78 limited edition goods, etc.
- Address: B1F Canal City OPA, South Building (*Relocated) B1F Center Walk South Side Canal City Hakata, 1-2-22 Sumiyoshi, Hakata-ku, Fukuoka-shi, Fukuoka-ken

*Please note: This article was written in July 2016, as such there is a chance that some of the items that are featured may not currently be in stock.