[Otaku's @ Home] #21 An Otaku with a Passion for Music and Motorbikes.(2/3)
Q/A with the Owner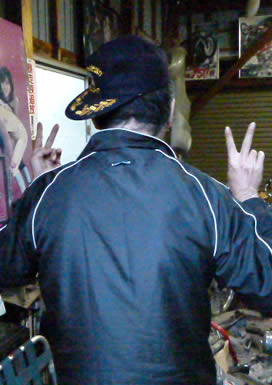 ■Name K
■Occupation Self-employed
■Otaku History Ever since I can remember
■Girlfriend – Y/N? No.
■Favorite genre
Nostalgia (motorbikes, music, goods) …But I also like Vocaloid and Akiba-kei (Akihabara style) as well.
■Favorite character
Hinata (An amateur dancer on NicoNicoDouga's 'Odottemita')
■Reason for becoming otaku? 
I was born this way!
■What are your thoughts on the latest otaku boom?
Being an otaku is like being in a different dimension, not dissimilar to the gap between the 2D world and the 3D one. Rather than criticizing, I feel people should understand and just accept the existence of the other.
■Sites you frequent most
Blogs of minor Idols
■Word or phrase of the moment
"Kayui" – Itchy! (means GJ!!)
■Favorite Quote 
If you're still alive, worry not for in the meantime something good will happen!
■What are you hooked on at the moment? 
Music & film editing
■The next thing you want to buy? 
Rane"SIXTY-TWO"DJ Mixer
■How much have you invested so far?  
I think somewhere around 10,000,000 yen
■What does being an otaku mean to you?
Nature taking its course, a lifestyle; it is what it is.
■How do you budget your monthly earnings?
Living expenses (including food), Loans, Hobbies – 3:5:2
■Last word
Why do people assume that being an otaku automatically means we are also NEETs? It's not true…but there is no need to worry about what people around you think! Be courageous!