[Otaku's @ Home] #26 Otaku Room! Otaku Car! Otaku Bathtub!(2/3)
Q/A with the Owner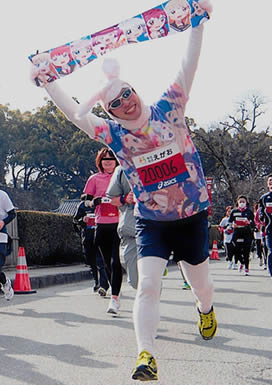 ■Name Hinausa
■Occupation Entertainer
■Otaku History 5 years since I remember
■Girlfriend – Y/N? Yes.
■Favorite genre I like easygoing ones set in high-schools
■Favorite character Hinagiku, there's no one else!■Reason for becoming otaku?
To get it! Get what? Sailor style school uniforms! 
■What are your thoughts on the latest otaku boom?
It's already cemeted itself as part of Japanese culture. I think that's so great! Over ten years ago, when my sister was starting to get into it I saw how embarassed people were. I had no idea we would get to where we are now. People who have supported the movement from way way before the boom definitely have something to be proud of. I hope that new and old fans alike can enjoy themselves together and have loads of fun.
■Sites you frequent most
Nijigencospa HP, Purisoku, twitter
■Word or phrase of the moment
Sorry future me, can you lend me some money.
■Favorite Quote
HINA full power! Don't hold back! heart pounding power, perfection!! (from Pretty Cure Splash Star's next episode preview)
■What are you hooked on at the moment?
Hina-chan will last forever and an eternity. And Pretty Cure, I was hooked on that before I realised I was an otaku. Ro-Kyu-Bu!SS as well, it's just too fun, it really spices up my life.
■The next thing you want to buy?
Fresh Pretty Cure! and HeartCatch PreCure in a Blu-ray boxset, I think they're coming out the year after next.
■How much have you invested so far?
About 2,000,000 yen (=20,100$)
■What does being an otaku mean to you?
It's the pronoun!
■How do you budget your monthly earnings?
Rent:30%, Foods & Daily Necessaries:30%, Utilities:10%, Scholarship Refund:10%,
Goods:15~20%, Social expenses & Others:0~5%
■Last word
Ultra-happy feelings! Give it a go!
Twitter
https://twitter.com/s031009
http://www.nicovideo.jp/mylist/18763167
YouTube
http://www.youtube.com/user/S031009/videos?flow=grid&view=0
http://www.youtube.com/watch?v=C6CI9ovX7ak