[Otaku's @ Home] #27 The last one! Classic Models Galore!(2/3)
Q/A with the Owner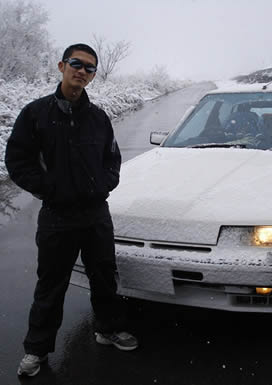 ■Name Sanmaru/FJ20ET
■Occupation Lolicon
■Otaku History 8 years, but I've been interested in cars since childhood.
■Girlfriend – Y/N? 
Yes. Sometimes I get away from the screen and into the real world.
■Favorite genre 
Anime and cute things of course, also cars. I used to be into trains too. My motto is wide and shallow! I'm the type of guy who likes to have a nibble at everything.
■Favorite character
I've thought about it for three days and I just can't think of an answer. I love everyone!
■Reason for becoming otaku?  
After I watched Haruhi I became an otaku. It's her fault. But really, sooner or later it was gonna happen, it's destiny.
■What are your thoughts on the latest otaku boom?
We're all contributing to Japan's economy so I think it's about time we get an otaku tax reduction, don't you think?
■Sites you frequent most
pixiv, minkara
■Word or phrase of the moment
When I'm wondering whether I should buy something: "I'll think about that after I buy it"
■Favorite Quote
A Skyline is not simply a machine. It is alive, has a heart and can talk to you. (By Shinichiro Sakurai)
I'm gonna fool around like this, even if the girl's set on selling watermelons. (By Toujiro Ukiya)
■What are you hooked on at the moment?
When I was in elementary school I put my butt in a trashcan and it fit perfectly. Is that what you mean?
■The next thing you want to buy?
Well, I'd like to become the main characte in a girlfriend sim (seriously)
■How much have you invested so far?
Honestly, too much to work out but I'll definitely put this relay past the finish line.
■What does being an otaku mean to you?
It's about being yourself. You can always find individuality being an otaku.
■How do you budget your monthly earnings?
The practical problem is that I'm a student who lives at home with my parents so all my money goes on my hobby!