Kawabata Zenzai Hiroba(1/13)

This is an awesome spot where you can enjoy zenzai and view a "Kazariyama" from the Yamakasa festival at any time of year!
At the "Kawabata Zenzai Hiroba" you can sample the famous "Kawabata zenzai," one of the 3 major specialties commonly associated with Hakata! Inside you can also view a "Kazariyama (Decorative Float)" from the Yamakasa festival at any time of year. During Yamakasa event, the "Hashiru Kazariyama (running Decorative Float)" adorns the main thoroughfare of the Kamikawabata Shotengai, but as soon as the festival finishes it stands tall, taking pride of place inside the "Kawabata Zenzai Hiroba." The tiles on the walls feature pictures of the happi (traditional straight-sleeved coats) that are worn by those who participate in Yamakasa. It's really interesting to try and spot all the different designs.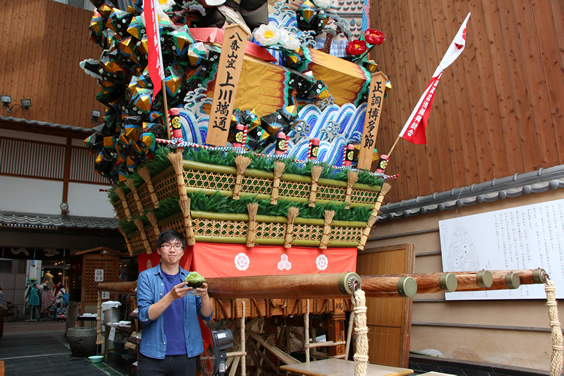 I came here last winter with my girlfriend to try Kawabata zenzai. Eating the mochi mixed in with the warm, sweet zenzai (red bean/azuki soup) was so delicious; it quickly raised our body temperature and we hardly even noticed the cold weather. This time I tried the "koori (ice) zenzai." It's so awesome that you can enjoy zenzai here even during the summer. In the middle of the shaved ice is a generous helping of azuki beans. You can choose 1 from 3 flavors of syrup to pour on top (honey, matcha or strawberry). I decided to go for macha (green tea)! It was so tasty!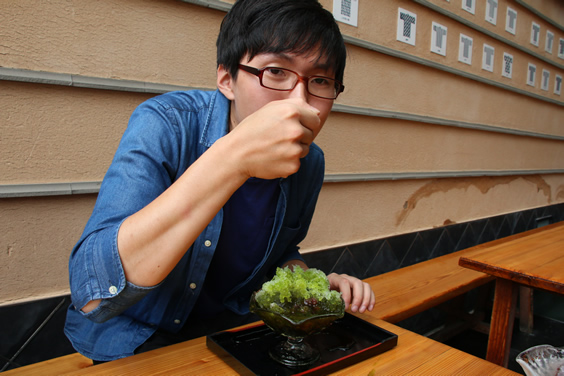 A river flows at the back of the store, and you can take a stroll along the path that runs beside it. With older buildings facing the river, you can really feel the atmosphere of modern Japan that has come to engulf this area. Inside "Kawabata Zenzai Hiroba" guests can enjoy zenzai or koori zenzai while viewing a "Kazaraiyama," as well as exhibits that are related to Yamakasa, 1 of the 3 most important festivals that Hakata hosts. This is a great spot to take a break, relax and enjoy real, traditional Hakata!
*For further information about "Yamaksa," check>>
[Feature] YAMAKASA Special
INFORMATION "Kawabata Zenzai Hiroba"
Opening hours
: 11:00-18:00 (*only open on Fridays, Saturdays, Sundays, public holidays and during events hosted by the shopping arcade. Also open every day during the Yamakasa festival-July 1st to July 14th.)
Closed: Monday to Thursday
Website:
http://www.hakata.or.jp/zenzaihiroba/
Address: 6-135 Kamikawabata-machi, Hakata-ku, Fukuoka-shi, Fukuoka-ken (Kamikawabata Shotengai Shinko Kumiai [Association for the Promotion of the Kamikawabata Shotengai])
Telephone number: 092-281-6223 (Kamikawabata Shotengai Shinko Kumiai (Kamikawabata Shotengai Shinko Kumiai [Association for the Promotion of the Kamikawabata Shotengai])
- Kawabata zensai, Koori zenzai, Kawabata zensei pack: 500 yen (each)