Vogue features manga in July edition!
Manga in fashion with magazine
Vogue is one of the world's most famous fashion magazines.
And the July edition is running a feature article on the relationship between manga and fashion.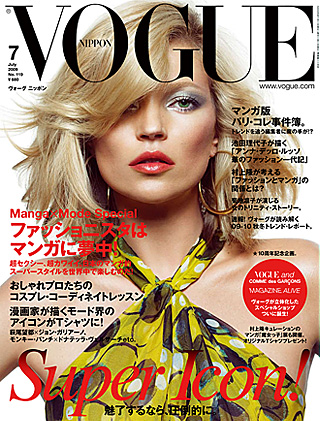 Romantic frilly ribbons, hard core bondage, shapely proportions, cute schoolgirl styles are the latest fashion trend. And they all come from manga.
And they are being introduced in Vogue.
The unrealistic world of manga beauty has captured the hearts of fashionistas throughout the world.
It also features an in depth discussion on the influence of manga fashion with Murakami Takashi, a leader in the otaku culture world.
The styles and motifs that are in fashion today are from those well known manga characters. This magazine will really open your eyes.
VOGUE NIPPON 2009 July
Photo: Inez van Lamsweerde and Vinoodh Matadin at The Collective Shift
© 2009 VOGUE NIPPON All rights reserved.