K-ON song "HOKA-GO TEA TIME" makes No.1
○ It is the first time in history that anime characters have reached No1. on the Oricon singles or album chart.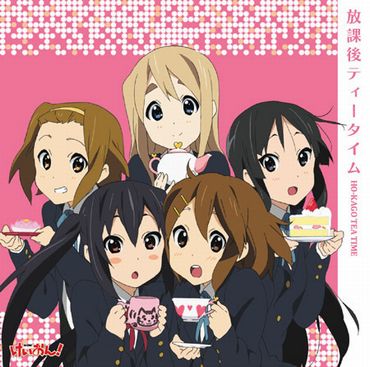 The five members of the anime K-ON who make up the group Hokago Tea Time (After School Tea Time), has hit No.1 the Oricon album chart with their album of the same name selling 65,000 copies, outselling the No.2 King of Pop – Japan Edition by Michael Jackson.
K-ON is a four panel manga strip originally published in the Manga Time Kirara (published by Hobunsha). It is a story about a school band on the brink of disbanding when four high school girls join and discover the wonder of music.
It became an anime this spring and was broadcast on TV.
Despite being shown late at night it boomed with high ratings, and became a social phenomenon.
Anime and manga goods a hit.
The popularity of the anime resulted in the manga selling out.
There has also been high interest in the instruments the characters use, with the left hand bass guitar selling four months of stock in just a few weeks Subsequently two years of stock have been ordered.

We have often seen sales jumping on the back of anime popularity.
Manga creates new culture.

The popularity of K-ON s resulted in girls band culture booming. A feature of the phenomenon.


Link