[ICON] ☆Taku Takahashi - DJ, Producer, Visionary(1/3)

 Taku Takahashi (stylized as '☆Taku Takahashi') is known to most as one half of the incredibly popular two-man unit, "m-flo," and is responsible for the group's prismatic soundwork. His impressive DJ career this year earned him the number one spot on the iLOUD 2012 "DJ50/50" popular ranking for domestic artists, and he also happens to be the creator and producer behind internet radio station "block.fm." With his sheer talent and extensive work across various fields, ☆Taku Takahashi has already established himself as a leader of the music scene in Japan.
In this interview we asked him to reflect on his work in recent years and provide his thoughts on current day Japan vs. the situation in Asia and how Japan fits into the bigger picture. Takahashi's calm regard for Japan's problem-plagued entertainment scene is refreshing, and it reassured us that if anyone is going to lead Japan to greener pastures, it's this man.

"I want to help create an environment that allows Asian DJs to tour around the whole of Asia"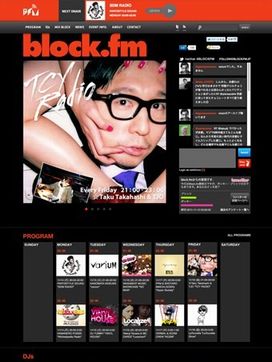 --First of all, could you tell us about the beginnings of m-flo?
☆Taku Takahashi (herein '☆Taku'): Well, I've known Verbal since elementary school and we first formed a band together when we were in high school. After that we both moved on to university but we would get together during summer and winter breaks to make music and it gradually just turned into m-flo.
--You've been involved in various aspects of the music industry, both as m-flo and as a DJ. How has Japan's music scene changed over the years?
☆Taku: For a time, Japan's music industry was of a global standard and we were the ones leading Asia.But the situation has changed in recent years and now countries like South Korea, China, Thailand and the Philippines are the ones in the spotlight. These countries just seem to have an abundance of highly talented singers. Of course there are some very skilled vocalists in Japan also, but compared to the rest of Asia, the number out there is just overwhelming.
Recently I've had the chance to work with a lot of artists from South Korea and China and I hope I get to do even more of these kinds of collaborations from now on too.

--Who have you worked with so far?

☆Taku: I've just done a collaboration with 2NE1 on the m-flo song "She's So (Outta Control)" and in the past I've also worked with other Korean artists like BoA, CLASSIZQUAI PROJECT and Whee Sung. I've done collaborations in China as well when I've been over there to DJ at events, working with a number of artists and groups. I happened to do a remix for one of those groups, A4F, just the other day and I believe it has been released in China, Taiwan and South Korea.

--Could you tell us about why you started block.fm?

☆Taku: The reason I started it is simple. There were too few places in Japan where people could listen to the latest dance music. In the rest of the world dance music is big business, but in Japan monetizing dance music is actually quite difficult. South Korea is right next door to us and they're able to call in some of Europe's finest DJs to play for them. Japanese clubs right now are in no such position. Appearance fees are expensive and it's hard making up the numbers. Why is it so hard to get people to go along? Because there are so few places in Japan where you can find out about up and coming DJs and they're on the decline. So I created block.fm – a place where you listen to the latest songs and get up-to-date information. One of the programs on the station is a showcase of all the latest releases – it's similar to BBC, but sometimes we get our info even faster. The reason being, I get tracks delivered to me personally from record labels and DJs all over the world.

My goal from here on, though, is to connect more with Asia. DJs in Europe, for example, will be playing London and Paris one weekend and the next they'll be in Germany and then Russia – they literally tour around the whole of Europe. I want DJs in Asia to be able to do the same thing in Asia. I've met some amazing DJs on trips to Taiwan, Korea and China, but the sad thing is they're virtually unknown in Japan. If only I could get them in front of a Japanese audience so they can experience this talent for themselves. Ultimately, I want to help create an environment that allows Asian DJs to tour around the whole of Asia just like European DJs do in Europe. At this stage, I'm also working on creating a program that features works by DJs specifically from Taiwan and Singapore.

--What has been the reaction from listeners so far?

☆Taku: One thing I've noticed is that audiences now are really taking to new songs and I think it's because, even before their release, they've heard them being played numerous times on block.fm. Another thing is the international division on Japan's DJ rankings. Up until now, all the well-known, big name DJs, have always dominated the charts. And such DJ legends are to be respected, of course; I myself am a big fan. But its like the international rankings began to fall behind the times. This year, however, a number of up-and-coming DJs from overseas made it into the charts, and while I can't claim that it was all thanks to block.fm, I like to think that we helped influence this new direction somewhat.