#31 Takahashi Ai's Thoughts on Joining the Cast of Detective Conan
It was more than 15 years ago now that I met "Detective Conan" producer, Suwa Michihiko, when we just happened to end up sitting next to each other at the same bar in Shinjuku's Golden Gai.

I was an editor at a publishing company at the time and didn't have much of an interest in anime. I had completely forgotten about "Star of the Giants," "Space Battleship Yamato," "Lupin III," "Heidi, Girl of the Alps," "Future Boy Conan," "Mobile Suit Gundam" and such anime that I used to love, as I figured these things were no longer of any relevance to me anymore. Looking back now I can say that, at the time, I didn't really have a clue about what was happening in the rest of the world.
As I was speaking with Suwa-san for the first time, I really took an interest in what he was telling me about anime production. I knew how popular "Detective Conan" was but something about it really appealed to the editor in me. Suwa-san showed me around the Conan dubbing studio and even invited me to dinner with the voice actors and production staff.
The dubbing studio in particular was a real eye-opener. It was the epitome of the "artisan" world. After that, I took it upon myself to meet with all the various other people who were involved in this world of anime production. I've heard stories from people in the anime industry, about the beginnings of anime right up to what it is today. I was just so fascinated by all the people and various roles involved in the production of anime, I came to learn how the industry works in a very natural environment.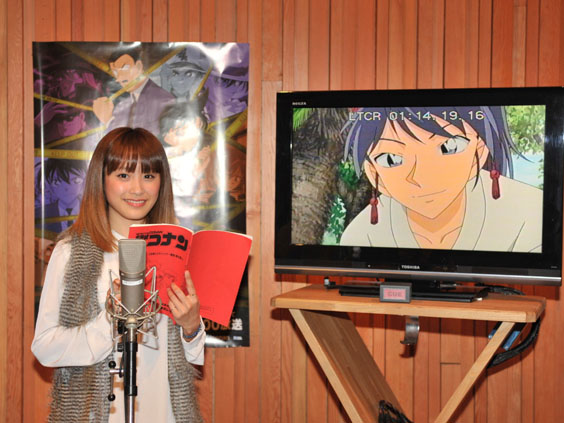 A mystery set in Nagasaki.
It was then about 10 years later that another event impacted on me to similar effect, and that was Morning Musume's live performance in Paris. I've even written about how I continued to follow the progress throughout that year, of the then group leader, Takahashi Ai, in several previous articles on asianbeat.
Anime and idols. I used to think these two things were of no relevance to me, but now they're two things I just can't live without. And the fact that "Detective Conan" and Takahashi Ai – the contributing factors behind two of the biggest life changing episodes in my life thus far – have finally overlapped, I honestly couldn't be happier.
This was only Takahashi Ai's second time in a dubbing studio. Some people might think the recording is done individually, but she was right there standing alongside two veteran voice actors in the recording studio. The look on Takahashi Ai's face as she stood by her mic waiting for her turn to speak was one of pure focus.
"I was so nervous. I was just so determined not to tarnish the image of this already accomplished work. But I felt really close to Takayama Minami and the other voice actors, as well as the sound director, and all the advice that they gave me made me really happy."
It was inspiring to watch as Takahashi Ai listened earnestly to the advice of her co-workers.
After this experience what did Ai feel about the role of voice actor?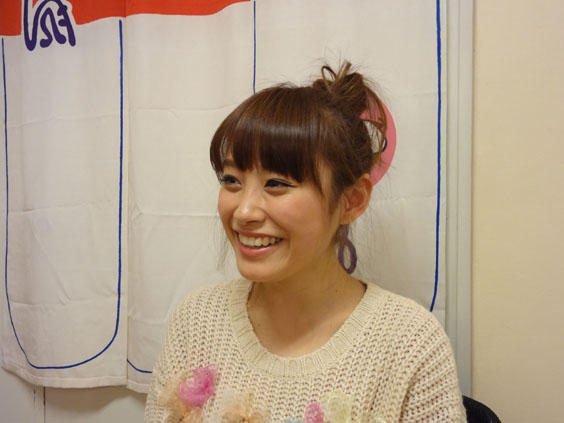 "I learned how spectacular the teamwork behind anime production is."
"On stage or in dramas, the types of roles and the ages of the roles you play don't differ too greatly, but with anime it's completely different. You're playing a voice that transcends age and gender. I was really moved by the teamwork and the atmosphere in the room when three voice actors are all lined up preparing to read their lines."
It's as though she felt the same way as I did when I first entered the studio 15 years ago, but Ai having actually experienced voice acting first hand, the emotions she felt would no doubt be far greater than mine.
"I grew up watching "Detective Conan," so when I heard the voices of the characters with my own ears, I really felt like I was in a special place and that each of the characters were actually alive. The performance you put into stage acting or dramas is pretty much all you, but with voice acting you're merging your voice with a created image, so it's more like a 50/50 relationship. Takayama Minami is the coolest. One time, she told me, "Ai-chan, you're really trying your hardest and that has helped everyone out a lot." That was really moving."

Takahashi Ai plays an up-and-coming actress.
Takahashi Ai is always saying how she wants to try new things.
"I don't see a reason to limit myself in what I can achieve. I just don't want to do anything half-heartedly. I now know that voice acting is one of the things I would like to be more involved in. I don't know what people thought of my role as Nanao Futaba in Detective Conan, but it sure was a great learning experience. I would love to take what I learned from this and apply it to even more endeavors and avenues for expressing myself."
Since her graduation from Morning Musume, Takahashi Ai has taken on a musical, stage performances, a TV drama and now voice acting, and she has tackled every challenge head on. Her attitude spells great things for the future of Japan.
Good luck, Ai-chan!

A new article every Wednesday!
Next time: Report from Moscow's premier Japanese pop culture event, J FEST!

Columnist: Sakurai Takamasa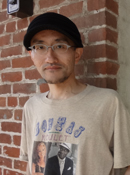 Contents Media Producer, author, journalist, managing director of Contents Street Inc. Chief Editor of iPhone magazine "Tokyo Kawaii Magazine" (ASCII Media Works), World Cosplay Summit Executive Advisor, Chief Researcher at Kodansha/Kodansha BC China Management Laboratory.
Cultural diplomat producing events in 103 cities in 24 countries. Books include "Galapagos-ka no susume"(Kodansha), "'Suteru' de shigoto wa umakuiku"(Diamond-sha), "Nihon wa anime de saiko suru
"(ASCII Shinsho), "Sekai no kawaii kakumei " (PHP Shinsho), and "Anime bunka gaiko "(Chikuma Shinsho). Writes regular columns in the weekly magazine "ASCII" and Yomiuri Shimbun.

●twitter http://twitter.com/sakuraitakamasa/