#37 Let us join in too! Middle-age men and Rome's ROMICS 2011
This year, for the first time since 2009, I took part in Rome's premier Japanese pop-culture event, ROMICS, which was held over four days: from September 29 to October 2, 2011.

My anime cultural diplomacy activities first began in December 2007 with a tour of Prague, Milan, Bologna, and Rome.
One of the most influential episodes, that became one of the reasons for embarking on this cultural diplomacy journey of mine, happened in Rome when I asked some locals if they liked Japanese anime. They replied, "We're practically raised on Japanese anime," as if to say, don't ask such stupid questions.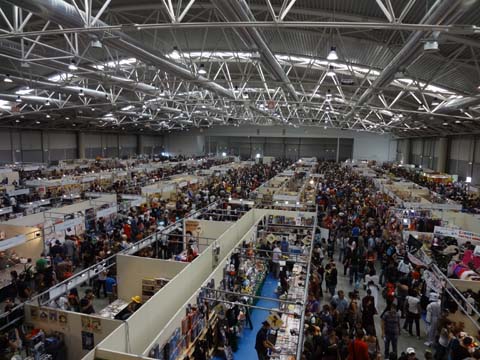 110,000 in attendance. Just walking around on the Saturday/Sunday was an effort.
It was also at that time that I was introduced to the organizer of ROMICS at the Japanese Embassy in Rome.

"Huge anime event coming to Rome!"

I can still remember the shock I got when I was shown the pamphlet for the event back then. I had been to Italy for holidays on a number of occasions when I was young. I remember being surprised to see Japanese anime being shown on TV and "Mezon Ikkoku" manga being sold at the train station, but from what I understood at the time that seemed to be the extent of it. I was unable to attend ROMICS in 2010 because I was attending an anime fair in Chongqing, China, but after being invited back to Rome this year it was noticeable how much the event had grown in two years. The number of attendees at the event when I attended in 2009 was 75,000; this year it was 110,000. They even added an extra hall to the convention center near Rome airport where they hold the event.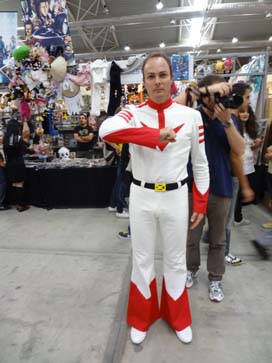 Calling out, "Kodai-kun," I was saluted (Space Battleship) Yamato style.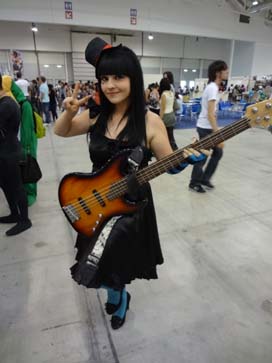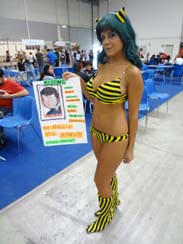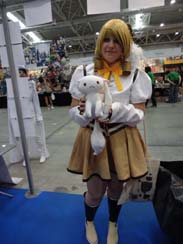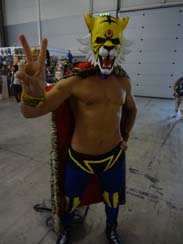 From nostalgic anime to all the current day stuff – it was just like a museum of anime history.
The thing that left an impression on me personally from this year's ROMICS was just how many single men in their 40s and 50s there were.
It's like these middle-aged men saw just how much fun all the younger generations were having with anime and manga and cosplay, etc., and couldn't resist taking part! Let us join in too! I'm sure that's how it must have went.

I guess it also goes to show just how long Japanese anime has been a part of Italian culture as well. I even have an Italian friend who is an avid, avid fan of "Yakkyukyo no Uta."
It was really great to see the generations that grew up with anime shows like "UFO Robot Grendizer," "Space Pirate Captain Harlock," "Galaxy Express 999," and "Urusei Yatsura," mixing with a much younger crowd and enjoying themselves at this Japanese pop-culture event.
Quite unfortunately, as is always the case at these kinds of events, there wasn't a single Japanese person in sight.

Rome is famous the world over as a popular tourist destination. When people visit Rome for the first time most, myself included, are simply in awe of the place – the city is like one big relic. And every year, 20~30mins by train from that relic of a city is where you can find ROMICS. What's more, it's held at the end of September, right in the middle of peak tourist season.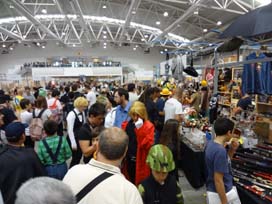 If you're thinking of going to Rome for a holiday why not try to time it so you can check out ROMICS as well! As someone who's travelled the world I can highly recommend it.
It has become a bit of a routine whenever I visit this city, but on my last day in Rome, just before I have to start making my way to the airport, I like to visit the Basilica di San Pietro and eat gelato from the place recommended to me by the locals.
Out Every Wednesday!
Next time: Report on the Italy qualifying round for the World Cosplay Summit. And, the ROMICS cosplay collection!

Columnist: Sakurai Takamasa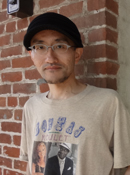 Contents Media Producer, author, journalist, managing director of Contents Street Inc. Chief Editor of iPhone magazine "Tokyo Kawaii Magazine" (ASCII Media Works), World Cosplay Summit Executive Advisor, Chief Researcher at Kodansha/Kodansha BC China Management Laboratory.
Cultural diplomat producing events in over 100 cities in 23 countries (as of July 1st, 2012). Books include "Galapagos-ka no susume" (Kodansha), "'Suteru' de shigoto wa umakuiku" (Diamond-sha), "Nihon wa anime de saiko suru
" (ASCII Shinsho), "Sekai no kawaii kakumei " (PHP Shinsho), and "Anime bunka gaiko " (Chikuma Shinsho). Writes regular columns in the weekly magazine "ASCII" and Yomiuri Shimbun.

●twitter http://twitter.com/sakuraitakamasa/