#12 "The Greatest Day of My Life" – Voices of the Fans That Gathered from all Around the World to see Morning Musume。'14 Live in New York(2/3)

It wasn't just people from New York or other US states like Ohio, North Carolina, California, etc., that came to meet me either, but also people from Canada and Brazil. One of the people there even saw the Morning Musume。'14 video letter that I played during my talk at Anime North, held in Toronto, Canada, earlier this year.
In saying that, though, for these people, crossing cultural borders and discussing Morning Musume。and Hello! Project like this is just a regular thing. They all have different "oshimen" (favorite group members), too. It was fun to hear them all talk about what they like about their favorite members. And many of them were also quite good at Japanese.
"(Relatively speaking,) I think that in North America, there are more Japanese speakers amongst the idol fans than there are amongst the anime or manga fans."
It basically comes down to the fact that manga have English translations and anime are dubbed into English, but if you want to watch idol internet TV programs, read idol blogs, sing their songs and understand the lyrics, then Japanese study is essential. Perhaps it has something to do with market forces and how close America is in the Japanese market. Unlike anime and manga, the most globalized of the forms of Japanese entertainment, idols are an extremely domestic entity, and that's why there is this gap (in the levels of Japanese ability). People study Japanese because they want to read their favorite manga right away and not have to wait for the English translation to come out. Some study Japanese because they want to watch anime in the original recording with the Japanese voice actors. So there's definitely motivation amongst the anime and manga fans to study Japanese too, but when you look at the sheer volume of Japanese content that gets brought into America, it's obvious it goes far beyond this motive alone.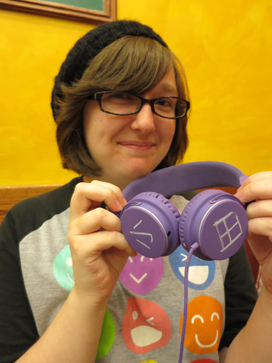 One Canadian fan had written "Oda," the surname of member "Sakura Oda," on her headphones.
On the other hand, idols are well known for their blogs, but it's hard to imagine English versions of these blogs appearing anytime soon.
"What's great about Japanese idols is that they're so perfect up on stage, but through their blogs they show us that, in their private lives, they're really no different from us, the fans, at all."
This is something that idol fans overseas often point out. Put simply, even if a Japanese idol becomes a star, they never become a "celebrity," and reading idol blogs is one of the things that idol fans enjoy.
"Fans of idols know a lot about anime, but the reverse, not so much."
What I heard from the group in New York is perhaps a good indication of the current situation. I've met many many people overseas who say they found out about Hello! Project groups like Buono! and ℃-ute because of the anison (anime songs) that they sang. Idols don't do anison very often, but it's something I think they should do more.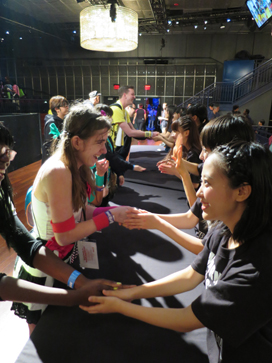 Fans lining up early morning at the concert venue.