Just another Sunday morning!

I've got some free time but I don't know how to make the most of it!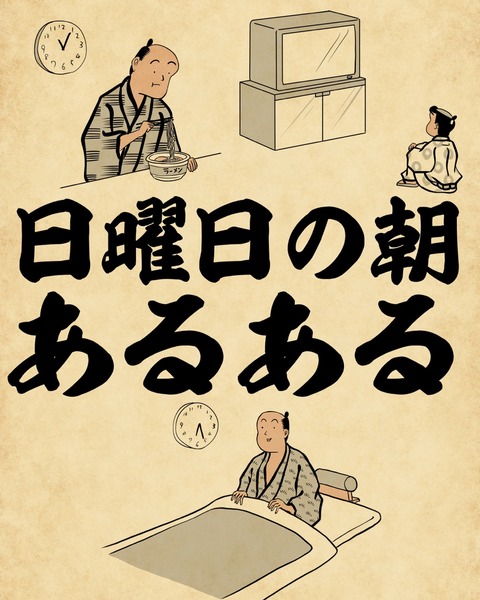 ©︎山田全自動
Have you had a chance to check out Yamada Zenjido's wonderful ukiyo-e inspired illustrations? This series looks at some of the "little things" in life that everyone can relate to! The theme of this instalment is "just another Sunday morning." Yamada focuses on the time of the week when offices and schools usually close their doors, so that people can take it easy. There's no doubt that Sunday mornings feel a bit different! After all... Anything can slip your mind when you have a day off!


>>>>>>>>>>>>>★☆★<<<<<<<<<<<<
\ I want to lie in and have a good sleep
but I always seem to wake up early on Sundays! /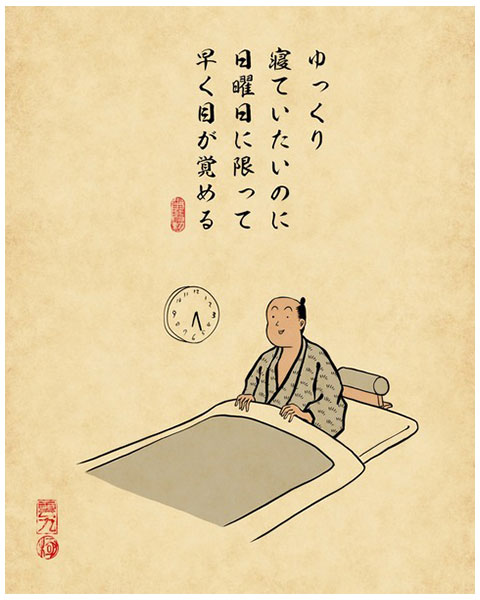 ©︎山田全自動
\ I thought I'd overslept!
I was so relieved when I realized that it's Sunday! /

What? It's Sunday!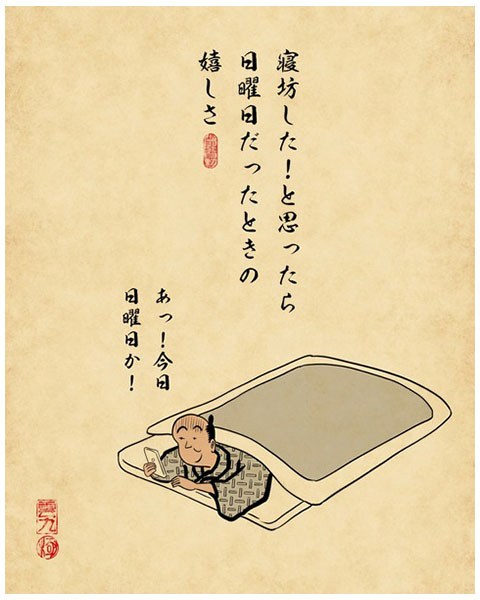 ©︎山田全自動
\ I was planning to do so much on my day off
but now that it's Sunday I can't really be bothered! /

I don't even care anymore!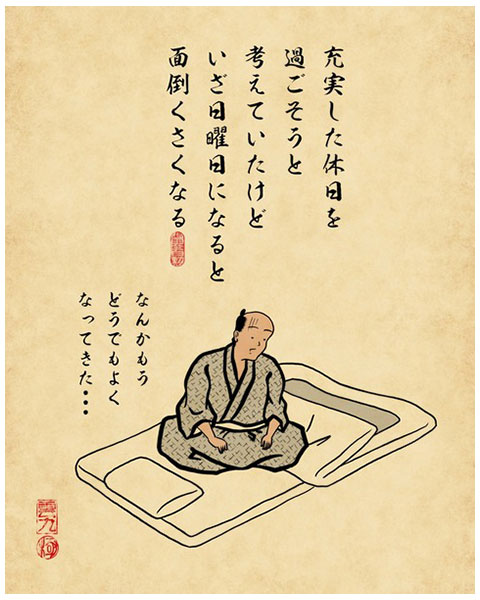 ©︎山田全自動
WRITER PROFILE
山田全自動 (Yamada Zenjido )
Born in Saga Prefecture in 1983, currently based in Fukuoka City and active as an illustrator and a web designer. Yamada learned Ukiyo-e on his own and started posting on Instagram in December 2016. Also active as a historical researcher and runs a blog called "
Y-shi ha Himajin
(lit.: Mr. Y has a lot of free time) ―Fukuoka's Street Heritages―" that introduces various sightseeing spots from a unique perspective.
---
- Instagram:
@y_haiku
- Twitter:
@y_haiku
- Facebook:
@yhaiku
- Blog "Yamada Zenjido Aruaru Nikki":
https://zenjido.blog.jp/
- Blog "
Y-shi ha Himajin ―Fukuoka Rojo Isan―
":
https://y-ta.net/